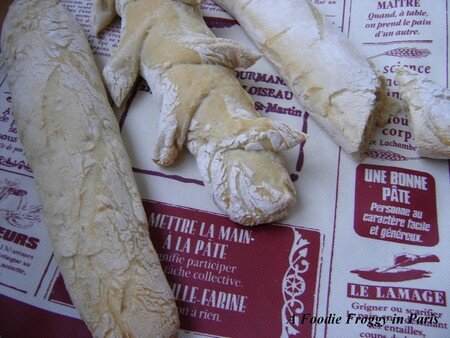 Already my 4th Daring Baker's challenge, and the second one about bread ! After november's potato bread, this month's challenge was Julia Child's French bread ! By the way, you might be surprised to learn that Julia Child, the Goddess of French Cuisine in the USA, was totally unknown here in France (except for real Foodies or a few foodbloggers).
I was a bit disappointed by the challenge, because it is perfectly clear for me that I am a better pastry-maker than bread-maker. But well, this is what the DB's philosophy is all about: sharing your experiences, the bad ones as well as the good ones!
After making my 3 bâtards (a first time for me), I was a bit sceptic : they did not look yummy : for whatever reason, they did not get golden enough. But, phew, they tasted great, almost as good as professional baker's bâtards ! (you can see how modest I am…). And what a pleasure it was, the next morning to spread butter and jam on my very own tartines (I made them, I made them!). But, well, how can I explain this to you : it is also such a treat to go buy one's bread at the local bakery, on a daily basis, hold the baguette under the arm, just warm from the oven , and bite both ends while walking back home ! Vive la France !
My conclusion : While I am very happy that I could make a French baguette all by myself, I am not sure I will do it again. I mean, when I compare the time needed to make it (at least 8 hours) to the 4 minutes walk that separates my home from my very dear baker, I have chosen my side : the clan of lazy bakers, lol !! Hubby will really have to beg me or cover me with gifts if he wants another baguette made in "Foodiefroggyland" !
Just for your info, I will be out of town until march 9th, so don't be offended if I don't answer your comments : I 'll have no internet access !
Déjà mon 4ème challenge en tant que Daring Baker, et c'est la seconde fois que le thème porte sur du pain. Après le pain à la pomme de terre, le défi portait ce mois-ci sur du pain français : baguette, bâtard ou autre miche, selon la recette de Julia Child, qui est une parfaite inconnue en France (sauf de certains bloggeurs avertis) mais la star (aujourd'hui disparue) de la cuisine française aux USA. Petite déception quand même, car il est clair pour moi que je suis meilleure pâtissière que boulangère. Enfin, c'est cela aussi le principe des Daring Bakers : faire part de ses impressions voire de ses ratages, car ce n'est pas, mais pas du tout un concours ! Juste un échange autour d'une même recette de base.
Après réalisation du pain, j'étais assez partagée : d'aspect tout d'abord, il était assez laid, car il avait, pour je ne sais quelle raison, très peu doré à la cuisson ! En revanche, le goût, franchement, était vraiment super ! Il n'aurait pas dénoté sur les étals d'une boulangerie (modestie, quand tu nous tiens…). C'est assez jouissif de se faire des tartines le matin avec son propre pain maison ! Mais comment dire, je trouve que c'est tout aussi excitant d'aller chercher son pain à la boulang', encore tout chaud du four, de se balader avec sa baguette emballée sous le coude et de croquer les « quignons » sur le chemin du retour.
Conclusion : vu le temps nécessaire à la confection de ses propres baguettes (compter 8 heures au bas mot, dont la majorité en temps de levée de la pâte), comparé aux 4 minutes chrono qui me séparent de mon boulanger chéri, je crois que j'ai choisi mon camps : celui des feignasses, lol ! A la limite, je veux bien les refaire pour un repas VIP, et encore, il faudra vraiment me supplier ou me couvrir de cadeaux…
Ne soyez pas offensé(e) si je ne réponds pas à vos commentaires, je suis en vacances jusqu'au 9 mars, sans accès internet. Ceci (et le prochain billet) a été programmé à l'avance.

"With just a piece of bread, one finds paradise under a pine-tree" (meaning : little things can make you happy)
As long as a day without bread (an interminable day)
Better go to the mill than to the doctor (it is better to buy bread than medecines)
A "good dough" : a very nice person
(Bread bags from my local bakery)
French Batard, Julia Child's recipe
Makes 3 Batards
For the (long) original recipe in English, read here.
Pain Bâtard, recette de Julia Child
Méthode avec Robot et Crochet
Pour 3 Bâtards
20g levure fraîche
75ml eau chaude à environ 38°
500g de farine ordinaire
12g de sel
280 à 300ml d'eau tiède à environ 21 à 23°C
Dans le bol de votre Robot, disposez la farine, le sel et 280 à 300ml d'eau tiède.
Dans un verre, mélangez la levure fraîche avec les 75ml d'eau chaude. Lorsque le mélange est homogène, versez-le dans le saladier contenant la farine, le sel et l'eau. Actionnez le crochet du robot à vitesse minimale jusqu'à ce qu'une boule se forme. Si la pâte vous semble trop collante, ajoutez un peu de farine (mais une poignée à la fois, sinon la mie sera trop dense).
Transférez la boule du bol du robot vers un plan de travail fariné. Laisser reposer 2 à 3 minutes et pendant ce temps, lavez et séchez le bol et le crochet.
Pétrissez à la main en repliant la pâte sur elle-même et en la retournant plusieurs fois de suite, et ce, pendant 5 à 10 minutes. La pâte doit être suffisamment élastique pour reprendre rapidement sa forme initiale lorsque vous appuyez dessus.
Laissez reposer 3 à 4 minutes. Repétrissez une dernière petite fois pendant une minute.
Remettre la pâte dans le bol propre, recouvrir de papier film et d'un torchon épais. Laisser lever 3 heures dans une pièce chaude. Elle doit tripler de volume et former un dôme.
Au bout des 3 heures, disposez-la sur un plan fariné, et dégazez-la en donnant des coups fermes avec la paume de la main. Repliez la pâte sur elle-même en la retournant à plusieurs reprises et remettez dans le bol pour la seconde levée, plus courte cette fois-ci : de une heure et demi à deux heures.
De retour sur le plan de travail fariné, divisez la pâte en 3 pâtons égaux. Couvrez d'un torchon et laissez reposer 5 minutes.
Avec un torchon en lin fariné, formez des « gouttières » pour la forme des bâtards.
Pour chaque pâton, procédez selon cette vidéo. Cette vidéo est en anglais, mais elle a l'avantage de vous faire connaître Julia Child (la plus âgée des deux) et sa voix inimitable et elle vaut mieux que 10 000 mots maladroits.
Les pâtons « en attente » doivent rester couverts.
Une fois les bâtards façonnés, laisser lever encore 2 heures dans leurs « gouttières », recouverts d'un torchon afin que le pain ne croûte pas.
Retourner les bâtards, les disposer sur une plaque à pâtisserie recouverte de Silpat ou de papier sulfurisé et faire des entailles presque parallèles au pain à l'aide d'une lame de rasoir. Y aller franco, moi je n'ai pas osé et mes entailles (au cutter, je n'avais rien d'autre) ne sont pas terribles.
Préchauffer le four à 225°C. Faire cuire les bâtards environ 25 minutes.
Retirer les pains du four et attendre 2 heures avant de déguster (enfin, moi je n'ai attendu qu'une demi-heure et c'était très bien, la mie n'était pas pâteuse).
Bon courage à vous !