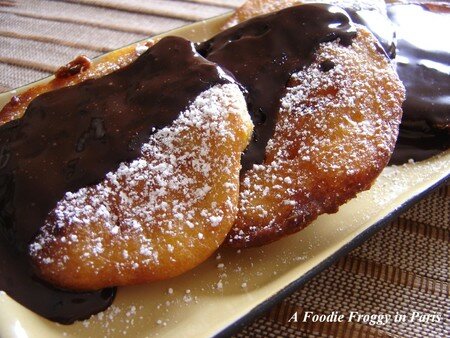 Friday evening update : out of town for the week-end, see you on tuesday !
Each time I go to the USA (and you know now that I cross the Atlantic Ocean at least once a year, twice on lucky years), I love to bring back American food magazines. They are so different from their French « counterparts »: while we favor gorgeous pictures, the US foodzines have so many articles to actually read. It takes me a week to go through an issue of "Bon Appétit" or "Food&Wine", while I am finished with my "Elle à Table" or "Régal" issue within a day or two. More feature articles, restaurants reviews, shopping pages, and …advertisements! In Bon Appétit's latest issue, I thoroughly enjoyed the article about "messy" desserts. The author claimed he was a bit fed-up with beautiful and classy presentations and what he was craving for were desserts that were sticky, gooey, ugly. I could not agree more!! I mean, I love to make gorgeous desserts but really sometimes, I just want something that tastes good and comforting regardless of its aesthetics. It is the problem when you write a foodblog, you feel like you have to make picture-perfect dishes. So today, I am very proud that I had the guts to make and, more importantly, to photograph these bad-looking fritters, lol ! (Recipe found on the mentioned issue of BA). They tasted as great as they looked awful !
Update de Vendredi Soir : Partie pour le week-end ! A mardi !
A chaque fois que je vais aux USA (et vous le savez maintenant, je m'y rends au moins une fois par an, voire deux), je remplis mes valises du retour de magazines de cuisine américains. C'est incroyable comme ils sont différents de leurs « homologues » français : chez nous, c'est le plaisir des yeux qui prime avec des photos ultra léchées, stylisme, éclairage et tout le tralala ; en revanche les magazines culinaires américains sont plus « bavards » : il y a plus à lire qu'à regarder. Il y a de nombreux articles de fond, critiques de restaurants, pages shoppings et … pubs ! Dans le dernier numéro de « Bon Appétit », j'ai adoré l'article sur les « messy desserts » (que l'on pourrait traduire trivialement par « les desserts bordéliques »). En gros, l'auteur avouait son ras-le-bol des desserts trop beaux pour être honnêtes (verrines, présentations quasi architecturales…) et clamait haut et fort son amour des bons vieux gâteaux gouleyants, collants, moches, quoi ! Mais tellement bons…Et bien, je crois qu'avec ces beignets dont j'ai trouvé la recette dans ce même article, j'ai rempli ma mission : ils sont affreux, non ? Mais Mamma Mia, qu'est-ce qu'on s'est régalés !!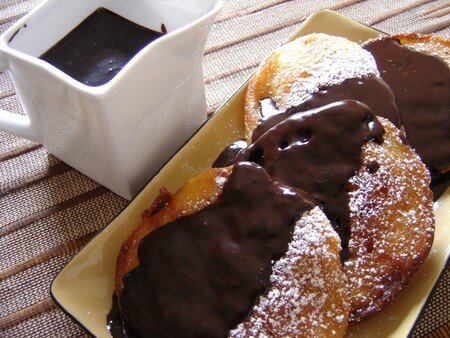 Apricot and Rum Fritters, Chocolate Sauce
Source : Bon Apppétit, march 2008
Makes about 15 fritters, the size of a pancake
Fritters
½ cup chopped dried apricots
3 tablespoons plus ½ cup water
6 tablespoons sugar (more than in the recipe, it was not sweet enough for my taste)
3 tablespoons Rum (or Brandy)
½ cup whole milk
6 tablespoons (3/4 sticks unsalted butter), cut into ½ inch cubes
½ teaspoon salt
1 cup all-purpose flour
4 large eggs
Vegetable oil for frying
Powdered sugar for dusting
Chocolate Sauce
¾ cup heavy whipping cream
1 tablespoon Rum (or Brandy)
1 tablespoon Honey
10 oz bittersweet or semisweet chocolate, chopped
Make fritters
Bring apricots, 3 tablespoons water, 3 tablespoons sugar, and rum to boil in medium saucepan, stirring until sugar dissolves. Reduce heat to low, simmer 2 minutes, remove from heat and cover 30 minutes. Drain, reserve apricots and syrup.
Bring ½ cup water, milk, butter and salt to boil in large saucepan over high heat. Remove from heat and add flour. Stir briskly until dough gathers into ball (the best workout exercise for your arms, I can tell you!). Place pan over medium heat, stir until film forms on pan bottom about 2 minutes. Cool 5 minutes. Using electric mixer, beat in eggs, one by one and apricots. Add 3 tablespoons sugar and continue beating.Cover and let stand at room temperature. During cooling time, make chocolate sauce (see below).
Line baking sheet with paper towel. Pour oil in large saucepan. Heat oil and drop dough by rounded tablespoonfuls, working in batches of 5 or 6. Using a slotted spoon, transfer fritters to baking sheet.
If you like them warm, transfer to a preheated oven 200°F for 10 minutes.
Personally I prefer to eat them at room temperature.
In both cases, dust with powdered sugar and serve with hot chocolate sauce as a dip.
Make chocolate sauce
Bring whipping cream, Rum, Honey and apricot syrup to boil in medium saucepan. Remove from heat and add chopped chocolate. Whisk until smooth.
Beignets aux Abricots Secs et au Rhum, Sauce Chocolat
Source : Bon Apppétit, mars 2008
Pour environ 15 beignets de la taille d'un pancake
Beignets
120g cup abricots secs coupés en petits dés
3 CS d'eau + 15 cl
6 CS de sucre
3 Cs de Rhum (ou Brandy)
15 cl de lait entier
6 CS beurre doux coupé en dés
½ cc de sel
250g de farine ordinaire
4 gros oeufs
Huile végétale pour friture
Sucre glace
Sauce Chocolat
20 cl crème liquide
1 Cs de Rhum (ou Brandy)
1 CS de miel
250g chocolat noir, coupé en copeaux
Faites les beignets
Mettez les abricots, 3 Cs d'eau, 3 Cs de sucre et le rhum dans une casserole et amenez à ébullition. Réduisez le feu à moyen, faites frémir 2 minutes de plus, et retirez du feu. Couvrez pendant 30 minutes. Passez à travers un chinois au dessus d'un bol afin de garder le sirop. Réservez les abricots.
Portez 15cl d'eau, le lait, le beurre en morceaux et le sel à ébullition dans une autre casserole, en remuant jusqu'à ce que le beurre fonde. Retirez du feu et ajoutez la farine. Remuez vivement jusqu'à ce que l'appareil forme une boule au centre de la casserole.
Placez la casserole sur feu moyen et continuez à remuer jusqu'à ce qu'un « film » couvre le fond de la casserole (2 minutes). Laissez refroidir 5 minutes.
A l'aide d'un batteur électrique, ajoutez les oeufs un par un. Puis les abricots. Ajoutez enfin 3 Cs de sucre et continuez à battre. Couvrez et laissez à température ambiante et pendant ce temps, préparez la sauce au chocolat (voir ci-dessous).
Couvrez une plaque à pâtisserie de papier absorbant.
Versez une bonne hauteur d'huile végétale dans une poêle à frire et faites chauffer. Lorsque l'huile est assez chaude, formez des boules de pâtes et faites frire par lot de 5 ou 6 jusqu'à ce qu'elles soient dorées. Retournez-les afin de les dorer des 2 côtés. A l'aide d'une écumoire, sortez les beignets au fur et à mesure et déposez-les sur le papier absorbant.
Si vous les aimez chaud, faites les chauffer avant de servir dans un four moyennement chaud.
Si vous les préférez à température ambiante (comme moi, et le lendemain, ils ont encore meilleurs), laissez simplement reposer.
Dans les deux cas, saupoudrez de sucre glace et servez avec la sauce au chocolat chaude, en "dip".
Faites la sauce au chocolat
Portez la crème liquide, le rhum (ou brandy), le miel et le sirop d'abricot (celui que vous avez réservé) à ébullition dans une casserole. Retirez du feu et ajoutez le chocolat découpé en copeaux. Mélangez à l'aide d'un fouet afin que la sauce soit bien lisse.