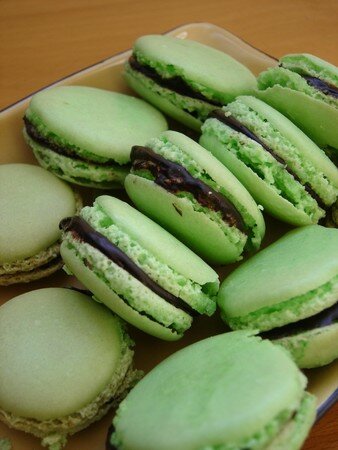 …And a great way to celebrate Macaron Day ! For those of you who do not know about « Macaron Day », let me explain it briefly : it is an annual event created by Pierre Hermé 3 years ago to celebrate the arrival of Spring, on March 20th. At his flagship boutique as well as at a hundred bakeries ("relais-dessert" affiliated bakeries) in France, anyone can have a free macarons tasting session. But the most important is that a special red macaron is created for this occasion, at the price of one euro, and the money goes to an association which helps people affected by orphan or rare diseases. …
Now, back to my macarons : of course they do not look as good as Laduree's or Pierre Herme's but what an improvement for me since my last 3 "macalamities" related here ! I still need to improve a bit on the "shell" batter and on my pastry bag skills, and they will be almost perfect !
A great Thank You to Sébastien Serveau, author of « Leçons de cuisine : macarons » who took time to leave a comment on my blog with great tips about the process of making macarons. Actually, the recipe below is his.
…et en plus, cela tombe le Jour du Macaron ! Bon, certes, nous sommes loin de la perfection Herméenne ou Laduréenne , mais franchement, quel chemin parcouru depuis mes 3 précédents maca-ratages tragi-comiques relatés en détail ici.
Et pourtant, c'était pas gagné, j'étais persuadée d'être partie pour un 4ème échec, car je trouvais que la pâte s'étalait un peu trop, et c'était donc sans conviction que j'avais enfourné ma première plaque. Le temps de regarder la première partie de « un dîner presque parfait » et là miracle : macarons gonflés, jolie collerette, coque bien lisse,…Wow, je n'en revenais pas ! Maintenant, bien évidemment, je n'ai qu'une envie, c'est d'en refaire très vite, de décliner plein de saveurs et de couleurs, mais il y a néanmoins quelques points à améliorer : un appareil aux œufs encore un peu plus ferme ainsi qu'une meilleure maîtrise de la poche à douille.
Un grand merci à Sébastien Serveau, auteur de « Leçon de cuisine : macarons », qui a pris le temps de me laisser un commentaire d'encouragement suite à mes précédentes tentatives. D'ailleurs, la recette qui suit est tirée de son livre. N'hésitez pas également à consulter le site « leçons de cuisine ».
Green "Ladurée-like" Macarons, Chocolate Ganache filling
For about 70 shells (make 35 assembled macarons)
4 oz (1/2 cup) almond powder
8 oz (1 cup) confectioner's sugar
4 oz (1/2 cup) egg whites, or the whites of 4 medium-size eggs, room temperature
1/4 cup granulated sugar
30 drops green food coloring
For the chocolate ganache (to be made a day ahead)
1 oz, (1/8 cup) liquid whipping cream
4.5 oz (1/2 cup + 1 tbsp) whole milk
4.5 oz (1/2 cup + 1 tbsp) Chocolate (53% cocoa), chopped
You will need a pastry bag with a ¼ inch round tip.
Prepare chocolate ganache a day ahead : in a saucepan, heat milk and cream and bring to a boil. Add chopped chocolate, whisk and bring to a boil again. Remove from the heat, pour in a soup plate, cover with film and let cool. When cool, refrigerate for the night.
Remove eggs from the fridge, so they will be at room temperature for the following day, to make the shells.
The following day, make the shells. Actually, they also can be made in advance and refrigerated or even frozen.
First thing to do is to pre-heat oven 300°F so the temperature in your kitchen will be perfect for the shells to "sit".
Process almond powder and confectioner's sugar. Pass through a sieve to get a very smooth and fine powder.
Separate eggs and keep the whites. Side note : keep the yolks to make a crème anglaise or a tiramisu.
Beat whites on a high speed and add granulated sugar little by little, still beating. Beat at least 3 minutes. The whites must be very stiff.
Using a rubber spatula, fold the almond powder mixture into the whites. Stir, lifting carefully. Add green food coloring and continue stirring, but this time vigorously. The mixture must be smooth and shiny, but not liquid.
Transfer part of the mixture in a pastry bag, with a ¼ inch round tip.
Line two pastry sheets with parchment paper and on each sheet, pipe 35 1-inch diameter circles in staggered rows. Refill pastry bag when necessary.
Let sit one hour. Test with your finger : the shells must not be sticky.
Bake each sheet for 12 minutes, turning it after 6 minutes. Remove from the oven and let cool.
A small tip to remove shells from the parchment paper: pour a bit of water underneath parchment paper, move the pastry sheet so water is spread all over it. Wait 15 minutes and remove shells easily.
Turn half the shells upside down and arrange chocolate ganache on top, using a pastry bag.Cover each shell with another shell.

Macarons Verts, Ganache au Chocolat
Pour environ 70 coques (soit 35 macarons assemblés)
110g de poudre d'amandes
225g de sucre glace
120g de blancs d'œufs soit le blanc de environ 4 œufs moyens (sortis du frigo la veille)
50g de sucre semoule
30 gouttes de colorant vert (moi, j'ai mis une cuillère à café)
Pour la ganache au chocolat (à faire la veille)
30g de crème liquide entière (environ 3 cl)
125g de lait entier
125g de chocolat à 53% de cacao (moins de risque que la ganache ne sèche)
La veille, faites la ganache : dans une casserole, portez à ébullition le lait et la crème liquide, puis incorporez le chocolat coupé en morceaux. Fouettez et portez de nouveau à ébullition.
Versez dans une assiette creuse et filmez à chaud. Laissez refroidir et réfrigérez.
Pensez également à sortir les œufs du frigo afin qu'ils soient vraiment à température ambiante le lendemain.
Le jour même, préparez les coques. Ceci dit, elles peuvent très bien être faites à l'avance et congelées (c'est le Grand PH lui-même qui le dit !) : préchauffez votre four à 150°C, cela réchauffera votre cuisine et favorisera le croûtage des coques.
Mixez la poudre d'amandes et le sucre glace pendant 2 mn. Passez à travers un tamis ou une passoire en plusieurs fois.
Cassez les œufs et gardez les blancs. (Gardez les jaunes pour faire une crème anglaise ou un tiramisu). Battez les blancs à vitesse maximale et ajoutez le sucre semoule petit à petit. Battre environ 3 minutes, les blancs doivent être très très fermes.
A l'aide d'une maryse, incorporez le mélange poudre d'amandes-sucre glace. Soulevez délicatement pour mélanger. Ajoutez le colorant alimentaire.
Maintenant, vous pouvez travailler le mélange plus fermement afin d'obtenir une pâte lisse et brillante, mais surtout pas liquide. Remplissez une poche à douille et sa douille n°8 de pâte.
Recouvrez 2 plaques à pâtisserie de papier sulfurisé et pochez environ 70 coques de 3cm de diamètre sur les 2 plaques. Disposez-les en quinconce afin que l'air circule bien entre les coques.
Laissez croûter une heure avant d'enfourner. Enfournez une plaque après l'autre en faisant cuire chaque plaque 12 minutes (en prenant soin de la tourner à mi-cuisson). Si votre four est assez grand pour enfourner 2 plaques en même temps, faites-le en les séparant d'au moins 15cm afin que l'air circule.
Sortez les plaques et laissez refroidir. Petite astuce pour décoller les coques facilement : versez un peu d'eau entre la plaque chaude et la papier. La vapeur dégagée permettra de décoller les coques plus facilement lorsqu'elles auront refroidi. Sur la moitié des coques retournées, disposez une petite couche de ganache à l'aide d'une poche à douille, et recouvrez d'une seconde coque.