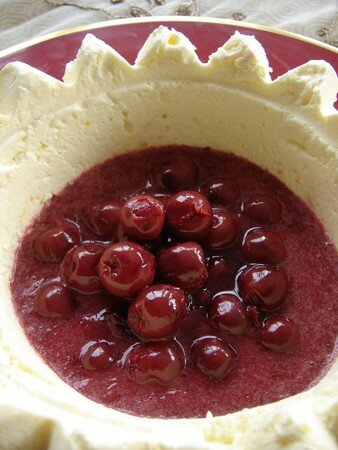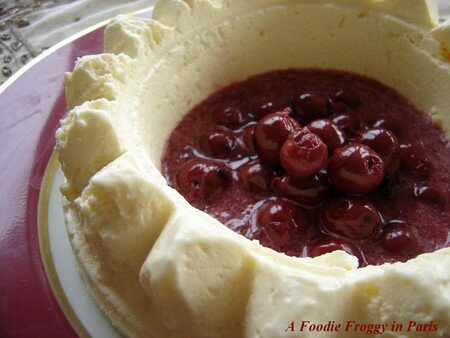 An extremely simple recipe transformed into a scrumptious dessert: an easy challenge with the wonderful silicon molds from the Spanish brand Lekué. Their "imperial" molds (hence the name of my post) are awesome. The idea comes from april-may issue of "Régal" magazine and it was a perfect timing for me, since I had bought this mold a month before and had no idea what to do with it ! (I often buy fancy utensils that I never use). As for their lemon mousse recipe, I have changed almost everything since I wanted the mousse to taste and look like cheesecake batter. The result was "wow" but the unmolding particularly delicate. The cherry coulis was a feast for both the eyes (nice contrast of colors) and the palate. I would recommend that you serve this mousse with some powdered graham crackers on top to make it taste even more "cheesecakey".
Comment transformer une recette simplissime en dessert pur bluff : grâce aux moules en silicone de la marque Lekué : leur gamme « Impériale » (d'où le nom de mon billet) est vraiment top classe. C'est le numéro de Régal d'avril-mai qui m'a soufflé l'idée et cela tombait à merveille, car depuis l'achat de ce moule, j'avoue que je ne savais pas trop comment l'inaugurer. En revanche, j'ai totalement transformé leur mousse au citron car je souhaitais obtenir une texture beaucoup plus proche du cheesecake. Le résultat décoiffe assez -même si le démoulage s'est avéré extrêmement délicat- et le coulis aux griottes tranche merveilleusement, tant pour les yeux que pour le palais. Pour accentuer le côté cheesecake, je vous recommande de la servir accompagnée de spéculoos ou de Bastognes de LU. Ou pourquoi ne pas les réduire en poudre et en saupoudrer la mousse ? Voilà une idée qu'elle est bonne !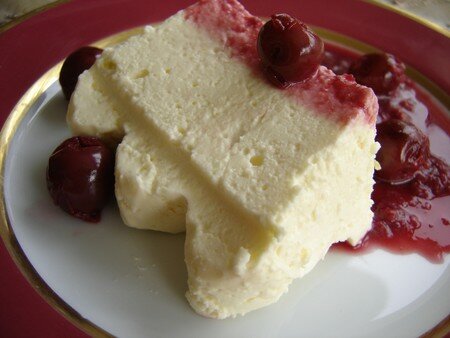 « Imperial" Lemon Mousse, Griottes Cherry Coulis
For 6 servings, to make a day ahead
3 lemons, carefully cleaned
12 oz de petits-suisses à 40 % ( 6 petits-suisses)
5 oz de kiris (7 plain kiris)
If you don't live in France, substitute both petits-suisse and kiris with 2 packages cream cheese, 8 oz each
3 3/4 oz granulated sugar
1 teaspoon salt
3 large or 4 small eggs
1 cup liquid whipping cream, very cold (put 15 minutes in the freezer)
5 large sheets gelatin
One jar of griottes cherries, drained
1/4 cup freshly squeezed orange juice
Make the griotte cherry coulis : Blend half the griottes with orange juice. Pass through a sieve. Taste and add sugar if necessary. Refrigerate.
Keep the remaining griottes and refrigerate, too.
Make the lemon mousse: Grate the lemon zests and put in a small plate. Halve the lemons and squeeze. You will obtain about 1/2 cup of lemon juice.
Cover the gelatin sheets with cold water to soften them. Then squeeze between your hands to remove all the water.
In a large mixing bowl, arrange kiris and petits-suisses (or cream cheese if you are not from France). Add eggs, one by one, beating between each egg. Add sugar, salt, lemon juice and zest. Beat until smooth.
Arrange squeezed gelatin sheets in a small bowl and cover with 2 tablespoons very hot water and mix. When melted, add them to the lemon mixture. Beat well.
Whisk the very cold liquid cream until it forms peaks. Stir in the lemon mixture. I don't use egg whites, but if you want a fluffy mousse, you can beat them until stiff and add them to the batter.
Pour the mixture in the silicon mold (if not silicon, butter your mold carefully).
Refrigerate overnight.
Just before serving, unmold very carefully and serve with griottes coulis and whole griottes.
Recipe submitted to "A taste of Yellow"
Mousse au Citron « Impériale », Coulis de Griottes
Pour 6 personnes. A faire la veille
3 citrons non traités et soigneusement lavés
360 g de petits-suisses à 40 % soit 6 petits-suisses
140g de kiris soit 7 kiris nature
100 g de sucre
1 cc de sel
3 gros œufs ou 4 petits
20cl de crème fleurette, très froide
5 grandes feuilles de gélatine alimentaire
Un grand bocal (360g net) de griottes au sirop, égouttées
5 cl de jus d'orange fraîchement pressé
Faites le coulis de griottes : Mixez la moitié du bocal égoutté avec les 5cl de jus d'orange frais. Goûtez et ajoutez un peu de sucre au besoin Passez à travers un chinois et réservez au frais.
Conservez le reste des griottes égouttées entières. Réserver au frais également.
Faites la mousse : Râpez les zestes des 3 citrons dans une assiette. Coupez-les en deux et pressez-les. Vous obtenez environ 10cl de jus.
Recouvrez les feuilles de gélatine d'eau froide pour les ramollir.
Dans un saladier, mettez les petits-suisses bien égouttés et les kiris. Ajoutez, un par un, les 3 oeufs en fouettant bien après chaque oeuf, puis le sucre, le sel, le jus et le zeste du citron.
Mélangez au batteur jusqu'à obtention d'un mélange lisse.
Faire fondre la gélatine essorée avec 2 CS d'eau très chaude puis l'ajouter à la préparation. Bien fouetter.
Monter la crème fleurette froide en chantilly. Incorporez délicatement à la préparation au citron. Je n'utilise pas les blancs d'œufs, mais si vous souhaitez une mousse plus aérienne et plus volumineuse, vous pouvez les monter en neige ferme et les incorporer.
Verser la préparation dans le moule en silicone de votre choix (si pas en silicone, bien le beurrer). Mettre au frais pour la nuit.
Après la nuit et juste avant de servir, démouler délicatement. Accompagner du coulis de griottes et de griottes entières.