White and blue traditional houses contrasting with both the sea and the sky, breathtaking perspectives, medieval villages full of history, warm hospitality from the locals even at the peak of the touristy season… Add to this a pinch of mystery (Santorini might have been the famous Atlantis, before a volcanic eruption partially destroyed the island some 1500 years BC) and a flavorful local gastronomy ((when well-prepared), and you will obtain a heavenly place which we fell totally in love with, two years ago. No wonder why we are back next summer…
No recipe today but, as a compensation, some pictures taken by yours truly, which, I hope, will make your day and help you forget this morose beginning of Spring season. And if you are kind, I might share a Cycladic gourmet surprise with you in my next post…
Click on any picture to enlarge it !

Maisons blanches et bleues se détachant de la mer et du ciel, perspectives à couper le souffle, villages médiévaux riches d'histoire, accueil des autochtones adorable même au plus fort de la saison. Ajoutez à cela une pincée de légende (Santorin serait en fait l'Atlantide avant d'être partiellement détruite en 1500 avant JC, selon certains historiens qui n'auraient fumé aucune substance illicite), et une gastronomie savoureuse (lorsqu'elle est bien préparée), et vous obtiendrez un endroit paradisiaque pour lequel nous avons eu un véritable coup de foudre il y a deux ans. Pas étonnant que nous y retournions l'été prochain.
Point de recette aujourd'hui, mais en compensation quelques photos qui j'espère, vous feront voyager en ce début de printemps morose….Et si vous êtes sage, « pi'têt » aurez-vous une surprise gourmande « couleur locale » dans quelques jours…
Cliquez sur la photo de votre choix pour l'agrandir !

The festive Thira
Thira la festive
One of the three « large » cities clinged to the top of the cliffs. Thira is a very festive and animated city, where one finds many outdoor restaurants with terraces facing the volcano, loud music, night clubs, touristy shops,… Not my favorite in Santorini, but a fun place to visit at least once, and you will probably be gained by the energy emerging from it. The catholic headquarter is more interesting and peaceful with its churches, covents, monasteries, the archeological museum and the Megaron museum with its pictures and gravures showing Santorini before and after the terrible 1956 earthquake.
L'une des 3 grandes villes accrochées à flanc de colline, Thira se caractérise par son activité nocturne intense. C'est ici que vous trouverez des terrasses avec musique assourdissante, boutiques de luxe et de souvenirs, discothèques branchées. Ce n'est pas ma ville préférée mais elle est très amusante à visiter et on est vite gagné par l'énergie qui s'en dégage. Le quartier catholique, plus calme, est particulièrement intéressant avec sa cathédrale, son couvent , son musée archéologique et le musée Megaron Ghisi, ancienne maison de maître qui expose des gravures et des photos de Santorin avant et après le tremblement de terre de 1956.
The serene Oia
Oia la sereine
My favorite village. Tranquility, zen-like atmosphere, white troglodyte houses with their blue domes, artisanal shops full of charm. Some excellent restaurants (For instance, restaurant "1800" is a member of the Slow Food network.)
Mon village préféré. Tranquillité, zenitude totale la qualifient bien. Habitations troglodyte blanches à coupoles bleues…Boutiques artisanales plus authentiques qu'à Thira. Restaurants gastronomiques (le « 1800 » est un membre actif de la Slow Food connection).
The discreet Imerovigli
Imérovigli, la discrète
A miniature Oia-like village with stunning houses and probably the most beautiful view of the island on the volcano (due to a higher altitude).
Un « Oia » miniature avec de superbes maisons et probablement la plus belle vue de l'île sur le volcan (la caldera) grâce à son altitude plus élevée.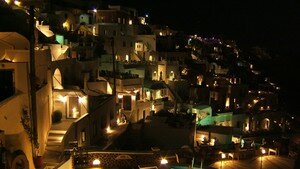 The medieval Pyrgos
Pyrgos, la médiévale
The only fortified village, with houses built side by side to form a rampart. Some beautiful monasteries and byzantine churches. Contrarily to Thira, Oia and Imerovigli, Pyrgos is an inland village.
Seul village fortifié de l'ïle avec ses maisons construites côte à côte et formant un rempart, ses monastères et ses églises byzantines. Contrairement à Thira, Oia et Imerovigli, Pyrgos se situe dans les terres.
The beach at Perissa Perivolos
Perissa Perivolos, la balnéaire
Our biggest surprise : there are indeed beaches at Santorini ! And they are not bad at all ! The volcanic sand is light brown but the sea is crystal blue.We spent a very nice day there and had a wonderful lunch at one of the trendy sea-side restaurants.
Oui, il y a des plages à Santorin et pas des moindres : passée la surprise due à la couleur foncée du sable volcanique, les plages se sont révélées très agréables car très bien aménagées et dotées de bars et restaurants fort sympathiques.

Our hotel at Imerovigli
Notre hotel à Imerovigli
A breathtaking view on the volcano, comfortable bungalows and Fred, Alexandre and Olga's hospitality. Just look at the pictures and you will understand why we loved it so much that we will return next summer…
Un hotel totalement décontracté et sans chichi (mais de très bon confort). Un accueil plus que chaleureux de la part de Fred, le propriétaire qui parle (en plus de 4 autres langues) le français comme vous et moi. Ses enfants Alexandre et Olga sont tout aussi adorables et connaissent l'île sur le bout des doigts. Je vous laisse contempler les photos et le panorama et vous comprendrez tout…
Imerovigli Palace : cliquez ici, click here.