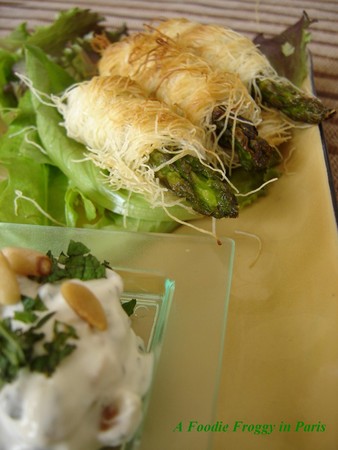 I hope my last post about Santorini Island made you crave for Greek Food…However, today's recipe is not an authentic cycladic recipe, it is more my very own way of using greek ingredients I love : feta cheese, fresh mint and kadaifi pastry (vermicelli-like pastry also known as shredded phyllo), the lattest being often used in "glyka" (desserts, in greek) and in the preparation of the famous baklawa. As it has a neutral taste, I thought it could be interesting to use it in a savory dish : it is fun to look at and very crispy. A good alternative choice to phyllo pastry.
Enjoy this franco-greek finger food : you can serve it as an aperitif or as an appetizer with baby spinach salad.
J'espère que mon reportage photo sur Santorin vous a donné une furieuse envie d'un petit goût de Grèce dans votre assiette... Cependant, la recette du jour n'est pas une vraie spécialité locale, c'est plutôt une réinterprétation à ma façon de certains ingrédients helléniques dont je raffole : la fêta, la menthe et le vermicelle kadaif. Ce dernier est utilisé quasi exclusivement dans les « glyka » (les desserts) et notamment dans les très fameux baklavas. Mais en France, je l'ai parfois aperçu dans des plats salés, c'est très décoratif et croustillant à souhait, une jolie alternative à la pâte filo.
Quant à l'asperge, je pense qu'elle est vraiment « bien d'chez nous », en tous les cas, je n'en ai jamais dégusté en Grèce. En fin de compte, c'est donc plutôt un finger food franco-grec que je vous propose aujourd'hui…Peut être servi en apéritif ou bien en entrée avec une salade de pousses d'épinard.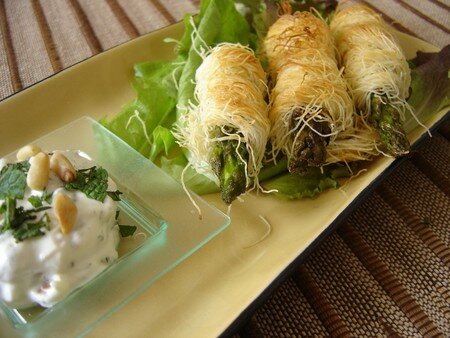 Green Asparagus in "Kadaifi Crust" and Feta-Mint Dip
For 6 servings
24 small asparagus ou 24 asparagus spears already cut
1/4 pound kataifi dough (middle eastern grocery shops)
3.75 oz salted butter
The zest of one orange
5 oz pine nuts
10 oz feta cheese
1 cup thick crème fraiche
1 bunch fresh mint, chopped (reserve some leaves for the decoration)
Olive oil
Roast pine nuts in a skillet over medium heat until golden (do not use any oil). Set aside in a bowl.
In a large mixing bowl, assemble feta cheese and creme fraiche. Add chopped fresh mint and roasted pine nuts (keep some for the decoration, too). Mix well. Taste and season. Refrigerate.
If you use small asparagus, peel them and keep the spears.
Heat a tablespoon of olive oil in a skillet over medium heat. Put asparagus spears and sear for 2 minutes then cover and let cook 3 to 5 additional minutes. Remove the lid and add orange zests. Season. Stir and set aside.
Line a pastry sheet with parchment paper. Preheat oven 400°F.
In a large, shallow dish, separate the kadaifi dough into individual threads using your fingers.Wrap each asparagus leaving the top un-wrapped. Arrange all wrapped asparagus on the pastry sheet side by side.
Melt butter in a sauce pan. When melted, pour in a small bowl and use a pastry brush to butter all wrapped asparagus. Bake in warm oven until golden. Remove from the oven and put in a large plate.
You can serve them as an aperitif with a large bowl containing the dip in the center, or as a starter with 3 asparagus on each plate, a mini-bowl of the dip and baby spinach salad.
Use mint leaves and some golden pine nuts as a decoration.
Asperges vertes en habit de kadaif, dip féta-menthe
Pour 6 personnes
24 petites asperges ou 24 pointes d'asperges déjà coupées
1 paquet de vermicelles kadaif (rayon frais dans les épiceries orientales)
100g de beurre demi-sel
Le zeste d'1 orange non traitée
125g de pignons de pin (réservez quelques pignons dorés pour la déco)
250g de feta
20cl de crème fraîche épaisse
1 bouquet de menthe fraîche, haché (réservez quelques feuilles entières pour la déco)
Huile d'olive
Faites dorer les pignons à sec dans une poêle anti-adhésive sur feu moyen jusqu'à ce qu'ils soient dorés (à surveiller attentivement). Réservez.
Dans un saladier, écrasez le feta frais et mélangez-le à la crème fraîche. Ajoutez la menthe hachée et les pignons. Goûtez et salez et/ou poivrez selon votre goût. Réservez au frais.
Si vos asperges sont entières, pelez-les et coupez les pointes. Faites chauffer de l'huile d'olive dans une poêle sur feu moyen et mettez-y les pointes d'asperges. Faites revenir quelques minutes puis couvrez. Au bout de 5 minutes, une pointe de couteau doit pouvoir traverser les pointes facilement. Ne les faites pas trop cuire, elles sont meilleures un peu fermes et elles vont recuire au four par la suite. Salez, poivrez et ajoutez les zestes d'orange. Réservez.
Recouvrez une plaque à pâtisserie de papier sulfurisé et préchauffez le four à 200°C.
Démêlez les vermicelles kadaif et enveloppez chaque pointe d'asperge en ne laissant que la tête dépasser. Disposez les asperges enveloppées sur la plaque.
Faites fondre le beurre et badigeonnez généreusement chaque asperge « enveloppée ».
Enfournez jusqu'à ce que les vermicelles soient dorés. Sortez du four et décollez.
Présentez dans un plateau à l'apéro avec la sauce au milieu ou 3 par assiette en entrée avec un mini ramequin de sauce pour chacun et la salade de pousses d'épinard.
Décorez avec quelques feuilles de menthe fraîche et quelques pignons dorés.