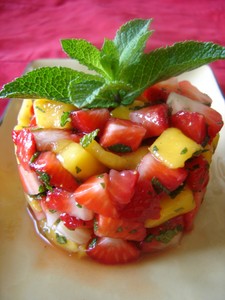 Sorry for being away from my blog these last days. Actually, I have 20 people for dinner tonight and I haven't left my kitchen for days !! This recipe has been posted a year ago but is totally appropriate today since the mango-strawberry tartare will be one of tonight's desserts ! See you soon for a "new" recipe, I promise !
Désolée de cette absence un peu plus longue que d'habitude : je reçois 20 personnes ce soir et je ne quitte plus ma cuisine depuis 3 jours ! Ce billet a été publié il y a un an, mais comme le tartare fraise-mangue est un des desserts de ce soir, cela tombe à pic. J'espère vous retrouver vite avec une recette inédite ! A bientôt, ne zappez pas ! ;-))
(Post written in april 2007, I have lost my extra kilos since then ;-))

Oh My God, I have gained 2 kilos since I started this blog 3 months ago. Let me see…2 kilos in 3 months, that makes 8 kilos at the end of this year ! Ouch ! But what else can I do ? I cook, I take pictures and then…I eat, of course !! OK OK, I have to do something right now, take good resolutions, forget the meaning of words like "cream", "cheese", "bread",etc…I am laughing out loud while typing these words, because I know me, and I am totally lucid : my good resolutions will last …a few minutes. To avoid any kind of guilty conscience, I will share 2 "diet" recipes today, both with strawberries. What about you fellow foodbloggers ? How do you keep your figure ?
(Billet rédigé en avril 2007. depuis, j'ai retrouvé mon poids de forme!)
Bon, alors là, cela ne va pas du tout, mais pas du tout ! Depuis que j'ai démarré ce blog il y a 3 mois, j'ai pris 2 kilos. Donc, à ce rythme-là, si mon calcul est juste, cela fera 8 kilos d'ici la fin de l'année !! Ouille ! Parce que c'est bien beau de cuisiner et de faire de jolies photos, mais après il faut les manger ces petits plats !! Bon alors, premières bonnes résolutions du printemps : on y va léger sur les calories. La fraise est soudainement devenue ma meilleure amie et je vous livre 2 recettes qui ne devraient pas vous (me) faire prendre un gramme !
Et vous, les copines bloggeuses, vous faites comment pour garder la ligne ?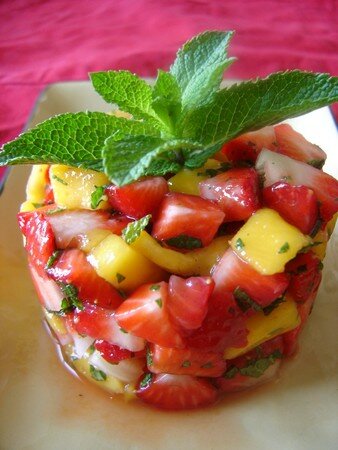 Strawberry and Mango Tartare with Orange Blossom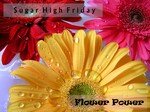 For 6 servings
1.1 lb strawberries, cleaned
1 ripe mango, peeled and central seed removed
2 tablespoons orange blossom water (middle eastern groceries)
2 tablespoons granulated sugar or diet sugar
½ bunch of fresh mint,cleaned, leaves finely chopped
Cut the strawberries and the mango into small dices.
In a mixing bowl, assemble strawberry and mango dices and add orange blossom water, sugar and mint.
Use round cooking rings to make a nice form.If you don't have cooking rings, you can make your own by cutting the bottom of a small plastic bottle of water.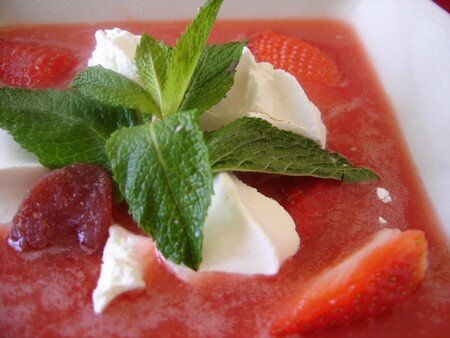 Two strawberry soup, with Ginger and Mint
For 6 servings
2.2 lb strawberries
2 handfuls dried strawberries (optional)
1 ½ bunch of of fresh mint,cleaned, leaves finely chopped (reserve 6 sprigs for the decoration)
1 tablespoon freshly grated ginger
1.6 oz brown sugar
3.2 cups mineral water
12 small vanilla meringues
Bring mineral water to a simmering point, in a pan. Remove the pan from the heat and add the grated ginger and the fresh mint. Let infuse for 30 minutes then drain through a sieve. Let cool at room temperature.
Purée half the strawberries using an electric mixer. Cut the remaining strawberries into halves.
In a large mixing bowl, mix the infused water with the strawberry purée.Add brown sugar and mix well.
In each soup plate, first arrange the strawberry halves and 3 or 4 dried strawberries. Then cover with the soup, arrange 2 vanilla meringues (coarsely crushed if you wish) and a mint sprig.
Tartare de fraises et Mangues à la Fleur d'Oranger
Pour 6 personnes
500g de fraises, nettoyées
1 mangue très mûre, pelée et noyau ôté
2 CS d'eau de fleurs d'oranger
2 CS de sucre en poudre (facultatif ou sucre allégé)
½ bouquet de menthe fraîche, nettoyé, feuilles finement ciselées
Coupez les fraises et la chair de la mangue en tout petits dés.
Dans un saladier, mélanger les fraises et la mangue, ainsi que l'eau de fleurs d'oranger, le sucre et la menthe ciselée.
Utilisez des cercles pour une jolie présentation. Si vous n'avez pas de cercle « professionnel », vous pouvez en créer vous-même en découpant le fond d'une petite bouteille en plastique d'eau minérale.
Soupe aux 2 Fraises, Gingembre et Menthe
Pour 6 personnes (recette très re-visitée de Sébastien Gaudard, « agitateur de goût »)
1 kilo de fraises
2 poignées de fraises séchées
1 botte et demi de menthe fraîche, nettoyée, feuilles ciselées (réservez 6 « pointes » pour la déco)
1 CS de gingembre frais râpé
45g de cassonade
75 cl d'eau minérale
12 petites meringues vanille
Portez l'eau à frémissement dans une casserole. Retirez-la du feu et ajoutez le gingembre râpé et les feuilles de menthe ciselées. Laisser infuser 30 minutes et puis filtrez au travers d'un chinois. Laissez refroidir.
Réduisez la moitié des fraises en purée à l'aide d'un mixer électrique et passez à travers une passoire. Couper le reste en moitiés.
Dans un grand saladier, mélangez l'eau aromatisée et la purée de fraises. Ajoutez le sucre cassonade. Mélangez bien.
Dressez chaque assiette à soupe en positionnant d'abord des quartiers de fraises et 3 à 4 fraises séchées, en recouvrant de soupe de fraises et en parsemant 2 meringues grossièrement écrasées. Décorez avec un petit brin de menthe.