Panna Cotta Framboises, Litchis et Rose
Raspberry, Litchi and Rose Panna Cotta

This is not exactly the recipe I wanted to share today. Actually, it was supposed to be a panna cotta, but topped with a decadent orange and passion fruit compote, recipe of Pierre Hermé. But, to my big surprise and disappointment, I could not find passion fruits in my local market. In order to keep my recipe with a Pierre Hermé's touch, I have decided to make a Ispahan version with raspberries, litchis and rose. I know, there are worst Back-up plans…
I don't even know if the most famous pastry chef in the world has already made a Ispahan Panna Cotta ; this recipe comes directly from my very own little brain.
To top the cream, I did not want a coulis, I wanted something more consistent, with small bites, hence a fruit compote.
Oh, and I must not forget to make a wish, 'cause here, in France (or maybe is it in my family ?), every time one makes something for the very first time, one has to make a wish. And before today, I had never used agar agar* in a recipe.
* agar agar is a vegetarian gelatine substitute, made from a seaweed.
Ce n'est pas la recette que j'avais prévu de partager avec vous aujourd'hui : en fait, cela devait bien être une panna cotta, mais recouverte de la compote orange/fruit de la passion de Pierre Hermé. Malheureusement, impossible de mettre la main sur les petits fruits à coque et voilà comment, pour rester dans l'esprit du Grand PH, je me suis « rabattue » sur une version Ispahan-esque. Il y a pire comme solution de repli, j'en conviens. Je ne sais pas du tout si lui-même a déjà fait une panna cotta Ispahan, celle-ci est vraiment sortie de ma petite cervelle. Pour recouvrir la crème, je souhaitais avoir une consistance plus proche de la compote que du coulis, c'est pourquoi le chinois et le mixer ont été mis sur la touche. C'est un dessert plus « nourrissant » qu'une panna cotta classique, il y a plus de matière et ce n'est pas pour me déplaire…J'espère que vous serez également conquis !
Ah, il ne faut pas que j'oublie de faire un vœu car je n'avais à ce jour jamais utilisé d'agar-agar, et il paraît qu'il faut toujours faire un vœu à chaque « première fois » !!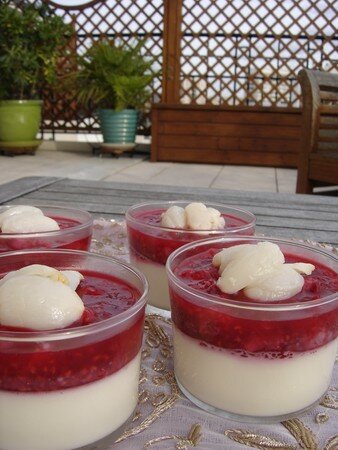 Raspberry, Litchi and Rose Panna Cotta
For 4 little panna cotta
(For 6, multiply ingredients by 1.5 or for 6 large ones, double them)
To be made several hours ahead or a day before
Panna Cotta :
1 1/2 cup liquid whipping cream
3/4 cup whole milk
1.7 oz granulated sugar
1 tsp of'agar-agar or 2 gelatin leaves
1 tsp vanilla extract or rose syrup, according to your taste
Raspberry-Litchis compote
9 oz fresh raspberries
7 oz canned litchis
1 oz granulated sugar
the juice of ½ lemon
2 tsp rose water (middle-eastern groceries)
In a sauce pan over medium-heat, heat cream, milk, sugar and vanilla extract (or rose syrup). When hot, add agar agar or gelatin leaves (first soften in cold water then squeezed) and let boil for one minute, stirring.
Divide the cream mixture among the small glasses. Let cool at room temperature then refrigerate.
In another sauce pan, heat litchis dices, raspberries, sugar and lemon juice. Stir. When raspberries are almost pureed, remove from the heat and let cool. Pour on top of the panna cottas (once cream is firm).
Refrigerate for a few hours or overnight.
Panna Cotta Framboises, Litchis et Rose
Pour 4 petites Panna Cotta dans des verres à tapas
(Pour 6, multipliez les quantités par 1.5 et pour 6 grands verres à whisky, multipliez par 2)
A faire quelques heures à l'avance.
Panna Cotta :
30 cl de crème liquide
15 cl de lait entier
50g de sucre en poudre
0.8g d'agar-agar (1 cuiller à café rase) ou 2 feuilles de gélatine
1 cc d'extrait de vanille ou de sirop à la rose, selon le goût
« Compote » framboises-litchis
2 barquettes de framboises (250g)
200g de litchis au sirop, égouttés
30g de sucre en poudre
le jus d'un demi-citron
2 cc d'eau de rose
Dans une casserole, faire chauffer sur feu moyen la crème, le lait et le sucre et la vanille (ou la rose). Quand le mélange est chaud, ajouter l'agar-agar (ou la gélatine mise dans l'eau froide et essorée) et faire bouillir une minute, tout en remuant.
Répartir dans les verres à tapas et laisser refroidir. Puis disposez au frais.
Dans une autre casserole, chauffer sur feu moyen les litchis coupés en dés, les framboises, le sucre et le jus de citron. Remuer. Lorsque les framboises sont réduites en compote, retirer la casserole de la plaque.
Laisser refroidir et ajouter l'eau de rose.
Répartir la compotée dans les verres, lorsque la crème est prise.
Remettre au frais pour quelques heures ou pour le lendemain.