Tresse Suisse aux Pralines Roses
Swiss Braided Brioche with Pink Pralines
I have been tagged by Loupiti. And I am very happy he did tag me. Loupiti is a young man, crazy about the art of pastry-making and extremely talented. I check out his foodblog on a very regular basis but I had no idea he knew mine ! His Swiss braided brioche has been fascinating me for a long time, but I had to wait for this special occasion (his tag) to finally make it ! It is a very easy recipe and the brioche is just the way I like it : so moist in the inside and golden on the outside, yummy ! Why is it called Swiss Braided Brioche ? Because it is a must-have for week-end breakfasts in Switzerland and all Swiss bakeries have loads of them on Saturday and Sunday mornings.

Loupiti m'a taguée. Cette phrase n'a l'air de rien comme ça, mais franchement cela m'a fait super plaisir. Loupiti est un jeune garçon féru de pâtisserie et très talentueux, dont je consulte régulièrement le blog, mais j'ignorais totalement qu'il connaissait le mien ! Sa tresse suisse me faisait de l'œil depuis un certain temps et j'ai donc profité de son tag pour vous faire découvrir cette recette, délicieuse et inratable ! J'ai apporté de minuscules modifications, notamment sur la quantité de sel et sur la déco (la praline rose, c'est ma petite touche perso). Quant à la forme de la brioche, j'avoue à ma grande honte n'avoir pas bien saisi le schéma de pliage des pâtons de Loupiti et je me suis donc contentée d'une tresse classique.
Sachez que cette brioche est un incontournable du petit-déjeuner dominical en suisse, toutes les boulangeries en regorgent le week-end.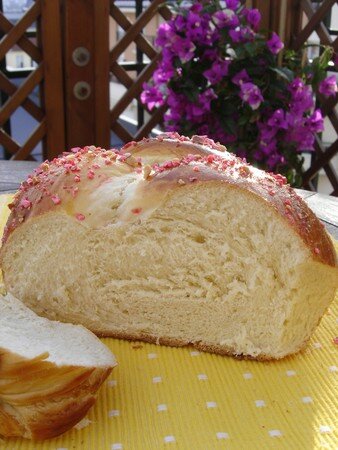 Swiss Braided Brioche with Pink Pralines
(Recipe courtesy of Loupiti)
1 lb all-purpose flour
5 fl oz milk
2.5 oz melted unsalted butter
1 ounce granulated sugar
¼ oz vanilla sugar
½ oz fresh yeast
1 egg
1/3 oz salt
1 egg yolk to glaze
1 handful pink pralines, coarsely chopped
Stir yeast in tepid milk.
In a large mixing bowl, assemble flour, sugars and salt. Make a well, and add egg, melted butter and little, by little, the yeast/milk mixture.
Knead until you obtain a smooth dough.
Arrange the dough ball in a bowl, cover with kitchen towel and let rise for at least two hours (3 is even better).
Knead again to remove air from the dough. On a floured working board, divide dough into three equal loaves and braid them together.
Arrange braided brioche on a pastry sheet lined with parchment paper and let rise an additional hour.
Preheat oven 340°F.
Glaze brioche with egg yolk, decorate with pink pralines and bake for 25 minutes.

Tresse Suisse aux Pralines Roses
(Recette de base de Loupiti )
450g de farine
150g de lait (15cl)
75g de beurre fondu
30g de sucre
1 sachet de sucre vanillé
15g de levure fraîche de boulanger
1 oeuf
10g de sel
1 jaune d'œuf pour la dorure
1 poignée de pralines roses concassées
Délayer la levure dans le lait légèrement tiède.
Dans un saladier, mélangez la farine tamisée avec les 2 sucres et le sel.
Faire un puits puis ajouter l'œuf, le beurre fondu puis petit à petit la levure délayée dans le lait. Pétrir pour avoir une boule de pâte bien homogène à la main ou au robot ou MAP (recommandé).
La mettre dans le saladier et laisser doubler de volume plus de 2 heures (presque 3 heures pour moi !), recouverte d'un chiffon humide.
Pétrir à nouveau la pâte pour en expulser l'air. Sur un plan de travail fariné, former trois rouleaux de 25 cm et les tresser entre eux.
Disposer la tresse sur une plaque à pâtisserie recouverte de papier sulfurisé et laisser à nouveau lever 1 heure.
Dorer la tresse à l'aide d'un pinceau et parsemer de pralines roses concassées.
Cuire 25 minutes dans un four préchauffé à 170°.
Le tag de Loupiti :
Un aliment que je déteste : la cannelle dans les plats sucrés (pas dans les plats salés)
Mes 3 aliments/produits favoris : gingembre, coriandre et mangue
Ma recette favorite : le M'soki de ma maman, un plat mijoté de boeuf et légumes de printemps.
Boisson de prédilection : le thé vert et...l'eau tout bêtement !
Plat que je rêve de réaliser : des gâteaux à base de pâte à choux comme le Paris-Brest et le Saint-Honoré
Meilleur souvenir culinaire : Mon premier repas gastronomique dans un Relais&châteaux, à l'Auberge des Templiers.