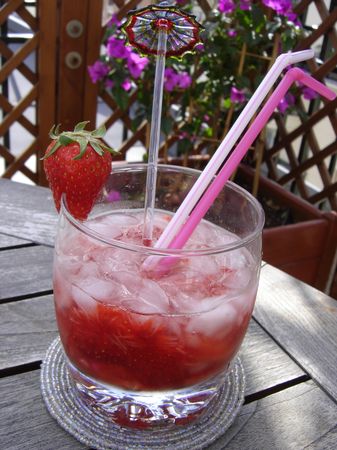 In Brasilian Portuguese : « Caipirinha de Morango ».
We've been having a heat wave these last days in Paris and I find myself quite often with a dry throat : I am thirsty all the time ! And as it is strawberry season in Europe , what could be better than a fruity version of the most famous Brasilian Cocktail : Caipirinha ? Thirst-quenching, tasty and beautiful to look at with its red "dress", this cocktail is also quite sexy, isnt'it ? Aaaah, Brasil !!
The basic recipe is simply made of lime, sugar and cachaça, an alcohol obtained from fresh sugarcane juice that is fermented and distilled. Historically, it used to be the peasant drink by definition : Actually , the word « caipirinha » comes from the contraction of "Caipira"(peasant or slave) and of "Curupirinha » (a mythic devil living in the forest and feared by the locals).
En Portugais/brésilien dans le texte : « Caipirinha de Morango ».
C'est la saison des fraises en ce moment et avec la chaleur dont nous bénéficions depuis plus d'une semaine, je meurs souvent de soif, pas vous ? Alors, un cocktail très désaltérant, goûteux et joli à regarder, cela ne se refuse pas…Avec sa belle robe rouge, je le trouve très approprié pour un tête-à-tête amoureux. Et lorsque l'on sait que la Caïpirinha est la boisson nationale du Brésil, là, on ne peut pas faire plus exotique et sexy.
Dans sa version basique, il est simplement composé de citron vert écrasé, de sucre et de cachaça, une eau-de-vie issue de la fermentation du jus de canne à sucre. C'est le cocktail paysan par excellence : en effet, le nom "Caipirinha" viendrait d'un mélange de "Caipira"(paysan) et de "Curupirinha » (un démon mythique de la forêt apparaissant aux yeux des paysans en état d'ivresse avancée).
A consommer avec modération, bien sûr, et de préférence sans enfant dans les parages, héhé…
Strawberry Caipirinha
For 2 servings, in 2 whisky glasses
2 tablespoons granulated sugar
12 strawberries, ripe
8 tablespoons Cachaça (best brand is Leblon). Can be replaced with Vodka or Rum.
Crushed ice
In each whisky glass, crush 5 strawberries with sugar, using a pestle. Add crushed ice to the ¾ of the glass, then 4 tablespoons of cachaça and mix. Serve with two straws in case one of them gets blocked. Decorate the glass with a whole strawberry.
Caipirinha à la Fraise
Pour 2 personnes, à servir dans 2 verres à whisky
2 CS de sucre en poudre
12 fraises bien mûres
10cl de Cachaça (la meilleure marque disponible en France est Leblon, mais une autre fera l'affaire). Sinon, remplacez par de la Vodka ou du Rhum.
De la glace pilée
Dans chaque verre, écraser 5 fraises avec 1 CS de sucre à l'aide d'un pilon. Ajouter la glace pilée à ras bord, puis 5 cl de cachaça et bien mélanger. Servir avec deux pailles, car l'une d'elles pourrait se boucher. Décorer avec une fraise entière.