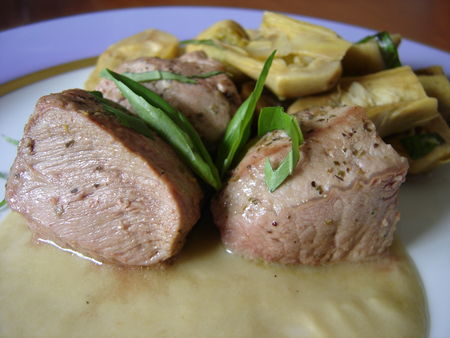 The problem with rhubarb is that you often find yourself with 2 or 3 stalks leftovers and you don't know what to do with it! Another dessert? No, tired of sweet things! Garbage? Come on ! I have a recipe for you, so nothing is wasted!
This unusual sauce is perfect for white meats, like veal. It is a Tuscan recipe, from the world-famous Michelin-starred restaurant "Enoteca Pinchiorri" located in a Florentine Palazzo and decorated with Medicean splendour.
The perfect occasion for me to –yes, again, I know- mention my favourite cookbooks : the "Williams-Sonoma's authentic recipes celebrating the foods of he world". Each book celebrates a big city in the USA or in Europe and relates with a great sense of details their culinary histories, their local specialties, their markets, along with more than 50 recipes and gorgeous pictures. I love these books so much that I have them all! Yes, all!!
And please believe me when I say that I have no financial interest at all in mentioning these books. I feel that I have to precise this as there was a big debate last week among the French food blogosphere: when you brag about a product, restaurant or a cookbook on your blog, is it advertising or not? For me, the answer is very simple: no, if you are sincere and if you do not get paid for it. And if ever you are (paid), you have to be honest and tell your audience.
Le problème avec la rhubarbe, c'est qu'une fois le dessert réalisé, on se retrouve avec encore 2 ou 3 tiges sur les bras mais on n'a pas forcément envie de redonner dans le sucré !!
Alors voici la recette idéale de recyclage : une sauce originale, qui accompagnera à merveille toute viande blanche. Ici, le veau en l'occurrence, mais laissez libre cours à votre imagination et ...à vos goûts bien sûr. Il s'agit d'une recette Toscane, plus précisément du restaurant étoilé l' « Enoteca Pinchiorri », magnifiquement situé dans un Palais Florentin et décoré avec une splendeur digne de l'époque des Médicis.
L'occasion pour moi de vous re-vanter les mérites de la collection de livres « Authentic recipes celebrating the foods of the World » de la chaîne de magasins US Williams-Sonoma. Chaque livre met en avant une grande ville américaine ou européenne, et traite avec sérieux et exhaustivité de son histoire culinaire, ses spécialités, ses marchés, ses artisans, suivi d'une cinquantaine de recettes illustrées de photos à tomber. Disponibles en anglais seulement, ces livres sont de vrais bijoux, je les adore, je les ai tous, oui tous les 8 !!
Et ce n'est pas de la pub déguisée !! Soyez assurés que lorsque je vante un produit ou un livre, c'est que je les aime, sans aucune contrepartie financière ni en nature !! (ceci en référence au débat qui a fait rage chez « cuisiner en ligne » au sujet de certains blogs « vendus à la pub »). De toutes les façons, je ne pense pas que l'audience de mon blog soit telle qu'elle puisse intéresser un quelconque annonceur, snif…(Oui, j'aime bien faire mon Caliméro de temps en temps...).

Veal with Rhubarb-Honey Sauce
Courtesy of « Williams-Sonoma authentic recipes…Florence"
To start a day ahead
For 4 servings
1 ½ lb veal tenderloin
3 tablespoons extra virgin olive oil
2 tablespoons freshly ground rosemary
2 stalks rhubarb, trimmed and diced
1.7 oz unsalted butter, diced
2 tablespoons liquid honey
One pinch of paprika
Salt and freshly ground Pepper
Place one tbsp rosemary in a bowl and stir in olive oil. Let marinate overnight at room temperature.
The following day, cut the veal in to 1 1/4 –inch cubes. Add to the bowl with olive oil. Cover and refrigerate at lest for 3 hours (up to 8 hours).
To make rhubarb-honey sauce, cook rhubarb dices in a sauce pan over medium heat. Add butter and ¾ cup water. When rhubarb is cooked, butter melted and water almost evaporated, remove from the heat and let cool. When at room temperature, blend to a paste with an immersion or stand blender. Stir in honey, and season to taste. Refrigerate. (You will bring it back to room temperature two hours before serving)
Sauté veal in a skillet, discarding the marinade, over medium heat. Add paprika and season. Sauté until golden on all parts and cooked through.
Divide sauce among the plates, arrange veal on top, sprinkle over the remaining rosemary and serve at once.
Can be served with braised artichokes or spinach.

Filets de veau, sauce Rhubarbe-Miel
Extraite et traduite du livre « Williams-Sonoma authentic recipes…Florence"
A commencer la veille, et prévoir du temps de marinade.
Pour 4 personnes
750g de filets de veau, coupés en gros dés
3 Cs d'huile d'olive
2 CS de romarin frais, grossièrement écrasé
2 tiges de rhubarbe, pelées et coupées en dés
50g de beurre, en dés
2 Cs de miel liquide
Une pincée de paprika
Sel et poivre
La veille, faire mariner l'huile d'olive avec 1 CS de romarin.
Le lendemain, couper le veau en gros dés et le placer dans la marinade parfumée. Couvrir et laisser reposer au frais pendant au moins 3 heures.
Pour la sauce rhubarbe-miel, faire fondre la rhubarbe à feu moyen dans une casserole, avec le beurre et 15 cl d'eau. Quand la rhubarbe est défaite, le beurre fondu et l'eau quasi-évaporée, retirer du feu.
Lorsque la sauce est à température ambiante, la mixer dans un blender. Ajouter le miel et saler et poivrer à votre goût. Mettre au frais au moins deux heures, afin que la sauce s'épaississe. La remettre à température ambiante deux heures avant de servir.
Faire sauter le veau sans la marinade sur feu moyen, ajouter une pincée de paprika, sel et poivre. Faire sauter 5 minutes jusqu'à ce que la viande soit dorée.
Répartir la sauce dans les assiettes, disposer le veau par-dessus, parsemer du reste de romarin haché. Vous pouvez servir avec des artichauts braisés ou des épinards frais.