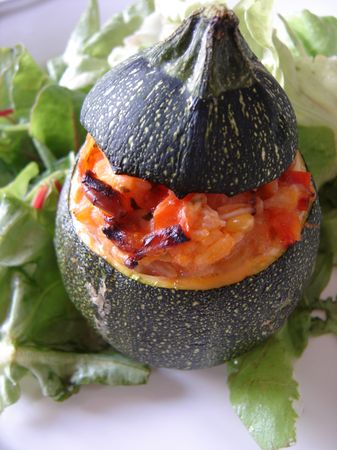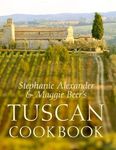 Hooray for the foires à la brocante* ! I have always been unlucky with them…until last week when I found this wonderful cookbook for only 5 euros. "Tuscan Cookbook" is the name of my little treasure and it is the story of two Australian Chefs who ran a seasonal cooking school near Sienna at the end of the summer 1997. Their clients were Australian, too and all I can say is that I was green with envy when I read how wonderful the class was, the recipes, the place (La Villa di Corsano) and the people. They were accompanied by a talented photographer and a food stylist who set up gorgeous buffets for them. What a wonderful human adventure! The narrative is extremely friendly and you feel like you were part of the Cooking Class. Now, a private message for my hubby : "Honey, Remember I will turn 40 in a few months ? Well, if you need help in finding a gift, I can help you! Key words are: Tuscany, cooking class, summer 2009,…hehehe !
Today's recipe is, of course, inspired by the book but, strangely enough, it is well and truly mine. Reading more than 200 pages about perfectly ripe tomatoes, wonderful zucchinis, crisp pine nuts and intense parmiggiano made me crave for all those ingredients. And when I saw those beautiful round courgettes at the market, I simply could not resist!
As you probably have noticed, this is my second Italian recipe in a week. And what about a Tuscan dessert? Be patient…
*"Foire à la brocante", is a sale that (often) takes place in a public square and the booths are those of brocanteurs or private individuals who make their living by selling objects in poor condition or restored by them, or in the case of individuals, who just want to get rid of them for little money.


Vivent les foires à la brocante ! En ce moment, elles battent leur plein et si jusqu'à présent, j'étais toujours rentrée bredouille et frustrée, cette fois-ci, la chance m'a prise en pitié et a guidé le bout de mon museau vers un livre merveilleux…pour 5 euros (prix normal : 40 euros !). « Saveurs de Toscane » est le nom de ma petite trouvaille et il raconte l'histoire de 2 Chefs australiennes qui ont organisé des stages de cuisine pour leurs compatriotes, près de Sienne, à la fin de l'été 1997.Accompagnées d'un photographe et d'un styliste qui a mis en scène des buffets somptueux, elles ont littéralement investi la Villa di Corsano et ont même rouvert des pièces qui n'avaient pas vu la lumière du jour depuis des lustres !! Une aventure merveilleuse…et qu'est-ce que j'envie leurs stagiaires !! D'ailleurs, Chouchou, si tu passes par mon blog, en voilà une fabuleuse idée de cadeau pour fêter dignement mes 40 ans ! Tu as encore 6 mois pour faire des économies !! Et si tu es sage, tu pourras me rejoindre sur place !Hihi !
Ma recette du jour est une totale improvisation et est probablement peu conforme aux règles de l'art, mais le livre m'a donnée une furieuse envie de courgettes, tomates, pignons, parmesan…alors, je vous ai mélangé tout ça au petit bonheur la chance et voici le résultat. Des courgettes farcies végétariennes ! C'est ma seconde recette Toscane en une semaine, ne manque plus que le dessert, et vous aurez le menu complet. Tiens, cela me donne une idée…
P.S : Au fait, c'était très bon !!
Tuscan-style vegetarian Stuffed Zucchini
4 servings, as a starter
4 round zucchini
1 onion, minced
2 tomatoes
1.8 oz pine nuts
1 clove garlic, crushed
2 tbsp olive oil
1 egg, slightly beaten
4 to 5 tbsp steamed rice or breadcrumbs
1 small bunch of fresh basil, chopped
3 tbsp freshly grated parmesan cheese
Sea salt and freshly ground pepper
Preheat oven 400°F.
Toast pine nuts in a dry skillet until golden.
Cut off the top of the zucchini and scoop out the center leaving at least a good 1/2 inch border all around. Chop the zucchini that you just removed finely.
Peel tomatoes and dice them.
In a skillet over medium heat, heat olive oil. Cook minced onion, and when translucent, add zucchini, tomatoes and garlic. Cook until water is evaporated. Stir in basil and remove from the heat. Transfer the mixture to a large mixing bowl. Let cool.
When just tepid, add pine nuts, beaten egg, rice (or breadcrumbs) and parmesan cheese. Mix well. Season to taste and mix again.
Stuff the zucchini, top with their little « hats » and bake for 25 to 30 minutes.
Serve hot with rocket salad and balsamic dressing.
Courgettes Farcies végétariennes à la Toscane*
Pour 4 personnes, en entrée
4 courgettes rondes
1 oignon, émincé
2 tomates
50g de pignons de pin
1 gousse d'ail écrasée
2 cuil. à soupe d'huile d'olive
1 œuf entier, légèrement battu
4 à 5 CS de riz blanc cuit ou 4 CS de chapelure
1 petit bouquet de basilic frais haché
3 cuil. à soupe de parmesan fraîchement râpé
Sel, poivre
Préchauffer le four à 200°C.
Faire torréfier les pignons à sec dans une poêle. Réserver.
Couper un chapeau sur chaque courgette. Evider à l'aide d'une cuiller et mettre la chair dans un saladier. La hacher grossièrement.
Monder les tomates et les couper en petits dés.
Dans une poêle sur feu moyen, faire chauffer l'huile d'olive. Ajouter l'oignon émincé et faire revenir jusqu'à ce que l'oignon soit tombé. Ajouter les courgettes, les tomates et l'ail et faire revenir jusqu'à ce que les courgettes soient tendres et l'eau des tomates évaporée. Mélanger quelques instants avec le basilic et retirer du feu. Verser le contenu dans un saladier et laisser refroidir jusqu'à ce que ce soit juste tiède.
Dans le saladier, ajouter les pignons, l'oeuf battu, le riz (ou chapelure) et le parmesan. Bien mélanger. Goûter et assaisonner. Ne pas hésiter à saler généreusement malgré la présence du parmesan. Mélanger à nouveau.
Farcir les courgettes avec le mélange en faisant dépasser. Recouvrir du « chapeau » et enfourner pendant 25 à 30 minutes.
Servir chaudes avec une salade de roquette à la vinaigrette balsamique.
*Pourquoi "à la Toscane" ? Because Pignons de Pin !!