Tarte à la Mangue et Citronnelle, pâte à la Noix de Coco
Mango and Lemongrass Tart with Coconut pastry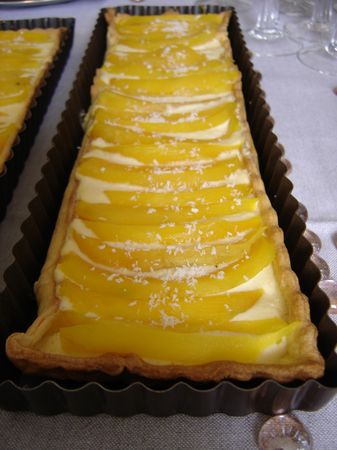 Remember all the good things I said about american food magazines ? Now I have recently found out that the Australians,too, have amazing "foodzines" ! A friend of mine (thank you Sandra) recently brought to me a selection of gourmet magazines, and "delicious." (the Australian version, not the British one) was among them. Rarely have I literally devoured a magazine like this ! A pure beauty : articles on such amazing restaurants (with views that leave you speechless) that you want to jump on a plane right now, regardless of the 20++ hour-flight, recipes for all tastes, with predominant exotic flavors due to the proximity of Asia… What else ? Amazing photos reports from regions I had never heard of : does Albany in Australia sound familiar to you, its organic farms, delicious café breweries, wineries ? mmm ??
Moreover, I have learnt that gourmet vocabulary differs from the American one, at least for dozens of words : "ketchup" is a "tomato sauce" there, a "cookie" is a "biscuit" , a "candy" is a "lolly", and so on…
The issue I got was the December 2007 one, which is perfect for now since seasons are inverted to European ones : But, really, how lucky they are to celebrate Christmas around produce like asparagus, zucchinis, tomatoes, peaches, strawberries, cherries,… Lovely…
Je vous ai récemment dit tout le bien que je pensais des magazines de recettes américains, mais j'ai découvert que les Australiens n'étaient pas en reste, loin de là…Une amie (merci Sandra) m'a offert le numéro de fin d'année de « delicious » (la version australienne, pas la britannique) et je l'ai dévoré comme rarement je n'avais disséqué un foodzine. Une pure merveille : des reportages sur des restaus avec vue à couper le souffle qui donnent envie de prendre l'avion là, tout de suite, pour le pays des kangourous, et des recettes pour tous les goûts, avec une dominante exotique, proximité de l'Asie oblige. Egalement la découverte, en photoreportages sublimes, de régions totalement inconnues ; vous connaissiez, vous, la ville rurale d'Albany en Australie : ses fermes bios, son café réputé, ses vignes ?
Et puis, j'ai appris que le vocabulaire gourmet différait légèrement de celui des USA : par exemple, les australiens ne disent pas « ketchup » mais « tomato sauce »( !!), pas « cookie » mais « biscuit », pas « candy » pour « bonbon » mais « lolly », etc, etc…
Pour finir, ce numéro de décembre valorise les produits qui sont maintenant au top pour nous, car, comme vous le savez, les saisons sont inversées par rapport au continent européen. Quand j'y pense, ça doit être drôlement sympa de fêter Noël autour de l'asperge, la tomate, les fruits rouges, les pêches,…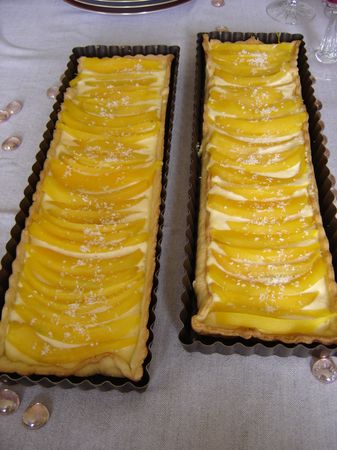 Mango and lemongrass Tart with coconut pastry
From delicious.magazine, December 2007
For 4-6 servings (for a 13-3/4-by-4-1/4-Inch rectangular loose bottom pan)
1 1/3 cup heavy whipping cream (thickened cream for australians)
3 lemongrass stems, bruised
3 egg yolks
1/3 cup fine granulated sugar (caster sugar for Australians)
1 ½ gold-strength gelatin leaves, soaked in cold water for 5 minutes, then squeezed (for my part, I used 1 flat teaspoon of agar-agar powder which is a vegetarian gelatin)
2 ripe (but still firm) mangoes, peeled, thinly sliced
Coconut pastry
1 1/3 cup all-purpose flour
100g chilled unsalted butter, chopped
1/3 cup desiccated coconut
1 tbsp confectioner's sugar, plus extra to dust
Place cream and lemongrass in a pan over medium heat, bring to simmering point, remove from the heat and let infuse for an hour. Discard lemongrass.
Meanwhile, make coconut pastry : in a food processor, mix slowly flour, butter, coconut and confectioner's sugar. Add 3 tablespoons chilled water, process until it comes to a ball. Wrap in plastic film and refrigerate for half an hour. Roll out pastry and line a greased 10cmx34cm loose bottomed tart pan. Refrigerate 20 additional minutes.
Preheat oven 350°F. Cover pastry with parchment paper and baking beans. Blind bake for 10 minutes, remove paper and beans, and bake again 5 more minutes. Cool.
Beat egg yolks and sugar until thick and pale yellow. Add cream. Return this mixture to pan on low heat and stir 2 to 3 minutes until slightly thickened. Remove from heat, add squeezed gelatin and stir to dissolve. Cool completely and pour on tart crust. Refrigerate at least 3 hours until firm. Top with overlapping mangoes. Dust with confectioner's sugar.
Tarte à la mangue et citronnelle, pâte à la noix de coco
Recette du magazine delicious., décembre 2007
Pour 4-6 personnes (moule rectangulaire à fond amovible de 10x34 cm. Pour un moule à tarte classique, augmentez les quantités pour la pâte de 10%)
30cl crème fraîche épaisse
3 bâtons de citronnelle, écrasés
3 jaunes d'oeufs
75g sucre en poudre
1 ½ feuille de gélatine, mise 5 mn dans l'eau froide puis essorée ou 0.8g d'agar-agar (soit une cc rase) en poudre
2 mangues mûres, pelées et coupées en fines tranches comme sur la photo
Pâte à la Noix de Coco
200g de farine ordinaire
100g de beurre doux, froid, coupe en morceaux
30g de noix de coco râpée
1 CS de sucre glace + un peu pour saupoudrer la tarte
Dans une casserole sur feu moyen, mélanger les bâtons de citronnelle écrasés et la crème. Amener à frémissement puis retirer du feu et laisser infuser une bonne heure. Retirer ensuite la citronnelle.
Préchauffer le four à 180°C.
Pendant l'infusion, faire la pâte à la coco : dans un robot ou un saladier, battre lentement la farine, le beurre, la noix de coco et le sucre glace. Ajouter 3 CS d'eau froide, battre jusqu'à la formation d'une boule homogène. Couvrir de film et réfrigérer 30 minutes. Puis dérouler la pâte, foncer le moule préalablement graissé et remettre au frais encore 20 minutes.
Recouvrir le fond de tarte de papier caisson et de haricots secs. Cuire à blanc au four pendant 10 minutes, puis retirer papier et haricots et faire dorer 5 minutes (à 2 ou 3 mn près, il faut que la pâte soit dorée). Retirer du four et laisser refroidir.
Battre les jaunes avec le sucre jusqu'à ce que le mélange épaississe et devienne jaune pâle. Ajouter la crème infusée. Remettre l'ensemble dans une casserole sur basse température et mélanger 2 à 3 minutes. La crème épaissit un peu, à ce moment-là, retirer du feu et ajouter la gélatine essorée (ou la poudre d'agar agar). Mélanger.
Laisser refroidir complètement et verser sur le fond de tarte. Mettre au frais pendant 3 heures et lorsque la crème a bien « pris », disposer les tranches fines de mangues sur le dessus. Décorer de sucre glace ou de noix de coco râpée.