Asperges et Abricots en Crumble de Pain d'Epices
Asparagus and Apricot Gingerbread Crumble
The more I cook, the less I like to "transform" food. The sole idea of adding cream, eggs, or other stuff to vegetables or fruits attracts me less and less. Could « rubbing elbows » with them on a daily basis make me want to offer them a decent end on this earth ? OK, let's be serious for a while : my recipes truly tend to be more and more basic, more respectful of the produce. I can't help it ! Cooking times are also shorter, almost "al dente". Is this change due to summer season ? Only the future will tell…
For this recipe, I wanted to find a new use for my gingerbread crumble which was, until today, my favorite « base » for savory cheesecakes. Pairing it with asparagus seemed a good and « reasonable » choice, but the original part comes from the apricots as "guest stars". I first chose them for their color, then for their "not-too-sweet" taste which could make a nice combination with spices. The result was a very refreshing dish, very… « al dente », lol !!
Mmmm, now I really wonder what it would taste like with cherries instead of apricots…
Plus je cuisine, moins j'aime « transformer » les aliments…La pensée de les mélanger à de la crème, des œufs, etc, me séduit de moins en moins. Peut-être qu'à force de les côtoyer, je les prends en affection et je leur offre une fin honorable !! OK OK, j'arrête de délirer, mais il me semble que mes recettes tendent vers plus de simplicité et de respect du produit. Et également vers des cuissons plus courtes, limite « al dente ». Est-ce un phénomène purement saisonnier, dû à l'arrivée des beaux jours ? L'avenir nous le dira…
Pour cette recette, je souhaitais trouver un nouvel usage à mon crumble de pain d'épices (qui me servait jusqu'à présent de base pour mes cheesecakes salés). L'associer à des asperges me semblait très raisonnable, mais la petite touche d'originalité vient de la présence de l'abricot. Choix guidé en premier lieu par la couleur puis par le goût qui se marie assez bien au salé et aux épices. Un résultat très frais et bien… « al dente » comme j'aime !
Tiens, je me demande ce que cela donnerait avec des cerises...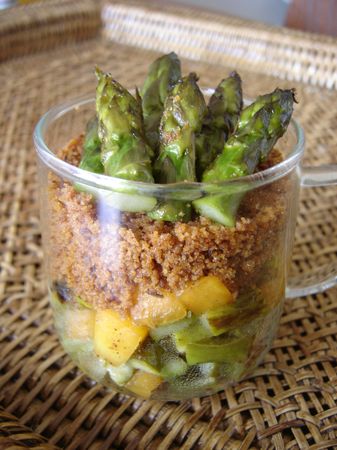 Asparagus and Apricot Gingerbread Crumble
For 6 servings
24 small asparagus or 24 asparagus spears already cut
6 apricots, medium-size (if small, buy 12)
2 teaspoons of « 4-spices » (an already made blend of ginger, nutmeg, clove and cinnamon)
Extra virgin Olive Oil
Sea salt and freshly ground pepper
For the gingerbread crumble :
8 slices stale gingerbread (If ever the gingerbread was not "stale", you can bake the slices in a warm oven for 2 to 3 minutes and let them cool at room temperature)
3 teaspoons caraway seeds
3 pinches Cayenne Pepper
3 tablespoons all-purpose flour
3 oz soft salted butter
Prepare the crumble : Mix the caraway seeds and the ginger bread (cut into pieces) in a food processor to obtain a powder. In a large bowl place the flour, the ginger bread powder, the cayenne pepper and the soft butter.
With your fingers, work the ingredients until it resembles coarse breadcrumbs.
If you use a food processor, the butter must be cold and cut into small dices.
Chill until ready to use.
If you use small asparagus, peel them and keep the spears.
Heat a tablespoon of olive oil in a skillet over medium heat. Put asparagus spears and sear for 2 minutes then cover and let cook 3 to 5 additional minutes
Reserve some spears for the decoration and cut the remaining ones into small cubes. Cut apricots in small dices the same size of asparagus dices. Assemble all dices in a skillet over medium heat and sauté for 2 to 3 minutes. Sprinkle 4-spices over and season. Remove from heat .
Preheat oven 350°F.
Line a pastry sheet with parchment paper. Arrange 6 heatproof glasses or 6 cooking circles on the pastry sheet. Divide the apricot-asparagus dices at the bottom of each glass/circle, then top with a thick layer of gingerbread crumble. Bake for 10 minutes.
Remove from the oven and put on plates. Top the crumble with the remaining asparagus spears.
Asperges et Abricots en Crumble de Pain d'Epices
Pour 6 personnes
24 petites asperges ou 24 pointes d'asperges déjà coupées
6 abricots de taille moyenne(si ils ont petits, en prendre 12)
2 cc de quatre- épices
Huile d'olive vierge extra
Sel et poivre du moulin
Pour le Crumble de pain d'épices :
8 tranches de pain d'épices rassis (s'il n'est pas rassis, le faire cuire à four chaud 2 à 3 minutes, puis le laisser refroidir à température ambiante)
3 cc de graines de Carvi
3 pincées de piment de cayenne
3 CS de farine
90g de beurre demi-sel, mou
Préparez la pâte : Au mixer électrique, mixez le pain d'épices en morceaux avec le carvi, jusqu'à obtention d'une poudre. Dans un saladier, mélanger cette poudre avec le beurre mou et le piment de Cayenne. Travailler avec les doigts jusqu'à la consistance d'un sable grossier. Ajouter de la farine si le mélange est trop humide.
Si vos asperges sont entières, pelez-les et coupez les pointes. Faites chauffer de l'huile d'olive dans une poêle sur feu moyen et mettez-y les pointes d'asperges. Faites revenir quelques minutes puis couvrez. Au bout de 5 minutes, une pointe de couteau doit pouvoir traverser les pointes facilement. Ne les faites pas trop cuire, elles sont meilleures un peu fermes.
Laisser les têtes intactes pour la déco et couper la base en petits dés. Couper les abricots en petits dés de la même taille que les asperges. Remettre les dés d'asperges et d'abricots dans la poêle sur feu moyen et faire sauter rapidement sans coloration avec les 2 cc de quatre-épices. Saler, poivrer et retirer du feu.
Préchauffer le four à 180°C.
Dans 6 verres transparents supportant la chaleur du four ou dans 6 cercles de cuisson disposés sur une plaque à pâtisserie, répartir les dés d'asperges et d'abricots au fond, recouvrir d'une bonne couche de crumble et enfourner pendant 10 minutes.
Sortir du four avec précaution et disposer dans les assiettes. Décorer le dessus du crumble avec les têtes d'asperges réservées.