Croquettes de Poulet aux Herbes Exotiques et aux Noisettes
Chicken Balls with Exotic Fresh Herbs and Hazelnuts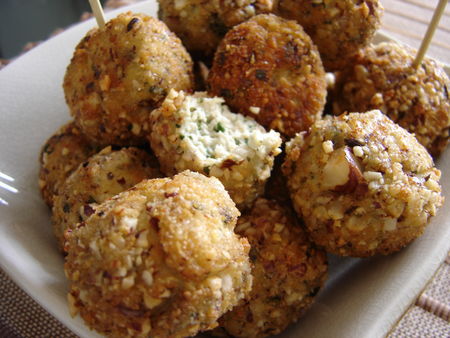 Yippee ! Summer is here ! And it is a well and truly warm summer with a picture-perfect blue sky…Wonderful weather for BBQ's, garden parties and picnics ! You have no garden, no terrace ? Oh come on, this is indeed a very bad excuse : we have a very popular TV reality-show here in France that features people like you and me who invite other fellow amateur cooks to enjoy dinners at their homes. And at the end of each meal, they are given marks on three categories : the food, the table decoration and the entertainment. What does it have to do with "your bad excuse" ? Simply because some of the contestants really have a lot of imagination for the decoration. One of them wanted his guests to feel like in one of Manet's famous paintings "déjeuner sur l'herbe" (the lunch on the grass) and he put synthetic grass and golden fish aquariums on his table, fake butterflies everywhere in the house. My god, how ugly it was ! Totally hilarious !! But the basic idea is : you can re-create a garden-like atmosphere inside your house, lol !!
I can't believe I am as addicted to that show as I was to the first seasons of « 24 » !! By the way, do you have the same game in your country ?
Chouette, chouette ! L'été est là ! Et un vrai de vrai en plus, beau et chaud tout comme on aime. A nous les barbecues, les pique-niques et autres garden parties! Et ne trouvez pas de fausses excuses : ce n'est pas parce que l'on n'a pas de jardin ni de terrasses que l'on doit se priver de ces petits plaisirs bucoliques. Regardez, dans « un dîner presque parfait », ce n'est pas ce petit détail qui les arrête : et que je te déplie la pelouse synthétique en guise de nappe, et que je te place le bocal à poisson rouge en centre de table, et les petits papillons en « poly-acétate d'angoisse » (expression de mon cher et tendre, j'adore) disséminés dans toute la pièce…
Franchement, j'adore cette émission, je n'en rate pas une seule : certains candidats sont vraiment doués et/ou très sympathiques, mais d'autres…comment dire : je suis fascinée par leur assurance qui frise l'arrogance, leur mauvaise foi et leur esprit de compétition, le tout dans une ambiance hypocrite à souhait. Le Top, c'était à Marseille avec l'ignoble JR et aussi en Normandie où le pauvre maître-nageur assez doué aux fourneaux s'est littéralement fait laminer alors que le marin-pêcheur mégalo a gagné en utilisant, entre autres, du thon en boîte !! Je ne pensais pas qu'une émission de télé-réalité me rendrait encore plus accro que la série « 24 heures » !!!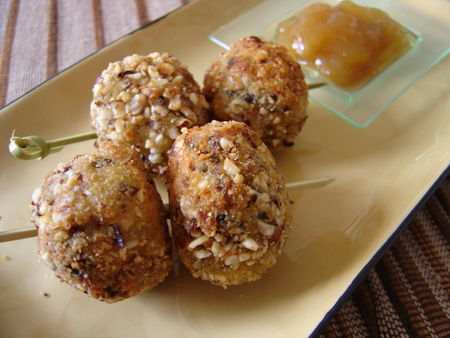 Chicken Balls with Exotic Fresh Herbs and Hazelnuts
For about 20 chicken balls
(Note that they need to rest an hour in the fridge)
1 lb ground chicken
½ bunch spring onions
1 bunch chives
1 bunch fresh cilantro
½ bunch flat-leaf parsley
1 heaping tablespoon freshly grated ginger
2 lemongrass sticks
Zest and juice of 1 lime
2 tablespoons soy sauce
2 oz (4 tablespoons) hazelnuts, shelled
1 oz (2 tablespoons) breadcrumbs
1 egg
Some flour
Oil for frying
Sea salt and freshly ground pepper
In a bowl, arrange ground chicken.
Chop the tender parts of lemongrass sticks (optional).Clean and finely chop all herbs and onions. Zest lime and squeeze to obtain juice.
In the bowl with chicken, add all chopped herbs and onions, lemongrass, ginger, lime (zest and juice), and soy sauce. Add egg. Mix well and season to taste.
In a food processor, blend hazelnuts to obtain a powder. Put the powder in a shallow plate and add breadcrumbs. Mix.
Using damp hands, form mixture into evenly shaped balls that are small enough to eat with your fingers. Roll the balls in the hazelnuts mixture to coat all over.
Let sit in the fridge at least one hour.
Heat oil in a large skillet or a wok over medium heat. Fry the chicken balls in batches until well browned all over. Put on absorbing paper.
If you do not serve them immediately, you will need to re-heat in a warm oven (400°F) for 5 minutes.
Accompany with home-made mango chutney (recipe here).
Croquettes de Poulet aux Herbes Exotiques et aux Noisettes
Pour environ 20 croquettes
(Prévoir une heure de repos au frais)
500g de blancs de poulet, sans la peau
une ½ botte d'oignons blancs
Une botte de ciboulette
Une botte de coriandre
½ botte de persil plat
1 CS de gingembre frais râpé
2 bâtons de citronnelle
le zeste et le jus d'un citron vert
2 CS de sauce soja
50g de noisettes
25g de chapelure fine
1 œuf entier
De la farine
Huile de friture
Sel marin et poivre du moulin
Couper les blancs de poulet en gros morceaux et les passer au mixer. Mettre cette « pâte » dans un grand saladier.
Enlever les couches supérieures « dures » de la citronnelle et couper les parties tendres en petits tronçons.
Nettoyer les oignons et les herbes puis, sur une planche à découper, les hacher.
Zester le citron vert puis le presser.
Dans le saladier du poulet, ajouter la citronnelle, les oignons blancs, la ciboulette, la coriandre, le persil, le citron vert (zestes et jus), le gingembre et la sauce soja. Ajouter l'œuf. Mélanger intimement. Goûter et assaisonner.
Réduire les noisettes en poudre dans le mixer. Mélanger cette poudre de noisette à la chapelure, dans une assiette creuse.
Avec la main, former des boulettes de la taille d'une noix avec le mélange au poulet. Si le mélange est trop collant, vous pouvez ajouter une ou deux CS de farine. Puis les « paner » dans le mélange noisette-chapelure. Laisser reposer au frais une bonne heure.
Frire dans une poêle ou un wok ou une friteuse, remplis d'huile de friture bien chaude. Bien laisser dorer puis poser sur du papier absorbant.
Servir immédiatement. Si ce n'est pas le cas, les réchauffer au four à 200°C pendant 5 minutes. A déguster avec un bon chutney de mangues (recette maison ici).