Panna Cotta à la Menthe, Ganache Chocolat
Mint Panna Cotta, Chocolate Ganache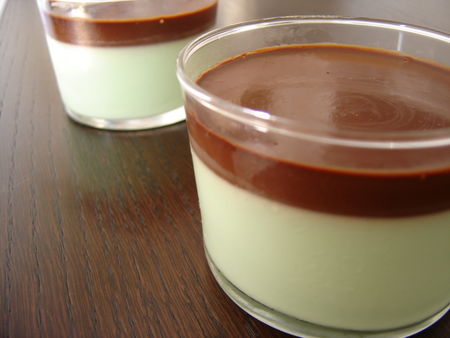 The great thing with panna cottas is that you need very few ingredients for a dessert that will impress and/or divert your guests. Indeed, very few people in my family and my circle of friends have actually tasted panna cottas. Gelatinous desserts are not as popular in France as they can be in anglo-saxon cultures. With this dessert, I know they will be grateful to discover a new taste and innovative texture.
This very refreshing dessert, inspired by the famous chocolate mints, will also satisfy the numerous chocomaniacs among your guests. I have come to the conclusion, after many trials, that the ganache recipe below is close to perfection : not too sweet and well balanced in chocolate. They should be eaten without moderation.
L'avantage des panna cottas, c'est qu'il suffit de peu d'ingrédients pour un dessert « hype », et assez déroutant. En effet, je me suis rendue compte, à ma grande surprise, que peu de personnes (en tous les cas, dans mon entourage) connaissaient la panna cotta ou en avaient déjà gouté. Là, mis devant le fait accompli, ils ne pourront pas reculer…pour leur plus grand plaisir, bien sûr !!
Cette version très rafraichissante ravira également les amateurs de chocolat qui, eux, sont bien plus nombreux…La recette de la ganache est l'un de mes « basiques » testé et approuvé de très nombreuses fois ; je la trouve très bien équilibrée en sucre et forte en chocolat sans être écœurante. A consommer sans aucune modération…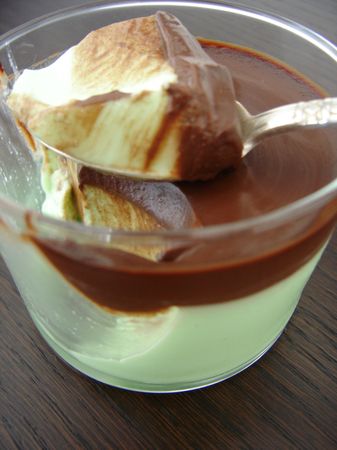 Mint Panna Cotta, Chocolate Ganache
For 4 little panna cotta
(For 6, multiply ingredients by 1.5 or for 6 large ones, double them)
To be made a day ahead.
Panna Cotta :
1-1/2 cup liquid whipping cream
¾ cup whole milk
2 oz or 4 tablespoons granulated sugar
2 gelatin leaves softened in cold water and squeezed or 1small tsp of agar-agar
6 tablespoons mint syrup
Chocolate Ganache
1 oz, (1/8 cup) liquid whipping cream
4.5 oz (1/2 cup + 1 tbsp) whole milk
4.5 oz (1/2 cup + 1 tbsp) Chocolate (53% cocoa), chopped

In a sauce pan over medium-heat, heat cream, milk, and sugar. When hot, add agar agar or gelatin and let boil for one minute, stirring. Remove from the heat, wait until almost at room temperature but still liquid, add mint syrup.Mix.
Divide the cream mixture among the small glasses. Refrigerate two hours.
Prepare chocolate ganache : in a saucepan, heat milk and cream and bring to a boil. Add chopped chocolate, whisk and bring to a boil again. Remove from the heat, pour in a soup plate and let cool. When cool but still liquid, divide among glasses, on top of the panna cotta mixtures (make sure that the panna cotta are firm enough before pouring chocolate ganache).
Refrigerate overnight.
If you want to be able to unmold panna cottas, pour them in a silicon muffin mold. Refrigerate. Make the chocolate ganache a day after and pour chocolate at the last minute on top of the unmold panna cottas.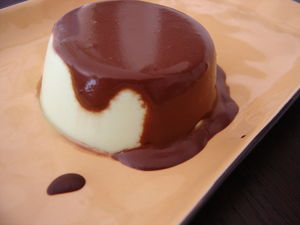 "unmold version", en version démoulée

Panna Cotta à la Menthe, Ganache Chocolat
Pour 4 petites Panna Cotta dans des verres à tapas
(Pour 6, multipliez les quantités par 1.5 et pour 6 grands verres à whisky, multipliez par 2)
A faire la veille.
Panna Cotta :
30 cl de crème liquide
15 cl de lait entier
50g de sucre en poudre
2 feuilles de gélatine ramollies dans l'eau froide puis essorées ou 0.8g d'agar-agar (1 cuiller à café rase)
6 CS de sirop de menthe
Pour la ganache au chocolat
30g de crème liquide entière (environ 3 cl)
125g de lait entier (environ 12 cl)
125g de chocolat à 53% de cacao
Dans une casserole, faire chauffer sur feu moyen la crème, le lait et le sucre. Quand le mélange est chaud, ajouter l'agar-agar (ou la gélatine) et faire bouillir une minute, tout en remuant. Retirer du feu, et laisser refroidir un peu puis ajouter la menthe. Mélanger.
Versez dans les verres à tapas et laisser « prendre » au frais.
Faire la ganache : dans une casserole, portez à ébullition le lait et la crème liquide, puis incorporez le chocolat coupé en morceaux. Fouettez et portez de nouveau à ébullition.
Retirer du feu et laisser refroidir. Quand le chocolat est juste tiède, le verser sur les panna cottas. Attention, assurez-vous d'abord qu'elle soient bien « prises » avant de verser la ganache dessus.
Remettez l'ensemble au frais pour la nuit..
Si vous préférez une version "panna cottas démoulées", faites-les prendre pendant la nuit dans des moules à muffins en silicone. Le jour du service, préparez la ganache au chocolat à la dernière minute. Démoulez les panna cottas dans les assiettes de service et versez le chocolat par-dessus.