Childish, this recipe is, and for two reasons : first, it was one of Jean-François Piège's favorite cakes made by his mother when he was a kid. Secondly, because it is so easy that is is almost puzzling. So simple that I hesitated to post it on my blog, but then I thought that all respectable cooks need to have some basic and unmissable recipes, don't they ? It was a hit among my family : everyone loved it no matter their age. And you can also ask your children to make it, they will have a lot of fun and will be so proud of the final result.
This recipe is among many others in Piège's cookbook : "Côté Crillon, côté Maison", which I already evoked here along with his Warm Orange Soufflé. My favorite cookbook of the moment, and even more since my amazing lunch at his restaurant, les Ambassadeurs at the Crillon Hotel last june.

Enfantine, cette recette l'est à double titre : elle a marqué les jeunes années de Jean-François Piège, génial Chef des Ambassadeurs au Crillon et elle est d'une simplicité presque...déroutante. A tel point que j'ai hésité à la publier, mais après tout, une "bonne petite cuisinière" se doit d'avoir quelques basiques inratables et surtout ultra-rapides. Elle a fait un malheur dans mon entourage : grands et petits se sont vraiment régalés, et c'est pourquoi je vous la recommande fortement. Vous pouvez même en confier la conception à vos enfants, ils s'amuseront réellement et seront ultra-fiers du résultat.
Cette délicieuse recette se trouve dans son ouvrage "Côté Crillon, côté Maison", déjà évoqué dans ce blog à l'occasion de l'élaboration de son Soufflé Chaud à l'Orange. Ma bible du moment, et qui me rappelle le repas somptueux du 19 juin dernier à son restaurant Les Ambassadeurs.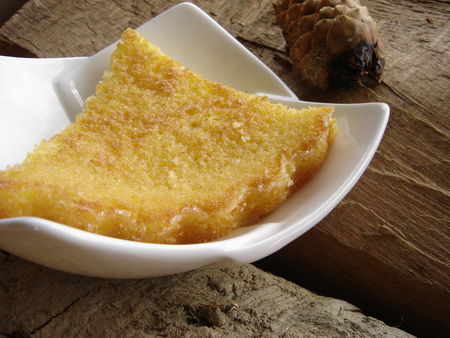 Mummy Piège's Orange Cake
For 8 servings (tart mold from 9 to 10-in)
1/2 cup unsalted butter, softened
1/2 cup granulated sugar
2 eggs
1 cup all-purpose flour
1 tablespoon baking powder
1 organic orange (zests and juice)
Butter and sugar the tart mold.In a bowl, assemble flour and baking powder.
Preheat oven 350°F.
In a large mixing bowl, beat softened butter and sugar until smooth.
Add eggs, and orange zests and juice.
Stir in flour and baking powder. Beat again.
Pour the batter in the tart mold, it has to be quite "flat".
Bake for 15 minutes, remove from the oven and unmold on a plate.
Let cool to room temperature and enjoy !

Gâteau à l'orange de Maman Piège
Pour 8 personnes (moule à tarte de 23 à 25 cm de diamètre)
120g de beurre pommade
120g de sucre
2 oeufs entiers
120g de farine
1/2 paquet de levure
1 orange non traitée (zestes et jus)
Beurrer et sucrer un moule à tarte de 23cm de diamètre.
Préchauffer le four à 180°C.
Dans un saladier, mélanger le beurre mou et le sucre. Ajouter les œufs, le zeste et le jus d'orange.
Incorporer la farine mélangée avec la levure.
Verser l'appareil dans le moule, il doit être assez plat.
Faire cuire 15 minutes, puis sortir du four et démouler sur une assiette. A consommer à température ambiante.