Part I : Smoothie Cerises et Sirop de Roses, Cherry and Rose Smoothie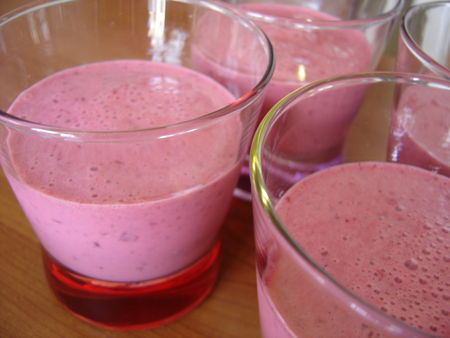 The idea was not to make a whole "fruits only" menu, how boring ! No, I just wanted to have at least one fruit in each dish, from the aperitive drink to the dessert, as a subtile touch. The idea came when one of my guests, who knows me very well and my tendency to propose rich dinners with pantagruelic portions, asked me with all the diplomacy she could, to make a "light" dinner. She was concerned about her figure a week before her beach holidays ! Haha, a new challenge for me, I love that.
I started with a cherry and rose smoothie, which was the perfect occasion to open my brand new bottle of organic cherry syrup and my rhododendron honey.Yum, what a smell, what a flavor...
Here was my "fruity" menu. I will post all recipes one by one. :
Aperitive drink : Cherry and Rose Smoothie
Starter : Springroll with fresh goat cheese and granny apples
Plat : Duck breast with peaches, sautéed asparagus with orange zests
Dessert : Pavlova Meringues with whipped cream and berries
L'idée n'étant pas de ne proposer que des fruits en apéro, entrée, plat et dessert (bonjour l'ennui), mais d'en introduire un dans chaque plat, en touche subtile, en fil rouge, quoi. Idée surgie lorsque l'une de mes invitées m'a "délicatement" demandé de faire un repas "light" par pitié pour sa ligne. C'est vrai que lorsque je reçois, j'ai tendance à en faire des tonnes et mes goûts personnels me poussent davantage vers des plats assez riches et des quantités pantagruéliques.
L'apéro m'a été inspirée par une fiche recette de chez Picard, sauf que j'ai utilisé des cerises fraîches et non congelées. Mais vu leur prix en ce moment (8 euros le kilo pour les miennes, glurp !), n'ayez aucune honte à recourir à la solution de facilité, d'autant que cela vous évitera la corvée fastidieuse de dénoyautage des cerises.Cela a également été l'occasion de tester le merveilleux sirop de roses achetée dans une ferme bio à Megève, ainsi que le miel de rhododendron trouvé au marché local. Miam, quelle odeur et quelle saveur...
Voici le menu fruité proposé. Un grand succès et c'est vrai que c'est bien agréable de terminer un repas sans être totalement "plombée" !(expression très fraîche, j'en conviens, lol !)

Menu "le fruit en fil rouge" (je publierai toutes les recettes, une par une):
Apéro : Smoothie cerises et sirop de rose
Entrée : Nem de Chèvre frais et pommes granny smith
Plat : Magrets de Canard aux pêches et asperges sautées aux zestes d'oranges
Dessert : Meringues Pavlova aux fruits rouges
Cherry and Rose Smoothie
For 6 Servings
1 lb cherries, pitted or frozen pitted cherries
3 tablespoons rose syrup
4 tablespoons liquid honey (rhododendron for me, but any honey will do the trick)
3 plain yogourts
1/2 cup milk
4 to 5 big ice cubes or a large glass of crushed ice (if you use fresh cherries)

Blend cherries and ice (ice is unnecessary if you use frozen fruits, but they have to be still frozen). Add yogourts and blend again. Then add honey, rose syrup and milk.
Blend until you obtain a smooth consistency.
Serve at once.
Smoothie Cerises et sirop de roses
Pour 6 verres
500g de cerises, dénoyautées (ou griottes dénoyautées surgelées de Picard)
3 CS de sirop de rose
4 CS de miel de rhododendron (ou autre)
3 yaourts nature
15 cl de lait demi-écrémé
4 à 5 gros glaçons ou un verre de glace pilée (si vous n'utilisez pas de cerises surgelées)

Mixez les cerises dénoyautées et les glaçons ou la glace pilée dans un blender. La glace est inutile si vous utilisez des fruits encore congelés.
Ajoutez les yaourts.
Tout en continuant à mixer, ajoutez le miel, le sirop de rose et le lait. Continuez jusqu'à obtention d'une consistance lisse.
Servez de suite .