Ok, let's go on with my "all fruity menu" started some days ago but interrupted by my new Daring Bakers Challenge (posting dates are not flexible with the DB's).
As a reminder, the idea was to propose at least one fruit in each dish, from the aperitive drink to the dessert. Last week was the Cherry and Rose Smoothie, followed today by the starter : a sort of Spring roll, made of brick pastry (can be replaced with phyllo) and filled with a fresh goat cheese mixture and slices of granny apples. The idea came from a lunch I had last month in the French Alps, at "La Ferme de Victorine", except that the cheese there was Roblochon, which is a bit too stinky for my small parisian apartment especially when it is baked in the oven. As I don't want to get into trouble with my nice neighbours, I chose fresh goat cheese for its neutral smell...and its delicious taste of course !
I very rarely use green apples when I cook and I have no idea why because I thoroughly enjoy their slightly acid taste and crunchy texture.

Après une brève interruption de programme due aux deadlines rigides précises des Daring Bakers, voici le retour de la vengeance du menu "le fruit en fil rouge" : un (voire deux) fruits dans chaque plat, de l'apéro au dessert. Gare à celui qui voudra copier mon idée pour "un dîner presque parfait". Attention, j'ai l'air douce et gentille comme ça, mais je sais aussi sortir les crocs. (En fait, c'est même pas vrai, plus caramel mou que moi, tu meurs, à mon grand, grand désespoir...)
J'espère que le petit smoothie cerises-sirop de rose vous a bien plu. On continue dans le frais (en même temps, avec des fruits, c'est un peu évident) pour l'entrée copiée sans vergogne sur un déjeuner à la Ferme de Victorine en Haute-Savoie. Sauf, que chez la bonne vieille Victorine, c'était pas du chèvre mais du Roblochon. Et comme dans le Roblochon, tout est bon sauf l'odeur pour les voisins, je l'ai joué plus "soft" et discret avec du Chavroux. Quant à la pomme verte, je trouve qu'on ne l'utilise pas assez en cuisine (en tous les cas dans la mienne), et pourtant ce petit goût acidulé et ce croquant sont inimitables.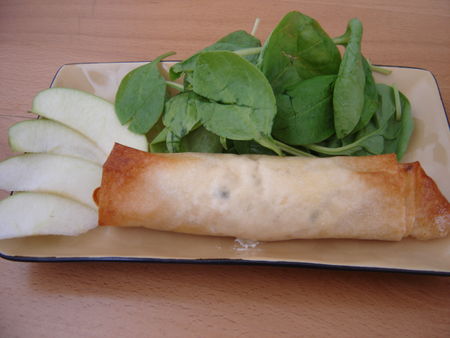 Fresh Goat Cheese and green apple "Spring roll"
For 6 servings
6 sheets of brick (or phyllo)
10 oz fresh goat cheese
3 tablespoons heavy double cream
1/2 bunch of fresh mint, finely chopped
3 granny-smith apples
sea salt and freshly ground pepper
Olive oil
Line a pastry sheet with parchment paper.
Preheat oven 350°F.
Peel the apples and cut each into 8 "quarters".
In a large mixing bowl, assemble goat cheese, cream and mint. Season to taste.
For each "springroll" : unroll the sheet of brick on a working surface and oil with a pastry brush and olive oil. Place approximately 2 tablespoons of filling near the bottom. Place 4 slices of green apples along the cheese mixture.
Roll over once, tuck in the sides, and then continue rolling. Seal the top.
Renew the operation with each sheet of brick. Arrange all spring rolls side by side on the lined baking sheet.
Bake for 10 to 15 minutes, or until golden brown. The apples will be slightly melting, which is perfect for this recipe.
Nems de Chèvre frais et Pomme verte
Pour 6 personnes
6 feuilles de brick
300g de chèvre frais type Chavroux
3 CS de crème fraîche
1/2 bouquet de menthe fraîche
3 pommes granny-smith
sel et poivre
De l'huile d'olive.
Préparer une plaque à pâtisserie en la tapissant de papier cuisson.
Préchauffer le four à 180°C.
Peler les pommes et les couper en huit "quartiers" chacune.
Dans un saladier, mélanger le chèvre, la crème fraîche et la menthe ciselée.
Goûter et assaisonner.
Pour chaque "nem", dérouler une feuille de brick et la badigeonner d'huile d'olive, entièrement. Mettre 2 bonnes cuillerées à soupe du mélange dans la partie inférieure, centrées. Positionner 4 quartiers de pomme le long du mélange. Replier les bords droit et gauche, puis rouler comme un Nem.
Répéter l'opération avec chaque feuille de brick. Placer les "nems" sur la plaque, les uns à côté des autres.
Enfourner pendant 10 à 15 minutes. Les cigares doivent être dorés. Les pommes seront à peine fondantes tout en conservant un peu de leur croquant.