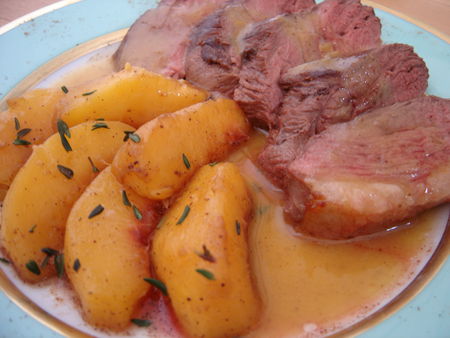 Just before leaving for my summer holidays, I had disgracefully abandoned you just in the middle of my « all fruity menu ». But, as a promise is a promise, let me introduce you today to the main dish of the menu, following the cherry smoothie and the goat cheese and green apple springroll. Ladies and gentlemen, please welcome the Duck Magrets with Spiced Ppeaches !!
The perfect occasion for me to let you know about my favorite (and un-missable) cooking method for duck breasts : first on the stove to get a golden and crispy skin then in the oven before serving. This offers numerous advantages : as you allow the duck to rest in foil, the juices gradually reabsorb throughout the meat, making it tastier. Moreover, you cannot get wrong with how you like your meat done : "rare" is 10 minutes in the oven, "rmedium" is 15 minutes and "well done" is 20 minutes. And the final advantage is, as you bake the magrets at the last minute, they will be served hot.
What about the spiced sauce ? Oh my God, it's sooo good ! Even me, the not-so-fond-of- cinnamon girl, I almost licked my plate ! The combination of four-spices with orange, white wine, coriander grounds and of course the sweetness of the peaches: yum ! In winter, I substitute them for pears or even pineapple.
Chose promise, chose due : je vous avais honteusement laissés en plan avec mon menu « tout fruits » pour cause de départ en vacances. Je reprends donc les choses là où je les avais mises en "stand-by". Après le smoothie aux cerises et le nem de chèvre et pomme verte, je vous présente la pièce de résistance : le Magret de Canard aux Pêches Epicées.
L'occasion pour moi de partager avec vous ma méthode fétiche de cuisson des magrets : une cuisson mixte : saisis à la poêle dans un premier temps pour obtenir une peau bien dorée puis au four avant de servir. Les avantages : tendreté de la chair grâce au temps de repos dans l'alu, maîtrise parfaite de la cuisson au four (10 minutes pour saignant, 15 pour rosé et 20 pour bien cuit), magret servi bien chaud puisque enfourné à la dernière minute.
Quant à la sauce, ah la sauce ! A tomber, et pourtant, je ne suis pas grande fan de cannelle, mais là, avec l'orange, le vin blanc, la coriandre en grains, c'est une véritable explosion de saveurs. Et bien sûr, l'apport doux et sucré des pêches…miam ! En hiver, je les remplace par des poires ou même de l'ananas. Un must en toutes saisons, ces magrets…
Duck Magret with spiced peaches
3 duck magrets
4 peaches
Spiced sauce :
2 teaspoons chicken cube
2 oranges (zest and juice)
1 cup sweet white wine
1 chili red pepper (optional)
1 tablespoon pepper grounds
5 teaspoon "4 spices" (an already made spice blend made with a mixture of cinnamon, nutmeg, clove and ginger). If you don't have this spice, just use two teaspoons of cinnamon and one of each other spice.
3 teaspoons coriander grounds
1.7 oz unsalted butter
The magrets (duck breasts):
Prepare the duck : remove half the fat thickwise from the sides of the magrets, using a sharp knife. Dry them with paper towel. Score the skin of the breasts ina crisscross pattern with the same knife.Be careful not to cut the flesh.Season with salt and pepper and place them in a large skillet, skin side down, over medium high heat. When skin is brown and crispy, lower heat and turn the magrets. Cook over low heat for 5 or 6 minutes. The inside of the magret will still be very rare, which is normal. Pour the fat in a heatproof glass (don't throw in your sink), but do not wash the skillet.
Line an ovenproof plate with foil. Remove duck breasts from skillet and place them over the foil. Cover them tightly with another sheet of foil. Let rest until you are ready to bake them (when your guests are enjoying their starters).
The spiced peaches:
Peel the peaches, remove the pit and cut each into eight slices.
Put all slices in the skillet used for the duck. Cover with white wine and add all spices : orange zests, chicken cube, chilli, pepper, 4 spices and coriander. Cook over medium heat for 15 minutes and remove the peaches using a slotted spoon. Pass the sauce through a sieve in a bowl and transfer it back in the skillet. The sauce will have the taste of the spices but without the small grounds and bites. Add orange juice and cook until reduced to a syrupy consistency.
Finally add butter and stir.
The sauce can be made in advance except for the butter part and reheated and butter added at the last minute.
When your guests are eating their starters, bake the magrets for 15 minutes in a 400°F oven.
Before serving, cut the magrets in slices and arrange them on plates with the sauce on top and peach slices aside.
Magrets de Canard aux pêches épicées
3 magrets de canard
4 pêches
Sauce épicée :
2 cc de bouillon cube deshydraté
2 oranges (zeste et jus)
30cl vin blanc doux
1 piment rouge (facultative)
1 CS de poivre en grains
5 cc de "quatre épices" (cannelle, gingembre, girofle et muscade)
3 cc de grains de coriandre
50g beurre doux
Cuisson des magrets :
Préparez le canard : retirez environ la moitié de la graisse dans l'épaisseur à l'aide d'un petit couteau bien aiguisé. Essuyez avec du papier absorbant.
Faites des incisions en croix sur la graisse. Prenez garde de ne pas inciser la chair. Salez et poivrez des deux côtés.
Placez les magrets côte à côte dans une grande poêle, côté graisse dessous. Faites cuire sur feu moyen-fort. Quand la graisse est dorée et croustillante, tournez le magret et baissez le feu sur faible. Continuez environ 5 à 6 minutes. La chair du canard sera encore très rouge, ce qui est normal, dans la mesure où les magrets vont poursuivre leur cuisson au four.
Tapissez un plat à four de papier alu. Transférez les magrets de la poêle vers le plat, par-dessus l'alu. Recouvrez d'une autre feuille d'alu et fermez bien. Laissez reposer jusqu'au moment où vous les cuirez au four (quand vos invités en seront à l'entrée).
Débarrassez-vous de la graisse de canard de la poêle dans un verre résistant à la chaleur au lieu de la verser dans votre évier (le meilleur moyen de le boucher !!).Ne nettoyez pas la poêle, les sucs de cuisson seront utiles pour la sauce.
Les pêches épicées :
Pelez les pêches, retirez le noyau et coupez chacune en 8 "quartiers".
Disposez les pêches dans la poêle utilisée pour les magrets. Recouvrez du vin blanc et des épices : zestes d'orange, bouillon cube, piment, quatre épices, poivre et graines de coriandre. Faites cuire sur feu moyen pendant environ 15 minutes. Retirez les pêches à l'aide d'une écumoire. Passez la sauce à travers un tamis vers un bol, afin de retirer tous les morceaux et grains et remettez-la à nouveau dans la poêle. Ajoutez le jus d'orange, augmentez la température et faites réduire. Terminez par le beurre et mélangez bien afin d'obtenir une sauce bien lisse. Vous pouvez faire cette sauce à l'avance mais n'ajoutez le beurre qu'au dernier moment, lorsque vous la réchaufferez à la poêle.
Pendant que vos invités en sont à l'entrée, faites cuire les magrets enveloppés dans l'alu 15 minutes dans un four préchauffé à 200°C. Ils seront rosés.
Juste avant de servir, découpez les magrets en tranches et répartissez dans les assiettes. Recouvrez de sauce épicée et disposez les tranches de pêches sur le côté.