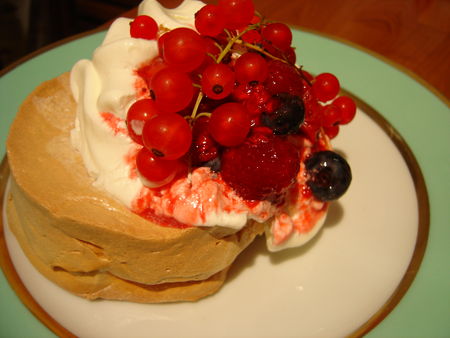 At last, the end of my fruity menu : The Pavlova meringues with mixed berries have decided to come along for the closure ceremony. Seem easy when you look at them, but quite tricky to make, actually : they can become chewy if you let them rest in your kitchen, because they love, love to absorb humidity…This is what happened to me, unfortunately. Now, I can tell you that, next time, I will not forget to leave them in the switched off oven until ready to be served.
Beside, do not expect a perfectly crunchy meringue both in the inside and on the outside. Not at all, what makes pavlovas so special is that their interior is soft and moist. And about being "special", pavlovas know a bunch : after all, haven't they been named after a famous and gorgeous Russian ballerina from the beginning of the century, Anna Pavlova ?
Suite et fin du menu « tout fruits » : La meringue Pavlova s'invite pour la cérémonie de clôture du repas. Simple à l'œil, mais cependant assez délicate à la réalisation car elle peut rapidement perdre son croustillant si on la laisse à l'air libre, incident qui m'est malheureusement arrivé. Je vous conseille donc de les laisser dans le four éteint pour les protéger de l'humidité, jusqu'à l'arrivée de vos invités. Le reste du menu « tout fruit » est compatible avec cette contrainte, puisque tant les nems de chèvre que les magrets aux pêches ne nécessitent le four qu'à la dernière minute.
Attention, cependant, ne vous attendez pas à une meringue comme celles que l'on trouve en boulangerie, c'est à dire sèche et friable. Non, la Pavlova se caractérise par le fait que l'extérieur est croustillant et l'intérieur tendre. C'est justement ce contraste de consistances qui fait tout son charme…Et en terme de charme, elle en connaît un rayon, la Pavlova, puisque c'est en hommage à une sublime danseuse classique russe du début du siècle, Anna Pavlova, qu'elle a été ainsi nommée…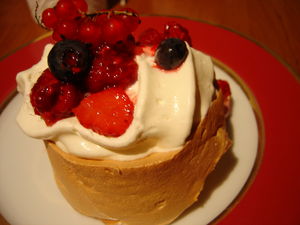 Pavlovas with mixed red berries
(source : « Epatez vos amis », by Fred Chesneau)
For 6 servings
Meringues
One lemon, halved
4 egg whites (the « older » -more than a week- the better)
1 cup granulated sugar
3 teaspoons cornstarch
2 tablespoons vanilla extract
2 teaspoons white wine vinegar
Salt
Home-made whipped cream (« chantilly »)
1 ¾ cup liquid whipping cream, very cold
2 tablespoons granulated sugar
Fruits
1 cup of each of these fruits : raspberries, strawberries and red currants.
Preheat oven 350°F. Line a baking sheet with parchment paper.
Clean fruits carefully and arrange them on absorbing paper. If strawberries are big, halve them.
Rub the sides and bottom of a big bowl with the half of a lemon. Pour egg whites in this bowl. Add a pinch of salt and whip the whites using an electric beater. When whites are stiff, add sugar and continue beating at least 3 more minutes. You will obtain a silky and stiff texture. Slowly add cornstarch, vanilla and vinegar. Mix with a spatula.
Using a stainless ring, form, one by one, six round-shaped and 1.2 in- high meringues on the baking sheet, side by side. Bake for 5 minutes then lower heat to 270°F.
Bake for one hour, then switch off the oven and let the meringues sit in the oven for an additional hour. Do not open oven door.
To make whipped cream, pour cold liquid cream in a cold bowl. As for me, I put the cream, the bowl and the beaters in the freezer 20 minutes before making the whipped cream. Beat cream and sugar until they form stiff peaks. You can make the Chantilly in advance, but no longer than 3 hours ahead.
Divide meringues among the plates, arrange some whipped cream and fruits on top.

Meringues Pavlova aux Fruits Rouges
(source : Epatez vos amis, de Fred Chesneau)
Pour 6 personnes
Les meringues
½ citron
4 blancs d'œufs (plus ils seront « vieux », plus les meringues seront belles et gonflées)
125g de sucre en poudre
3 cc rase de maïzena
2 Cs d'extrait de vanille
2 cc de vinaigre d'alcool blanc
Sel
Chantilly maison
40cl de crème liquide très froide
2 Cs de sucre en poudre
Fruits
1 barquette (125g) de chaque : framboises, groseilles, fraises
Attention, votre four va être monopolisé plusieurs heures, tenez-en compte dans la préparation de votre repas.
Préchauffez le four à 180°C. Préparez une plaque à pâtisserie en la recouvrant de papier sulfurisé.
Rincez délicatement les fruits et posez-les sur du papier absorbant. Si les fraises sont grosses, coupez-les en deux.
Frottez les parois et le fond d'un grand saladier avec un demi-citron. Versez-y les blancs d'œufs, ajoutez une pincée de sel et montez-les avec un batteur électrique ou un robot. Quand les blancs sont fermes, ajoutez le sucre progressivement et continuez à fouetter encore 3 minutes : vous obtiendrez une mousse bien satinée et assez ferme.
Incorporez délicatement la vanille, la maïzena et le vinaigre et mélangez à l'aide d'une spatule.
A l'aide d'un cercle de présentation, formez successivement et côte à côte 6 disques de meringues d'environ 3 cm de hauteur. Enfournez 5 minutes puis baissez la température à 130°C. Laissez cuire 1 heure puis reposer dans le four éteint une heure supplémentaire. Surtout n'ouvrez pas la porte du four. Vous pouvez laisser les meringues dans le four éteint jusqu'au dressage, cela leur permettra de garder leur croustillant.
Pour la chantilly, utilisez un siphon ou battez la crème très froide et le sucre dans un saladier froid, avec des batteurs froids aussi (je mets la crème, le saladier et les batteurs au congélateur pendant 20 minutes avant usage). La chantilly peut être faite au préalable, cependant pas plus de trois heures à l'avance.
Dressez les Pavlovas en disposant dans chaque assiette une meringue, recouverte de chantilly puis de fruits rouges.