I had told you in my last post that I had been utterly disappointed with my chocolate eclairs. But I had not said my last word !! I found an enlightening consolation to forget all about my semi failure : I have transformed the egg whites and cream puff dough leftovers into cute mini-chouquettes and lovely meringues. Ah, sweet things have such a strong healing power ! Stronger than chocolate, I can tell you ! My only problem was the sudden irruption in my kitchen of my little froggies, attracted by the decadent smell. And you know what, they wanted some for them, how dare they !! Do you think they realized that I needed my chouquette and meringue fix, just for me, myself and moi ?? No, no, no ! Aaaah, kids sure ain't what they used to be…
If you make both recipes the same day, make chouquettes first for the meringues will "need" your oven for several hours.
Je vous l'avais dit dans mon dernier billet, le demi ratage de mon dernier challenge Daring Bakers (les éclairs au chocolat de Pierre Hermé) m'avait poussé « dans les bras » réconfortants de petites gourmandises simplettes et peu regardantes. En effet, les restes de pâtes à choux et de blancs d'œufs ont rapidement été convertis en adorables micro-chouquettes et en jolies meringues pastel. C'est incroyable comme le sucre a le don de vous remonter un moral en flèche ! Encore plus fort que le chocolat, j'vous dis. Le problème, c'est que les p'tites grenouilles dont je fais l'élevage (si elles me lisaient, elles me tueraient), par l'odeur alléchées, ont exigé d'avoir leur part du butin. Non, mais j'vous jure, c'est qu'elles m'ôteraient le pain de la bouche sans scrupule !! Décidément, les têtards ne sont plus ce qu'ils étaient …
Si vous faites les deux recettes le même jour, faites les chouquettes le matin car les meringues vont ensuite monopoliser le four pendant plusieurs heures.
Pierre Hermé's chouquettes
(makes about 50 small (1.2 in-) chouquettes or 30 medium (2 in-)
½ cup whole milk
½ cup water
1 stick (4 ounces) unsalted butter, cut into 8 pieces
2 tablespoons sugar
1 teaspoon salt
1 cup all-purpose flour
5 large eggs, at room temperature
Glaze : 1 egg yolk, beaten
Pearl sugar (a lot) or coarse sugar
In a heavy bottomed medium saucepan, bring the milk, water, butter, sugar and salt to the boil.
Once the mixture is at a rolling boil, add all of the flour at once, reduce the heat to medium and start to stir the mixture vigorously with a wooden spoon. The dough comes together very quickly. Do not worry if a slight crust forms at the bottom of the pan, it's supposed to. You need to carry on stirring for a further 2-3 minutes to dry the dough. After this time the dough will be very soft and smooth.
Transfer the dough into a bowl of a mixer fitted with the paddle attachment, or using your handmixer or if you still have the energy, continue by hand. Add the eggs one at a time, beating after each egg has been added to incorporate it into the dough.
You will notice that after you have added the first egg, the dough will separate, once again do not worry. As you keep working the dough, it will come back all together again by the time you have added the third egg. In the end the dough should be thick and shiny and when lifted it should fall back into the bowl in a ribbon.
The dough should be still warm. It is now ready to be used for the éclairs as directed above. Preheat your oven to 300 degrees F. Divide the oven into thirds by positioning the racks in the upper and lower half of the oven. Line two baking sheets with waxed or parchment paper.
Fill a large pastry bag fitted with a 2/3 (2cm) plain tip nozzle with the warm cream puff dough.
Pipe the dough onto the baking sheets in small circles (1.2 in-)
Leave about 1 inch space in between each dough circle to allow them room to puff.
Glaze eah puff with egg yolk, using a pastry brush. Sprinkle with pearl sugar (use a lot).
Slide both the baking sheets into the oven and bake for 30 minutes, rotating sheets in the middle.Remove from the oven and let cool.
Chouquettes de Pierre Hermé
En fait, c'est la pâte à choux qui est de Pierre Hermé, mais bon, on ne va pas chipoter…
Les petits trucs et astuces sont, eux, issus du livre « Leçon, la pâte à choux », par Sébastien Serveau
Pour une cinquantaine de micro-chouquettes (3cm de diamètre) ou 30 moyennes (5cm)
125g de lait entier
125g d'eau
115g de beurre doux, coupé en huit morceaux
2 CSde sucre
1 cc de sel
140g de farine ordinaire
5 gros œufs, à température ambiante
200g de sucre en grains n°10
1 œuf pour la dorure
Dans une casserole, portez le lait, l'eau, le beurre, le sucre et le sel à ébullition.
Ajoutez la farine en une seule fois, réduisez le feu à moyen et mélangez vigoureusement à l'aide d'une spatule en bois. La pâte doit former une boule qui se détache des parois. Desséchez-la encore 2 à 3 minutes.
Après avoir transféré la pâte dans un bol, ajoutez les œufs un par un, en mélangeant bien à chaque fois. La pâte se sépare au début, mais redevient homogène si vous la mélangez bien.
La pâte doit être utilisée immédiatement et doit être encore tiède.
Recouvrez deux plaques à pâtisserie de papier cuisson. Préchauffez le four à 150°C.
Remplissez une poche à douille de la préparation, avec une douille lisse n°10. Formez des « choux » de 3cm sur le papier à l'aide de la poche à douille. Espacez-les d'au minimum 3cm et disposez-les en quinconce. Faites de même sur la seconde plaque.
Battez l'œuf à la fourchette dans un bol, et badigeonnez-en les choux à l'aide d'un pinceau. Parsemez ensuite les choux généreusement de sucre en grains. Débarrassez-vous du surplus de sucre en secouant la plaque au-dessus d'une feuille de papier sulfurisé., pourpouvoir les récupérer.
Disposez les deux plaques dans le four (une dans le tiers supérieur, l'autre dans le tiers inférieur). Faites cuire 30 minutes en inversant les deux plaques à mi-parcours.
Retirez du four, décollez les choux et laissez refroidir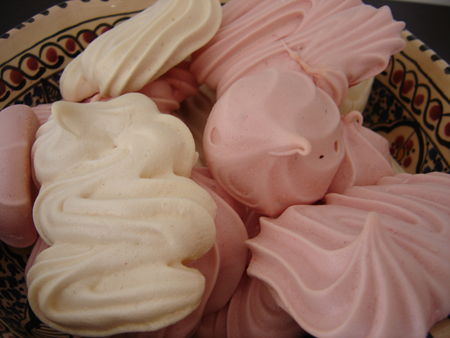 Pink and White Meringues
3/4 cup egg whites (about 4 eggs) , at room temperature)
2/3 cup granulated sugar
2/3 cup confectioner's sugar
1 tablespoon vanilla extract
coloring liquid
½ a lemon
Preheat oven 200°F.
Rub sides and bottom of a large bowl with hal a lemon.
Whip egg whites using an electric beater. When frothy, add half the granulated sugar. When stiff, add remaining granulated sugar.
Add confectioner's sugar and mix carefully, using a rubber spatula. Add vanilla extract and divide batter by two. In one of the batter, add red colouring (2 or 3 drops) to obtain a pink colour.
Fill a large pastry bag fitted with a 2/3 (2cm) star tip nozzle with one of the meringue dough.
Pipe the dough onto one baking sheets in different nice shapes. Do the same on a second sheet with the other meringue colour.
Leave about 1 inch space in between each dough circle to allow them room to puff.
Bake both pastry sheets for two hours and leave them an additional hour in the switched off oven.
Remove from the oven and let cool.
Serve immediately as they absorb humidity very fast and can get chewy.
Meringues Pastel
175g de blancs d'œufs (soit environ 4 œufs) , à température ambiante (ils montent mieux)
150g de sucre en poudre
150g de sucre glace
1 CS d'extrait de vanille
Du colorant alimentaire
½ citron
Normalement, la règle d'or est de mettre le même poids de blancs, de sucre en poudre et de sucre glace, mais franchement, je trouve cela trop sucré. Maintenant, à vous de choisir, bien sûr.
Préchauffez le four à 100°C.
Frotter les parois du saladier avec le demi-citron. Montez les blancs en neige avec un robot et quand ils sont mousseux, ajouter la moitié du sucre en poudre. Continuez à battre et ajoutez le reste de sucre en poudre. Quand les œufs sont bien fermes et satinés, ajoutez délicatement à la spatule, en soulevant, le sucre glace. Terminez par l'extrait de vanille. Divisez le mélange en deux (pour deux couleurs) et ajoutez 3 gouttes de colorant rouge pour les meringues roses.
Remplissez une poche à douille de l'un des deux mélanges et formez de jolies figures sur une plaque à pâtisserie recouverte de papier cuisson. Faites de même avec l'autre couleur, sur une seconde plaque.
Enfournez 2 heures puis éteignez le four et laissez 30 minutes à 1 heure dans le four éteint. Touchez-les, elles doivent être fermes sous le doigt.
Retirez du four, décollez les meringues et laissez refroidir. A consommer rapidement, car elles absorbent vite l'humidité et elles perdent un peu de leur croquant.