I know, you are slowly getting bored with my holiday souvenirs. But really, I can't get rid of these wonderful memories. We have been back for only three weeks and I am already feeling sooooooooo tired ! I can't believe it. So as to not literally exhaust the old woman in me, do you mind if I share a very simple recipe today ? But of Greek inspiration, of course.
You should have seen my face with an expression of glazed stupefaction when I saw my zucchini-phobic kids make a feast of the little green balls. Just for this "too good to be true" vision, it was worth the huge effort to move my bott*m from the sofa, hee hee !
Do you think I have all the symptoms of a true PSD (Post Santorini Depression) ?? If so, do you have a remedy for that ?

Décidément, j'ai du mal à m'en remettre de mes vacances dans les Cyclades. Je ne sais pas pour vous, mais moi je suis déjà cre-vée et donc d'autant plus nostalgique de ces vacances ultra reposantes, passées à contempler la mer Egée et le volcan de Santorin d'un air hébété. Alors, pour ne pas trop bousculer la mémère qui sommeille en moi (en plus, c'est vrai que je dors debout en ce moment), une petite recette ultra-simple, fraîche et emprunte de soleil grec.
Et de plus, quelle ne fut ma stupéfaction de voir mes enfants courgetto-phobiaques se jeter dessus et se régaler ! Rien que pour cela, cela valait la peine de lever mon arrière-train du canapé et de me traîner jusqu'à la cuisine…A me relire, j'ai l'impression que je souffre d'une DPS (Dépression Post Santorin). Un remède, les ami(e)s ?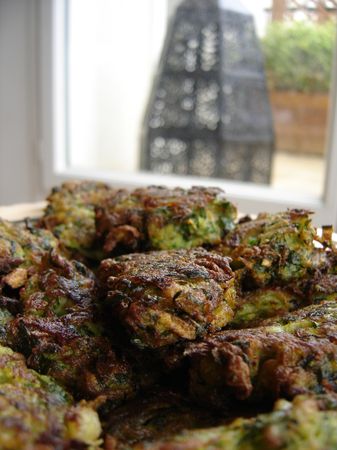 Zucchini Balls with Mint
4 zucchinis, grated
4 or 5 spring onions, minced
2 garlic cloves, chopped
1 large bunch of spearmint, chopped (the more, the better)
½ bunch of flat-leaf parsley, chopped
1 egg, beaten
3 tablespoons all-purpose flour
1 teaspoon baking powder
½ teaspoon cumin
Sea salt and freshly ground pepper
Olive Oil

Arrange grated zucchinis in a clean kitchen towel. Press hard to remove water (do this above a soup plate, for you will get a lot of zucchini water).
In a mixing bowl, assemble flour and baking powder.
In a larger mixing bowl, assemble strained zucchinis, onions, garlic and fresh herbs (parsley and spearmint).
Add beaten egg and mix well.
Add flour and baking powder to the bowl. Then cumin. Mix well. Season to taste.
Form little balls, using a tablespoon.
Heat enough olive oil in a frying pan and deep-fry the keftedes on both sides, until golden.
Remove them from the pan and place them on kitchen paper to absorb the extra olive oil.
Serve at once, or if you need to re-heat them, place them in an oven proof plate lines with foil paper. Cover the balls with another sheet of foil and bake for 5 minutes in a warm oven (350°F).
Beignets de Courgettes à la Menthe
4 courgettes râpées
4 ou 5 petits oignons blancs, émincés
2 gousses d'ail, émincées
1 gros bouquet de menthe fraîche, haché (plus il y en a, meilleur c'est)
½ bouquet de persil plat, haché
1 oeuf, battu
3 c.s de farine ordinaire
1 cc de levure chimique
½ c.c de cumin, fraîchement moulu
Sel marin et poivre du moulin
Huile d'olive

Après avoir râpé les courgettes, mettez-les dans un linge propre et essorez au maximum au-dessus d'une assiette creuse. Vous serez étonnés de la quantité d'eau que vous allez récupérer. Vous pourrez l'utiliser pour parfumer une sauce ou un bouillon.
Dans un bol, mélangez la farine et la levure.
Dans un saladier, mélangez les courgettes essorées, les oignons, l'ail et les herbes fraîches (menthe et persil).
Ajoutez l'œuf battu et mélangez bien.
Ajoutez la farine avec la levure. Mettez le cumin et mélangez bien. Goûtez et assaisonnez.
Faites chauffer une généreuse portion d'huile d'olive dans une poêle anti-adhésive.
Quand l'huile est chaude, formez des petites boulettes à l'aide d'une cuillère à soupe et faites-en frire 5 ou 6 à la fois, en les retournant, jusqu'à ce qu'elles soient bien dorées des 2 côtés.
Renouvelez jusqu'à la fin du mélange aux courgettes, en prenant soin de les disposer sur du papier absorbant après friture.Servir de suite ou, si vous devez les réchauffer, le faire au four traditionnel enveloppés dans du papier alu, pendant 5 minutes à four chaud.