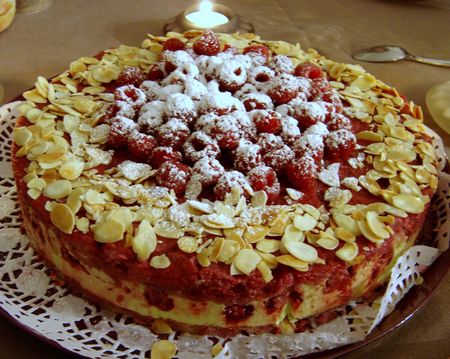 Looks like a Daring Bakers Challenge, has the color and the shape of it, is as time-consuming, but it is not a DB Challenge. I have decided, all by myself, to push the limits of my pastry skills and try to make this wonderful cake. Well, actually, I did not really have choice : when one has 17 guests (!!), one can't decently make little adorable individual desserts ! Now you're going to ask me : what is a Framboisier and who is Christophe Felder ? A Framboisier is a cake made of two layers of dacquoise (mixture of whipped egg whites and nuts powder) and stuffed with buttercream and raspberries. This buttercream is special, because to make it lighter and more "airy", Felder adds an Italian meringue in it. As for Christophe, he is a renowned pastry chef here in France, but I am not sure his name has crossed the Atlantic Ocean or even just the Channel ! Not a Pastry Star like Pierre Hermé, but very talented though !
The recipe is for a rectangular cake, but as the edges of my dacquoises were a bit too dry (overcooked) for my taste, I have decided to transform it into a round cake ! Of course, no one noticed…

Cela ressemble à un challenge Daring Bakers, cela en a la couleur et la forme, est tout aussi chronophage, mais ce n'en est pas un. C'est moi toute seule qui ai décidé de me lancer ce défi personnel : réaliser un framboisier maison pour 20 personnes. En même temps, quand on a 17 invités assis (!!), que faire d'autre qu'un gâteau géant ? Je n'allais pas me lancer dans les jolis desserts individuels que j'affectionne tant habituellement… L'occasion faisant le larron, j'ai ressorti le livre de Christophe Felder récemment acquis : « les gâteaux classiques de Christophe ». Le Framboisier m'a semblé le plus réalisable par rapport à mes talents pâtissiers. Mon robot Kenwood, qui avait tendance à prendre la poussière sur mon plan de travail, s'est avéré un allié précieux. Et voilà le résultat ! Un peu d'organisation s'impose (faire la dacquoise la veille), ainsi que pas mal de matériel (un robot, au moins 2 plaques à pâtisserie, un cercle ou cadre rectangulaire en inox, un thermomètre à sucre, poche à douille et douilles,…), mais franchement, cela en valait bien la peine. La recette est pour un gâteau rectangulaire, mais comme les bords de mes dacquoises étaient un peu trop cuits et donc secs, je m'en suis débarrassés en transformant le framboisier en gâteau rond. Erreur ni vue ni connue…
Framboisier by Christophe Felder
(source : « Les gâteaux Classiques de Christophe », by Christophe Felder)
Almond/hazelnut Dacquoise (to be made a day ahead)
(for 2 dacquoises of 12½ x 15½-inch)
1/3 cup hazelnut powder
2 cups almond powder
9 egg whites (medium size)
1 ¼ cup granulated sugar
Italian Meringue
¼ cup water
1/2 cup granulated sugar + 2 tablespoons
2 egg whites (medium size)
Light Buttercream (for 2.2 lbs of buttercream )
5 egg yolks
1 1/4 cup granulated sugar
½ cup water
12 oz (1 1/2 cup) soft butter (remove from the fridge the day before)
2 teaspoons pistachio paste
Assembling and decorating
2 cups Raspberry Coulis (optional)
1 lb fresh raspberries
thinly sliced almonds, toasted
Confectioner's sugar
Dacquoise (a day ahead) :
Preheat oven 350°F (180°c). Line two 12½ x 15½-inch jelly-roll pans with baking paper and position oven racks in the upper 3rd and the lower 3rd of your oven.
When you separate the 9 eggs (yolks and whites), make sure to set 5 yolks aside for the butter cream.
Using a food processor, process hazelnut and almond powder.
Place egg whites in a large, clean bowl of the electric mixer with the whisk attachment and beat on medium speed with two tablespoons of sugar, until stiff peaks. Increase to med-high speed and slowly add the remaining sugar, over 15-20 seconds or so. Continue to beat for another ½ minute.
Add the nut mixture and carefully mix, using a rubber spatula.
Divide the batter between the two pans and smooth the tops with a rubber spatula.
Bake for 15-20 minutes, or until the cakes are springy to the touch – a thin knife inserted into the centers should come out clean.
Transfer the cakes to cooling racks and cool for about 5 minutes, then invert them and peel off the paper liners.
Cool to room temperature. The cooled cake layers can be wrapped airtight and stored at room temperature overnight or frozen for up to two months.
Italian Meringue
In a small, yet heavy saucepan, bring the water and 1/2 cup sugar to a boil and simmer for 5 minutes. Remove from heat. Whip the 2 egg whites with 2 tbsp granulated sugar, using the whisk attachment of your food processor, on high speed. When stiff, pour syrup down the side of the bowl into the whites. Beat 10 more minutes, until at room temperature. Transfer this Italian meringue to a clean bowl. Clean the bowl used for the meringue in order to use it for the buttercream.
Buttercream
Using a food processor with the whisk attachment, beat 5 egg yolks at high-speed.
In a small, yet heavy saucepan, bring the water and sugar to a boil and simmer for 5 minutes. Remove from heat and pour this syrup directly into the egg yolks mixture, still beating at high speed. The mixture gets pale yellow and forms a "ribbon".
In a clean large mixing bowl, beat soft butter until smooth. Add the yolks mixture to the butter and transfer all back to the bowl of the food processor. Beat on low speed. Finally add the Italian meringue and continue beating slowly in order to obtain an airy mixture.
Cover with plastic film and keep at room temperature until ready to be used (but not too long as it contains butter and eggs).
As soon as you know you will use it, add the flavor of your choice, in this case pistachio paste. Mix very carefully, using a rubber spatula.
Assembling the cake
Put one layer of dacquoise cut side up on a rectangular cake plate protected by strips of wax or parchment paper.
Cover evenly with the buttercream.The best way is to fill a pastry bag with the buttercream and make large strips of cream on the dacquoise (see picture).
Arrange the ¾ of the raspberries on the cream (leave the last ¼ for the decoration). See picture.Cover with some cream again if you have some left.
Top with the other dacquoise layer. Press gently.
Cover the dacquoise with some raspberry coulis (optional) and refrigerate at least one hour.
Then remove from the fridge, and holding a serrated or very sharp knife, held parallel to the sides of the cake, trim the sides so that they are perfectly straight.
Put again in the fridge, until half an hour before being served.It should be served at room temperature; it loses all its subtlety when it's cold.
Just before serving, decorate with the remaining of raspberries, confectioner's sugar and toasted sliced almonds, just like in the picture.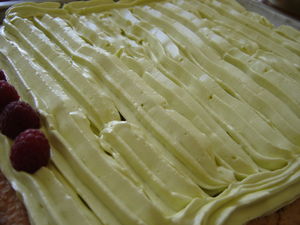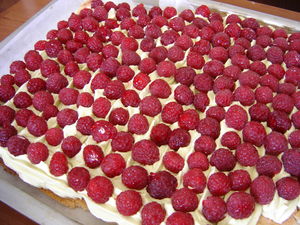 Framboisier selon Christophe Felder
(source : Les gâteaux Classiques de Christophe, de Christophe Felder, éditions Minerva)
Dacquoise amandes/noisettes (à faire la veille)
(pour 2 dacquoises de 40 *30 cm)
70g de poudre de noisettes
230g de poudre d'amandes
300g de blancs d'œufs (soit environ de 9 œufs moyens) (pensez à mettre 5 jaunes de côté pour la crème au beurre)
280g de sucre semoule
Meringue italienne
40g d'eau (5 à 6 cl)
100g de sucre semoule
70g de blancs d'œufs (soit environ de 2 œufs moyens)
35g de sucre semoule
Crème au beurre légère (pour 1 kilo de crème)
5 jaunes d'œufs
280g de sucre semoule
100g d'eau (12 cl)
360g de beurre mou (sorti du réfrigérateur la veille)
10g de pâte de pistache
Assemblage et décoration
Coulis de framboises (optionnel)
500g de framboises fraîches (4 barquettes)
Amandes effilées torréfiées
Sucre glace
Dacquoise (la veille) :
Préchauffez votre four à 180°C. Préparez 2 plaques à pâtisserie de 40 x 30 cm en les couvrant de papier cuisson.
Lorsque vous séparez les blancs des jaunes, mettez 5 jaunes de côté en vue de la confection de la crème au beurre.
Dans un robot mixeur, broyez ensemble la poudre de noisettes et d'amandes.
Montez les blancs en neige avec un peu de sucre semoule. Lorsque les blancs sont bien fermes, ajoutez le reste de sucre et battez encore. A l'aide d'une spatule, incorporez délicatement les poudres d'amandes et de noisettes.
Remplissez une poche à douille lisse et large (14 mm) de ce mélange. Formez des bandes larges et serrées du mélange sur le papier cuisson, sur les 2 plaques.
Si vous n'avez pas de poche à douille, divisez le mélange en deux et étalez-le sur les 2 plaques en le lissant avec une spatule et en veillant à ce qu'il soit de même épaisseur partout.
Enfournez les 2 plaques 15 à 20 minutes (plutôt 15 de mon expérience), en les tournant à mi-cuisson.
Laissez-les refroidir sur une grille avant de vous en servir.
Enveloppez de papier film et mettez au frais jusqu'au lendemain.
Meringue italienne (le jour même)
Dans une casserole, mettez l'eau et les 100g de sucre à chauffer sur feu doux. Portez à ébullition jusqu'à 118°C. Si vous n'avez pas de thermomètre à sucre, je peux vous dire qu'il faut laisser bouillir environ 5 minutes et cela devrait aller.
Montez les blancs en neige avec 35g de sucre dans un robot ou un batteur à pleine vitesse. Lorsqu'il sont montés, versez le sirop en le faisant glisser délicatement le long de la paroi du bol ou du saladier. Battre encore 10 minutes, jusqu'à complet refroidissement.
Transférez la meringue italienne dans un récipient.
Crème au Beurre légère (le jour même)
Dans le bol du robot, fouettez les 5 jaunes d'œufs à grande vitesse.
Dans une casserole, mettez l'eau et le sucre à cuire. Lorsque le sirop atteint 118°C (soit à ébullition environ 5 minutes), versez-le directement sur les jaunes dans le bol du robot et continuez à les battre à grande vitesse. Le mélange blanchit et fait « ruban ». (Faire ruban, c'est battre jusqu'a ce que le mélange forme un ruban continu quand on en prend sur une cuillère en bois et qu'on l'incline).
Dans un autre bol, battre le beurre mou jusqu'à ce qu'il soit bien lisse, puis ajouter le mélange aux jaunes d'œufs à ce beurre bien lisse. Transférez le tout dans le bol du robot, et battez à vitesse lente. Incorporez ensuite la meringue italienne froide, mélangez toujours à vitesse lente pour avoir une texture homogène mais aérienne.
Recouvrez d'un film jusqu'à utilisation et gardez à température ambiante (pas trop longtemps non plus).
Dès que vous allez l'utiliser, parfumez-la en ajoutant 10g de pâte de pistache et en mélangeant délicatement.
Assemblage du Framboisier (le jour même)
Posez une première plaque de dacquoise sur un plateau recouvert de papier sulfurisé. Remplissez une poche à douille lisse de la crème au beurre et répartissez la crème partout sur la dacquoise en formant des bandes larges.
Rangez 400g de framboises régulièrement sur la crème. Recouvrez-les encore de crème.
Déposez le second biscuit dacquoise, appuyez bien. Recouvrez de coulis de framboises (optionnel). Placez au frais au moins une heure, puis sortez-le afin de couper les bords nets.
Remettez au frais, recouvert de film alimentaire, jusqu'à une demi-heure avant de le consommer.
Sortez le framboisier du réfrigérateur une demi-heure avant.Il est meilleur à température ambiante.
Décorez à la dernière minute avec les framboises restantes, les amandes effilées torréfiées et le sucre glace (voir photos).