Ananas, Melon, et Mangue avec du Gingembre, de la Coriandre, et du Basilic
Pineapple, Honeydew, and Mango with Ginger, Cilantro and Basil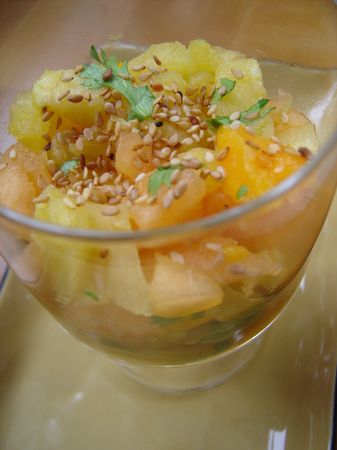 We have a maxim, here in France, that says « un ami pour le Chic, un amant pour le Choc, un mari pour le Chèque », which could be translated into « a friend for the Chic, a lover for the Shock, and a husband for the Check ». I am not sure I really agree with this, because I think a man alone can have all three "qualities"… but I still have to meet him ! Just kidding of course !! And as a private message : "Honey, I hope you are not reading this !".
My purpose today is not to make you feel uncomfortable, so I will be very reasonable and propose to you a "Chic and Shock" fruit salad recipe. The Chic part is brought to you by the colorful and classy association of pineapple, honeydew and Mango and for the shock part, what about cilantro, Basil and red bell peppers (the latest being optional) ?? Beware though, as if you do not follow carefully the proportions, this fruit salad, from "surprising", can quickly turn into "disconcerting"…
Vous connaissez probablement ce vieil adage : « un ami pour le Chic, un amant pour le Choc, un mari pour le Chèque ». Même si je n'adhère pas, car j'estime qu'un seul et même homme peut être tout cela à la fois (encore faut-il le trouver, hihi), ça me fait bien rire…Loin de moi l'idée de vous pervertir, car aujourd'hui, ce que je vous propose, ce n'est pas une blind date avec cette perle rare (j'entends d'ici vos « ohhh » de déception), mais tout simplement une salade de fruits « chic et choc » pour clore en beauté un repas asiatique. Le chic est apporté par l'harmonie visuelle de fruits exotiques que l'on n'a pas forcément l'habitude de voir ensemble (ananas, melon et mangue) et le Choc, lui, sera forcément au rendez-vous grâce à la présence d'herbes plutôt utilisées dans les plats salés : coriandre et basilic. Pour « décoiffer » encore plus, vous pouvez ajouter du poivron rouge coupé en touts petits dés. Attention cependant au dosage, car « d'étonnante » cette alliance peut vite tourner à « déroutante » !! Moi, le poivron, je n'ai pas osé, mais oh que je le regrette !!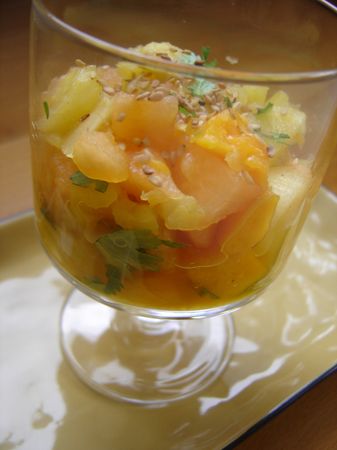 Pineapple, Honeydew, and Mango with Fresh Herbs
Source : Bon Appétit, april 2008
4 servings
2 cups diced peeled fresh pineapple
1 cup diced seeded peeled honeydew melon
1 cup diced peeled pitted mango
2 tbsp thinly sliced fresh basil
2 tbsp fresh lime juice
2 tbsp honey
1 tbsp thinly sliced fresh cilantro
1 tbsp minced crystallized ginger
1 tbsp minced red bell pepper (optional)
1 tbsp sesame seeds

Mix all ingredients except sesame seeds in large bowl.
Let stand 10 minutes for flavors to blend. Divide fruit mixture among wine glasses and sprinkle with sesame seeds.
Ananas, Melon, et Mangue aux Herbes Fraîches
Source : Bon Appétit, avril 2008
Pour 4 personnes
500g d'ananas frais, pelé, coupé en dés
250g de melon, pelé, et coupe en dés
250g de mangue fraîche, pelée, noyau retire et coupée en dés
½ bouquet de basilic frais, ciselé
1 CàS coriandre fraîche ciselée
2 CàS jus de citron vert
2 CàS miel
1 CàS de gingembre confit, haché
1 CàS de poivron rouge, en brunoise (facultatif)
1 CàS graines de sésame dorées

Dans un saladier, mélnger tous les ingrédients sauf les graines de sésame.
Laisser reposer 10 minutes afin que tous les parfums s'entremêlent.
Répartissez dans 4 verres à vin et parsemez de graines de sésame.