Milk Chocolate and Salted Caramel Mousse
Mousse au Chocolat au lait et Caramel au Beurre Salé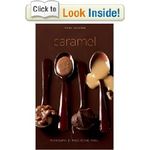 Salted Caramel in itself is already to-die-for. So I let you imagine how scrumptious it can be, mixed with chocolate ! The perfect occasion to mention Trish Deseine's book about Caramel. (Trish is an Irish living in France and writing in french but most of her books have been translated into English). It is not really a new cookbook, for it has been first published in 2005, but it is my latest gourmet purchase. I simply adore this book, it is extremely sensual and most importantly it does not make you feel guilty as Trish is a strong supporter of the pleasure of eating without counting the calories ! How could I agree more ? I really hate diet products, they are so depressing…Hooray for Trish, Hooray for Caramel and Hooray for Chocolate !

Le Caramel au Beurre salé en soi-même, c'est déjà une tuerie, mais avec du chocolat (noir ou au lait), là, on frise l'indécence… L'occasion rêvée d'évoquer le livre de recettes de Trish Deseine « du caramel plein la bouche » (rien que le titre, déjà…), qui certes, n'est pas une nouveauté (publié en 2005), mais malgré tout une découverte pour moi car il vient tout juste d'enrichir ma bibliothèque culinaire. C'est bien simple, je l'adore, il est d'une sensualité étonnante et surtout il nous déculpabilise totalement car Trish revendique haut et fort le droit au plaisir gourmand sans tabous et sans limite de calories. Alors là, moi je dis bravo ; les produits allégés me filent un de ces bourdons... Vivent les rondeurs et vive le caramel « plein la bouche » !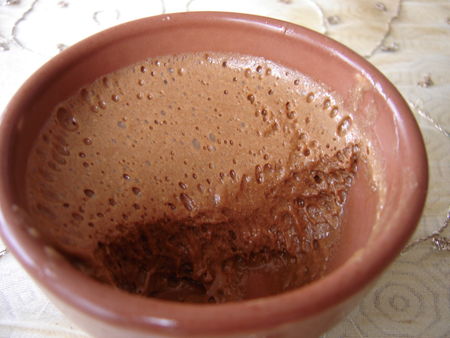 Milk Chocolate and Salted Caramel Mousse
For 6 servings
100g (1/2 cup) granulated sugar
2 tbsp water
2 tbsp salted butter
¾ cup liquid whipping cream
200g (4/5 cup, 7 oz) milk chocolate, cut into chunks
3 eggs, separated.
Prepare a caramel: melt sugar in a heavy-bottom saucepan over low heat. If you do not use a heavy-bottom pan, add 2 tbsp water to the sugar. When it bubbles, move the saucepan in a circular pattern, holding the handle. When you get a golden color, remove from the heat immediately. Out of the heat, add butter then cream. Put again on the heat, and stir to get a smooth mixture.
Let cool a little out of the heat, add chocolate. Mix well.
Transfer mixture to a large bowl. Let cool. Add egg yolks, mix well, and then add whipped (stiff) egg whites.
Leave in the bowl or transfer to individual ramequins.
Refrigerate for at least 4 hours.
Mousse au Chocolat au lait et Caramel au Beurre Salé
Pour 6 personnes
100g de sucre
2 CS d'eau
30g de beurre salé
20cl de crème fleurette
200g de chocolat au lait (Nestlé Dessert)
3 œufs, séparés.
Préparez un caramel en faisant fondre le sucre dans une casserole à fond épais, sur feu doux. Si votre casserole n'est pas à fond épais, ajoutez 2 Cs d'eau. Quand ça bouillonne, tournez doucement la casserole par la poignée afin de répartir les points de cuisson. Quand la couleur désirée est atteinte, retirez immédiatement du feu. Quelques secondes de trop peuvent ruiner un caramel.
Hors du feu, ajoutez le beurre et la crème puis chauffez de nouveau pour obtenir un caramel bien lisse.
Laissez refroidir un peu, puis ajoutez le chocolat en morceaux. Mélangez bien.
Transférez vers un saladier large. Laissez refroidir et ajoutez les jaunes d'œufs, puis les blancs montés en neige.
Laissez dans le saladier ou répartissez dans des ramequins individuels.
Mettez au frais au moins 4 heures.
Le verdict : cette mousse est simplissime et vraiment succulente. On sent bien le caramel salé, mais ce n'est pas du tout écœurant. Malgré sa facilité, vous pouvez la servir sans honte à vos invités car elle les surprendra agréablement.