Le "Easy almond Cake" de Nigella
Nigella's easy Almond Cake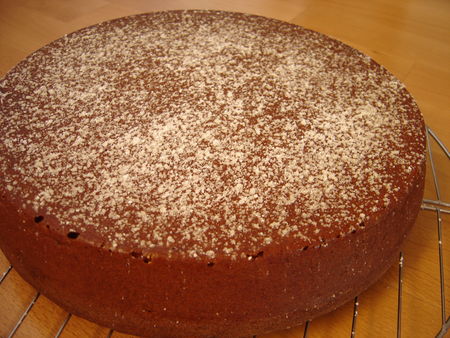 Why don't you believe me? I swear I am not lying! I had "break fast" with Nigella Lawson. OK, OK, I am a bit tricky here, you probably have noticed that I have written "break fast" in two words!! Hehe! I meant that I broke Yom Kippur's fast with one of Nigella's Cakes. Actually, the play on words works better in French but I tried to do my best…Here in France, we are used to start our post-fast meal with sweet things, as to not hurt our fragile stomachs. As a Jewish with Tunisian origins, the traditional cakes served are "Boulou" (dry almond-based kind of bread) and Arissa (semolina and almond cake, soaked with syrup), along with orgeat syrup and lemonade. Yes indeed, the key ingredient is "almond". So even though I haven't made the traditional cakes, the one I chose from Nigella's book has the not- to-be-forgotten ingredient. I was quite surprised to find this recipe in no more than two food blogs, I thought it would have been much more popular: it is simple, beautiful and delicate. What else? I have definitely adopted it for all my future post Kippur meals.
Ben quoi, vous ne me croyez pas ? Vous me prenez pour une « grosse mytho » (dixit mon ado de fille) ? Je vous assure que je dis la vérité : j'ai rompu le jeûne de Kippour (le Grand Pardon Israélite) avec son gâteau aux amandes, et sachez pour votre gouverne, que le verbe « déjeuner » signifie « rompre le jeûne ». Voilà ! Donc, je peux dire sans mentir que « j'ai dé-jeûné avec Nigella » ou plutôt avec son gâteau aux amandes. Bon, je vous l'accorde, tout cela est un peu tiré par les cheveux (qu'elle a fort beaux, d'ailleurs, grrr), mais la création de trafic sur un blog passe parfois par l'usage de grosses ficelles !
Un peu d'explications tout de même, comme cela, vous ne serez pas passés pour rien : Yom Kippour dure 25 heures et il est d'usage de débuter le repas qui suit sa fin par du sucré. Dans ma confrérie, les « tunes* », on déguste du Boulou (sorte de pain/biscuit sec aux amandes) et du Arissa (gâteau à la semoule et aux amandes, imbibé de sirop), le tout accompagné de citronnade et de sirop d'orgeat. Vous l'avez compris, l'ingrédient clé, c'est l'amande. C'est pourquoi, même si j'ai louché du côté de la Perfide Albion, j'ai respecté cette règle d'or.
J'ai été surprise de retrouver ce gâteau dans très peu de blogs, qu'ils soient francophones ou anglophones ; il est simple, il est beau, il est fin…Testé et approuvé pour tous les prochains Kippours…
* : juifs tunisiens
"Easy almond Cake" by Nigella Lawson
10-12 servings
250g (1 cup) softened marzipan
250g (1 cup) softened unsalted butter
110g (1/2 cup) granulated sugar (a little less than Nigella))
1 tsp almond extract (little more than her)
1 tsp vanilla extract (little more than her)
6 large eggs
150g (2/3 cup) self-rising flour (or all-purpose flour + 1 teaspoon baking powder)
Preheat oven 350°F (180°C).
To soften butter and marzipan, I have cut them into large cubes, put them in a mixing bowl and 2 minutes in the microwave oven over 350W power.
In the bowl of the food processor or a large mixing bowl, put the softened butter and marzipan, and add sugar. Beat until combined and quite smooth.
Add vanilla and almond extracts, process again, and add eggs one by one, processing again each time.
Finally, tip the flour through the funnel, process and pour the batter into the prepared tin (a ring mould or a springform tube pan).
Bake for 35 to 45 minutes (it depends on the oven). Check with a knife. Cover with foil if it gets too brown. Unmold on a plate.
For my "non-tart" home-made lemonade, click here.
My verdict : using marzipan instead of almond meal is brilliant ! It gives the cake a finer taste with a subtle touch of frangipane, and a smoother texture. This cake is wonderful.
Le "Easy almond Cake" de Nigella Lawson
Pour 10-12 personnes
250g de pâte d'amandes ramollie
250g de beurre doux, mou
110g de sucre en poudre (un peu moins que Nigella)
1 càc d'extrait d'amandes amères
1 càc d'extrait de vanille
6 gros œufs
150g de farine à gâteaux (ou 150g de farine ordinaire + 1 cuillère à café de levure chimique)
Préchauffer le four à 180°C.
Recouvrir le fond et les bords d'un moule à manqué de papier sulfurisé. Si vous utilisez un moule à savarin, beurrez et sucrez les bords et le fond.
Pour ramollir le beurre et la pâte d'amandes, je les ai coupés en gros morceaux, mis ensemble dans un saladier et 2 minutes au micro-ondes puissance 350W.
Dans le bol de votre robot ou dans un saladier, battre le beurre, la pâte d'amandes et le sucre jusqu'à ce que ce soit relativement homogène. Ajouter les extraits d'amandes et de vanille et battre encore.
Mettre les œufs entiers, un par un, en mélangeant bien entre chaque puis enfin la farine en trois fois. Bien battre, la pâte doit être lisse.
La verser dans le moule.
Faire cuire pendant 35-45 minutes, cela varie selon les fours. Vérifier la cuisson avec une pointe de couteau fine et couvrir de papier alu dès que c'est bien doré afin que ce ne soit pas trop brun sur le dessus.
Pour la recette de ma citronnade maison « pas acide du tout », cliquer ici.
Le verdict : la pâte d'amandes donne un résultat beaucoup plus fin, plus doux et moins sec d'aspect que la poudre d'amandes. Le gâteau a un délicieux goût de frangipane, à tel point que j'ai décidé de remplacer la poudre d'amandes par la pâte d'amandes dans mes futures galettes des rois. Comme je l'ai dit plus haut, ce gâteau est définitivement adopté pour la rupture du jeûne de mes futurs Kippours.