Tarte Tatin de Poires et de Coings pochés dans un Miel Anisé
Tart Tatin with Pears and Aniseed Honey-poached Quinces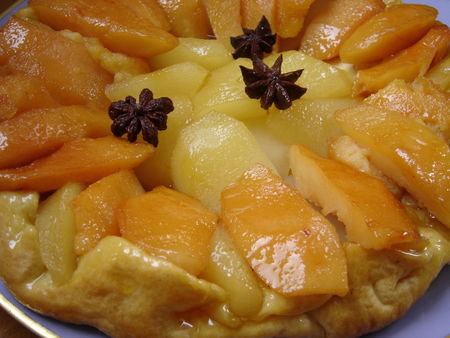 I am finally back ! I haven't totally recovered from my awful tracheitis, but I feel much better. Some days, I could hardly breathe, so I am relieved that I can now have an "almost" normal life. But, please, let's forget this painful moment and enjoy with me the return of the quinces ! Ah, how I love them ! I like the fact that they look ugly, they are not easy to peel, long to cook, but they are so wonderful and beautiful once you have just pulled off those little "ordeals" . Like they wanted to put you on a severe test to make sure you deserve to eat them !
I would like to thank Anita from Dessert First, for choosing « Spices » as next "Sugar High Friday"'s theme. Did she read in my mind ? This was exactly the kind of comforting ingredient I needed…As I had already tested (and approved) the combination of quince and star anise in a previous recipe, I was quite confident that it would be delicious in a Tart Tatin too. A bit more time-consuming than your ordinary Tart Tatin (with apples), but so gorgeous ! N'est-ce pas ?

De retour, enfin ! Et en beauté, j'espère ! Pas complètement rétablie, mais les virus sont coriaces cette année, il paraît. Mais ne nous apitoyons pas trop sur mon triste sort et réjouissons-nous que la saison des coings batte son plein. J'adore ces fruits car ils sont farouches, les bougres. D'aspect peu sexy, d'épluchage laborieux, de cuisson longuette, ils se révèlent splendides une fois toutes ces épreuves remportées. Comme si il fallait les « mériter », en quelque sorte ! Le thème « Epices » du prochain « Sugar High Friday » organisé ce mois-ci par un blog que j'adore, Dessert First, m'a bien inspirée. J'avais déjà testé l'alliance du coing et de l'anis étoilé dans une recette précédente c'est donc relativement confiante que j'ai confectionné cette Tarte Tatin aux Coings Epicés et aux Poires. Un peu plus longue qu'une Tatin aux pommes classiques, mais tellement plus jolie ! N'est-ce pas ?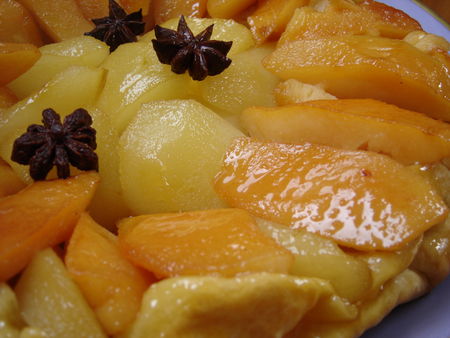 Pears and Spiced Quince Tart Tatin
You need for a large Tart (serves 6 to 8) :
3 quinces
2 pears, peeled, cored and quartered
1 cup flavorful honey
4 star anises
Peel of 1 lemon, cut into wide strips
5 oz (2/3 cup) granulated sugar (for the caramel)
3.5 oz (1/2 cup) ready-made quince jelly (optional)
1 sheet shortcrust pastry (see below)
Home made Shortcrust Pastry:
7 oz (1 cup) all purpose Flour
4.4 oz (1/2 cup) salted Butter
1 Egg

Make the shortcrust pastry : Cut the butter into 1.5cm (½ inch) dices and rub into flour, lifting the mixture to add air, until it resembles breadcrumbs. Make a well in the middle of the mixture and stir in the egg and water.
You obtain a soft but not sticky pastry. Cover tightly and sit in a fridge for 30 minutes.
Meanwhile, peel the quinces, reserving the peels. Make sure to remove all of the core. Cut each quince into quarters or in 8 according to your taste.
Place the quinces in a large sauce pan and add the honey, star anises and 4 cups water. Place the peels in the sauce pan, too.
Bring to a simmer over medium-high heat, reduce the heat to low, cover and poach the quinces until tender (about 30 minutes, but check with a knife). Remove and discard the peels. Using a slotted spoon, transfer the quinces to a bowl. Raise the heat to high and cook the poaching liquid until syrupy.
Pre-heat oven 400°F.
Roll out the shortcrust pastry to the required thickness.
In a skillet, make a caramel with the sugar and 3 tablespoons water.When caramel is golden, pour it in a 9-in cake pan.
Arrange the fruits, overlapping them in a circular pattern, over the bottom of the round pan ("cut side" up).
Place the sheet of pastry over the fruits. Pat down, seal the edges so that the pastry fits the molds. Evenly pierce with a fork.
Put the pan on a baking sheet, then bake for 30 to 35 minutes or until the pastry is golden brown.
Remove the pan from the oven. Place a plate over the top. Quickly and carefully invert the two. Tap the bottom of the mold to loosen the mixture.
Cover with poaching syrup and quince jelly (optional) and serve at once.
Tatin aux Coings Epicés et aux Poires
3 coings
2 poires, pelées, cœur retiré et coupées en quartiers
20 ml de miel (très parfumé de préférence)
4 étoiles anisées (badiane)
La peau d'un citron, en lamelles larges
100g de gelée de coings (facultatif)
Pour la pâte brisée "maison":
200g de farine
125g de beurre salé
1 oeuf
2 CS D'eau
Caramel
150g de sucre en poudre

Faites la pâte brisée : Couper le beurre demi-sel ramolli en dés de 1.5 cm. Incorporer la farine, frotter avec les mains jusqu'à ce que cela ressemble à une chapelure grossière. Former un puits au milieu et ajouter l'oeuf et l'eau. Mélanger.
On obtient une pâte lisse mais non collante. Recouvrir de film et laisser reposer 30 minutes au frais.Pendant ce temps, pelez les coings et réservez les pelures. Assurez-vous de bien retirer le cœur des coings. Coupez chaque coing en quatre ou en 8, selon votre préférence (pour moi, c'était en 8).
Placez les coings dans une grande casserole, ajoutez le miel, les étoiles anisées, les pelures de coing et de citron et 80cl d'eau.
Amener le liquide à frémissement sur feu moyen à fort. Puis, baissez le feu, couvrez et pochez les coings jusqu'à ce qu'ils soient tendres (environ 30 minutes, mais vérifiez avec un couteau pointu).
Retirez les pelures du liquide. Retirez également les coings et réservez-les dans une assiette. Augmentez le feu et faites réduire le liquide de pochage jusqu'à ce qu'il soit sirupeux.
Préchauffer le four à 200°.
Aplatir la pâte avec un rouleau à pâtisserie à l'épaisseur désirée.
Dans une poêle, faire un caramel avec le sucre et les 3 CS d'eau. Quand le caramel est doré, le verser dans le moule à manqué.
Disposer joliment les coings et les quartiers de poires dans le moule, par-dessus le caramel (côté coupé vers le haut).
Dérouler la pâte brisée sur les fruits, faire rentrer les bords dans le moule avec les doigts. Percer la pâte avec une fourchette.
Faire cuire 30 à 35 minutes ou jusqu'à ce que la pâte soit dorée. Retirer le moule du four. Placer une assiette large sur le Recouvrir du sirop de pochage et de la gelée de coings (facultatif) et servir.