Hey, but I am becoming a "Muffin Monday" addict ! Actually, my first participation was not a real one since I was a member of the jury and hence, I could not be a competitor. My second one was rewarded with a silver medal. So let's see what happens next...The theme chosen by Cuisine Plurielle, last edition's winner, was "colors and flavors of Autumn".This is why I have chosen to emphasize on two fruits which are at the top of the season : pear and walnut. To make an even more gourmet treat, I have decided to caramelize pears and walnuts before adding them to the muffin batter. And with a coffee icing and chopped walnuts on top, I feel like the only thing missing in my home for a perfect cozy atmosphere is a good old fireplace !
Mais c'est que je commence à devenir une habituée du Muffin Monday, moi ! Bon certes, ma première participation n'en était pas vraiment une puisque j'étais membre du jury, donc hors compétition. En revanche, ma seconde s'est soldée par une médaille d'argent. C'est vrai que ces petites récompenses, ça stimule !
Sur le thème choisi par Cuisine Plurielle, "Saveurs et Couleurs d'automne", j'ai choisi de mettre en valeur deux fruits, l'un sec, l'autre frais, mais tous deux au top de la saison : la noix et la poire. Afin de rendre ce muffin encore plus gourmand et parce que le froid sibérien que nous connaissons me permet de cacher mes rondeurs sous d'épais manteaux, j'ai eu envie de caraméliser les poires et les noix avant de les intégrer à la pâte à muffins.
Petit glaçage au café pour un aspect encore plus cosy, petites noix hachées sur le "bonnet" et voilà l' travail ! Idéal pour un thé ou un chocolat chaud au coin du feu...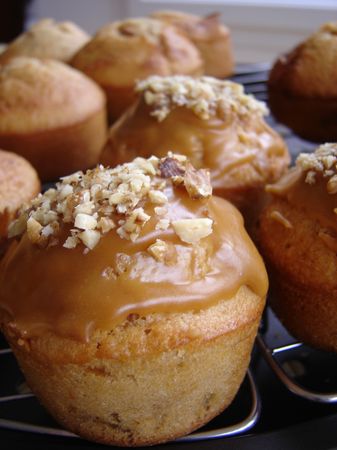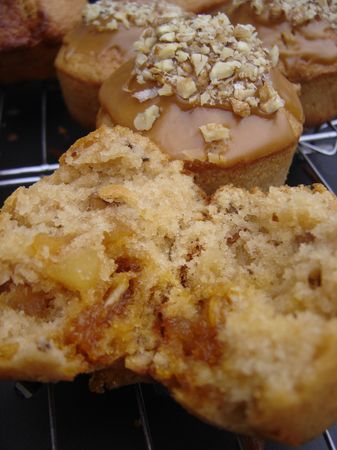 Caramelized Pear and Walnut Muffins, Coffee Icing
For 12 Muffins
1 1/3 cup (10.5 oz) all-purpose flour
½ cup (4.5 oz) granulated sugar
2 tsp baking powder
¼ teaspoon salt
2 eggs
1 cup (8 fl oz) milk
1/3 cup (2.6 oz) unsalted butter, melted
2 pears, peeled and finely diced
½ cup (4.5 oz) walnuts, chopped (save one tbsp for the decoration)
1/2 cup granulated sugar for the caramel
2 tbsp unsalted butter for the caramel
Icing
½ cup (4.5 oz) white fondant
2 to 3 drops coffee extract

Pre-heat oven 350°F.
In a skillet, make a caramel,melting the sugar until golden (over medium-high heat). Add 2tbsp butter then the pears and walnuts. Let cook until the fruits are golden.
Grease 12 2 -1/2 inch muffin cups (not necessary if they are made with silicon).
Prepare muffin batter : stir together AP flour, sugar, baking powder and salt in a mixing bowl. Set aside.
In another mixing bowl, combine wet ingredients : eggs, milk and butter.
Add wet ingredients mixture to dry ingredients. Stir until moistened.
Add pear/walnut mixture and mix again. Carefully.
Spoon 2 round tablespoons of the batter in each muffin cup. Each cup should be filled to 2/3.
Bake for 18 to 20 minutes or until golden brown.
Cool muffin pans on a wire rack for 5 minutes, remove muffins from the pan.
For the icing : heat white fondant with 2 tbsp water in a sauce pan over low heat. As soon as fondant melts, remove from the heat, add coffee extract, mix and transfer to a shallow plate.
Arrange the remaining chopped walnuts in another shallow plate.
Take each muffin by its base and soak the top in the fondant then in the chopped walnuts.You have to work fast as fondant gets tough very fast. If so, heat it again on low heat.

Muffins aux Poires et Noix Caramélisées, Glaçage Café
Pour 12 muffins
300g farine ordinaire
125g sucre en poudre
1 sachet levure chimique
1 pincée de sel
2 œufs
25cl lait
75g de beurre fondu (2 minutes au micro-ondes, puissance 500W)
2 poires, pelées et coupées en petits dés
125g de cerneaux de noix, hachés (en garder une CS pour la déco)
100g de sucre pour le caramel
2 CS de beurre doux pour le caramel
Glaçage
125g de fondant pâtissier blanc (en boutiques spécialisées, comme G.Detou à Paris)
Quelques gouttes d'extrait de café

Préchauffer le four à 180°C.
Dans une poêle, faire fondre les 100g de sucre jusqu'à ce qu'il aie une couleur dorée. Ajouter les 2 CS de beurre puis les poires en dés et les noix. Laisser jusqu'à ce que le caramel redevienne 'lisse" et que les fruits soient caramélisés.
Beurrer 12 moules à muffins s'ils ne sont pas en silicone.
Préparer la pâte à muffin : mélanger les ingrédients secs entre eux : la farine ordinaire, le sucre, la levure et le sel. Laisser reposer quelques instants.
Dans un autre saladier, mélanger les ingrédients « humides » : les œufs, le lait et le beurre fondu.
Mettre les ingrédients humides dans le saladier des ingrédients secs et mélanger.
Ajouter les poires et noix caramélisées et remuer délicatement.
Dans chaque alvéole des moules à muffins : verser 2 CS de pâte à muffin (l'alvéole doit être remplie aux 2/3).
Faire cuire 18 à 20 minutes. Retirer du four et laisser refroidir sur une grille, puis démouler les muffins.
Pour le glaçage, faire chauffer le fondant blanc avec 3cl d'eau à 35°C dans une casserole. Remuer à l'aide d'une spatule en bois, ajouter l'extrait de café et transférer dans une assiette creuse.
Hacher la CS de noix mise de côté pour la déco, puis disposer dans une assiette creuse.
Passer la tête des muffins, en les tenant par la base, successivement dans le mélange au fondant/café puis dans les noix hachées.
This post is submitted to :