Chestnut and Hazelnut Fondant Cake,Chocolate Glaze. Moelleux Marrons et Noisettes, Glaçage Chocolat

Three days away from home...and the day I was back, it was my elder daughter's birthday (she turned 12). A quick inspection of my fridge : empty ! a true Siberian desert ! Apart from 5 eggs and half a stick of butter. What about my pantry ? Not a lot to declare, I am afraid...Oh yes, some milk chocolate, hazelnut powder and ...chestnut spread (yoohoo). Now, let's go for a totale improvisation in trying to make something festive. The result : a chesnut and hazelnut cake, glazed with chocolate. What else ? Very little flour for a fudgy texture.Yummy, easy to make, and totally in season...Perfect for "ber" months birthdays (september through december).

Trois jours passés loin de la maison...Le jour du retour était celui de l'anniversaire de ma grande (12 ans)...Rapide coup d'œil dans le frigo : le désert de Sibérie. Enfin, quelques œufs et une demie-plaquette de beurre quand même...Dans le placard, rien...Ah si ! de la crème de marrons et du chocolat au lait. Et de la poudre de noisettes ! Bon, ben, on va improviser un gâteau festif avec tout ça. M'en suis pas trop mal sortie, ma foi : une base fondante marrons/noisettes et un glaçage chocolaté. Pratiquement pas de farine, ce qui donne un côté moelleux très sympathique. Miam ! Délicieux et ultra rapide, idéal pour les anniversaires des mois en "bre" (septembre à décembre).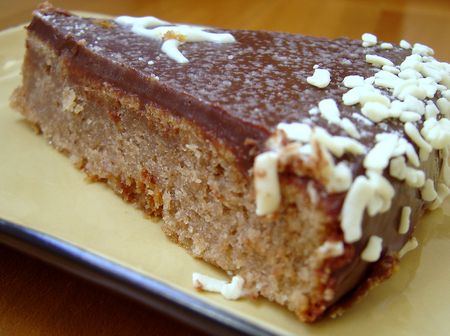 Chesnut and Hazelnut Fondant Cake, Chocolate Icing
4.5 oz, 1/2 cup unsalted butter, softened
5 eggs
16 oz, 1 lb chestnut spread
4.5 oz, 1/2 cup hazelnut powder
3 tbsp all purpose flour
No sugar, the chestnut spread is very sweet
icing
7 oz, 4/5 cup milk or dark chocolate, chopped
1 cup liquid whipping cream

Soften the butter : remove from the fridge at least two hours in advance or better, put in the microwave over 350 watts for a minute.

Preheat oven 350°F.

Butter and flour a round cake pan.

Separate whites and yolks. Put yolks in a large mixing bowl, add softened butter and beat (use a hand_held mixer). Add chestnut spread, then hazelnut powder and flour. Beat until you obtain a smooth texture.

In another bowl, beat egg whites (with a pinch of salt) until stiff.

Fold the whites in the chesnut mixture, very carefully, a third at a time.

Pour the mixture into the floured cake pan. Bake for 25 minutes. Check with a knife.
Unmold on a rack or a plate.

Prepare the icing : heat cream in a sauce pan over medium heat. When cream is simmering, add chopped chocolate and remove from the stove. Whisk until smooth.

Let chocolate cool a minute or two then pour on top of the cake. Spread evenly, even on the sides. Put in the fridge until glaze is firm enough.

Decorate according to your taste. For me, it was icing sugar on top and white chocolate chips on the sides.

Important : remove cake from the fridge one hour in advance, it is much better at room temperature.

My verdict : very very rich, but absolutely delicious. The texture is very "fudgy", almost "wet". And so easy to make...
Moelleux marrons/noisettes, glaçage chocolat
125g de beurre doux, mou
5 œufs
450g de crème de marrons
125g de poudre de noisettes
3 CS de farine ordinaire
Pas de sucre car la crème de marrons est assez sucrée à elle seule.
glaçage
200g de chocolat au lait ou noir
20cl de crème liquide.

Faites ramollir le beurre : soit vous le sortez du frigo 2 heures à l'avance soit, comme moi, vous pouvez le mettre 1 minute au micro-ondes à 350W.
Préchauffez le four à 180°C.
Beurrez et farinez un moule à manqué.
Séparez les blancs des jaunes. Mettez les jaunes dans un saladier, ajoutez le beurre mou et battez l'ensemble. Ajoutez la crème de marrons, puis la poudre de noisettes et la farine et battez encore jusqu'à obtention d'un mélange lisse.
Dans un autre saladier, montez les blancs en neige ferme avec une pincée de sel.
Incorporez délicatement les blancs au mélange aux marrons. Mélangez par tiers.
Versez le mélange dans le moule et faites cuire 25 minutes. Vérifiez la cuisson avec un couteau.
Démoulez sur une grille ou un plat.
Préparez le glaçage en chauffant la crème liquide dans une casserole sur feu moyen. Quand la crème frémit, ajoutez le chocolat coupé en morceaux. Fouettez hors du feu afin d'avoir un mélange homogène.
Laissez refroidir quelques minutes, puis versez sur le gâteau démoulé. Répartissez bien sur les côtés également. Faites durcir le glaçage au frais avant de décorer par-dessus.

Décorez selon votre goût. Pour moi, sucre glace sur le dessus et copeaux de chocolat blancs sur les bords.
Important : sortez le gâteau du frais une heure avant dégustation; il est bien meilleur à température ambiante.
Mon verdict : très très gourmand mais vraiment délicieux. La texture est très moelleuse, presque "mouillée". Si rapide à faire que c'en est presque honteux.