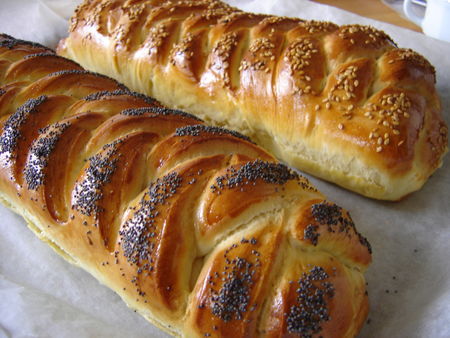 Your mother-in-law claims non stop that her challah is the best in the world ? Okay, let her think she is right, but show her that yours, if not the *best* one, is the most gorgeous ever ! hehe ! I got the idea from a previous Daring Bakers Challenge. You only need to make a basic challah dough, then roll it into a large rectangle and fold it as indicated at the bottom of this post. My little drawing is totally ugly, but I thought it might help.Much better : this vidéo here. If not, you can have a look at my sweet danish braid pictures here.
To help them keep their shape, I have baked them in a rectangular tart mold. Isn't this challah super classy ? And you can also put the filling of your choice in the middle (dairy-free in order to respect kosher food rules) : black or green olive paste, sun-dried tomatoes or onions sauteed in olive oil.
Votre belle-mère vous agace déstabilise à clamer sans cesse que sa halah est la meilleure du monde ? Laissez-la parler, décochez-lui votre plus beau sourire et par la même occasion cette halah "à la danoise". A défaut d'être la meilleure, la vôtre sera la plus belle ! Héhé ! Comment cela, je sème la zizanie dans les familles ?
C'est un challenge Daring Bakers qui m'a donné l'idée : sur la base d'une recette classique de halah, il suffit juste d'étaler la pâte au rouleau puis de découper afin de former un rectangle de 20cm x 35 cm. Puis de diviser visuellement le rectangle en trois parties dans la hauteur. Sur les 2 côtés, faites des entailles larges, comme des franges. Repliez-les en alternance, une fois à gauche, une fois à droite, sur la partie centrale, en les faisant se chevaucher légèrement.Je vous ai fait un petit dessin tout en bas-très moche mais suffisamment explicite, je l'espère. J'ai trouvé mieux : cette vidéo ici. Sinon, vous pouvez regarder mes photos ici.
Faites lever une heure comme ceci et enfournez. Afin de lui conserver sa jolie forme rectangulaire, je l'ai mise à cuire dans un moule à tarte de 35 x 11cm, mais si vous n'en avez pas, ce n'est pas grave. Avouez qu'elle est très classe, cette halah, non ? Vous pouvez même la farcir au centre avant de replier les bords : olives noires ou vertes, tomates séchées ou oignons revenus dans l'huile d'olive (mais surtout sans produit laitier afin de respecter les règles de la cacherout),...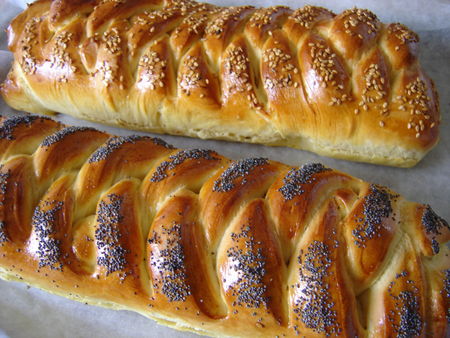 "Danish-style" Challah breads
From René Zana-Murat in « la cuisine juive tunisienne »
For 2 danish breads
1 lb all-purpose flour
3 eggs + 2 yolks to brush the breads
2 tablespoons granulated sugar
2 tablespoons fresh yeast
½ cup lukewarm water
½ cup canola oil
1 handful sesame seeds or poppy seeds
1/3 oz or 2 tsp salt
Place yeast and lukewarm water in a small cup. Mix with a fork and let sit a few seconds.

In a large mixing bowl, assemble flour, sugar and salt. Make a well in the center and add the foamy yeast mixture, mix, the oil, mix and finally the eggs.

Knead by hand or with a food processor or a bread machine. If the dough is too sticky add some flour.

Transfer the dough to a floured working surface and flatten with both hands for a few seconds. Make a ball.

Cover the dough with a clean dishtowel and let rise for 3 hours (it must triple in size).

When dough is ready, knead some minutes by hand on a floured surface and then separate in 2 portions.

Line a baking sheet with a silicone mat or parchment paper. On a lightly floured surface, roll the Dough into two 15 x 20-inch rectangles, ¼ inch thick.

Along one long side of the pastry make parallel, 5-inch-long cuts with a knife or rolling pastry wheel, each about 1 inch apart. Repeat on the opposite side, making sure to line up the cuts with those you've already made.

Starting with the top and bottom "flaps", fold the top flap down over the filling to cover. Next, fold the bottom "flap" up. Now begin folding the cut side strips of dough over the center, alternating first left, then right, left, right, until finished. Trim any excess dough and tuck in the ends.Video here.

Let the braided breads rise an extra hour (covered with dishtowel) before baking them. Then arrange them on a pastry sheet lined with parchment paper.

Meanwhile, preheat oven 420°F.

When the breads are ready to be baked, brush them with egg yolks beaten in a tsp water. Decorate with sesame or poppy seeds.

Bake for 15 minutes or until golden brown. Check with a knife.

Shabbat Shalom !!
Halot à la "danoise"
Recette (légèrement modifiée) de Renée Zana-Murat dans « la cuisine juive tunisienne »
Pour 2 tresses danoises
500g de farine
3 oeufs + 2 jaunes d'œuf pour la dorure
2 CS de sucre en poudre
25g de levure fraîche du boulanger
1 verre d'eau tiède (10cl)
10cl d'huile d'arachide
10g de sel
1 poignée de graines de sésame ou de graines de pavot
Faites le levain : délayez la levure dans un verre d'eau tiède.

Dans un grand saladier, mélangez farine, sucre et sel. Faire un puits au centre et y verser, en mélangeant entre chaque étape, le levain, l'huile et les œufs.

Formez une boule. Pétrir à la main .

Pour pétrir à la main : Fariner le plan de travail, poser la boule de pâte et l'étirer à plusieurs reprises avec le plat de la main droite tandis que la gauche maintient la pâte. Ceci pendant 5 bonnes minutes.Rajouter de la farine si la pâte est trop collante.

Faire lever la pâte recouverte d'un torchon propre, dans un saladier, pendant 3 heures. Elle doit tripler de volume.

Lorsque la pâte est prête, la pétrir encore 5 mn et la séparer en deux morceaux.

Etaler chaque pâton au rouleau afin d'obtenir deux rectangles de 20x35cm chacun. Attention, ne les aplatissez pas trop car ils auront du mal à lever et vous n'aurez que de la croûte. Même si la pâte est encore élastique et que votre rectangle n'est pas parfait et ressemble plus à un ovale, ce n'est pas grave. Ce sera joli après cuisson de toute façon. Découpez des franges sur les côtés

Repliez d'abord les bords inférieurs et supérieurs, puis les franges par la gauche et la droite, en alternance. Video ici.

Poser les halots tressées, en les espaçant bien, sur une plaque à pâtisserie recouverte de papier sulfurisé. Laisser reposer les pains encore 1 heure, recouverts, avant de les faire cuire. Ils doivent doubler.

Préchauffer le four à 210°C.

Lorsqu'ils ont à nouveau gonflé, badigeonner les pains de jaunes d'œuf battu avec un peu d'eau puis décorer avec les graines de sésame ou de pavot. Pour décorer, tremper votre majeur dans le jaune d'oeuf puis dans les graines et appuyer ensuite aux endroits voulus sur les tresses.

Faire cuire environ 15 minutes (vérifier la cuisson avec la pointe d'un couteau).

Shabbat Shalom !!