Rôti de veau en Croûte de Sel et d'Herbes
Veal Roast baked in a Salt and Herbs Crust
simply by dressing it up in an elegant salt and herbs crust... Simple, very aesthetic and the best for a lovely, tender veal with plenty of flavor. Beware not to season veal, the crust will do the job perfectly.And even though I know that playing with food is bad manners, do not hesitate to ask your guests to peel off the crust. They will have fun with it and will be impressed by the beautifully wrapped dish.
...tout simplement en le parant d'un élégant manteau de sel et d'herbes. A la fois simple, esthétique et terriblement bénéfique pour la viande qui s'en trouvera attendrie et juteuse à souhait. Attention à ne pas l'assaisonner car la croûte de sel s'en chargera. Pour un petit côté ludique, n'hésitez pas à présenter le rôti dans sa croûte à vos invités et invitez-les à la casser avec un petit marteau ou un couteau, en fendant la partie supérieure en premier.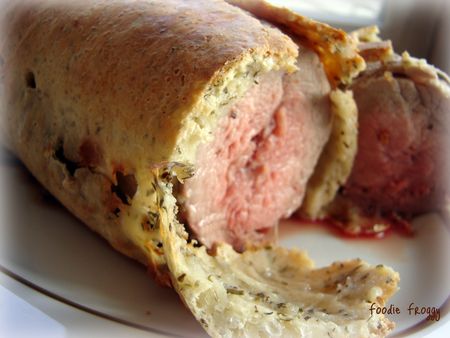 Veal Roast baked in a Salt and Herbs Crust
For 6 servings
3 lbs boneless veal roast, top quality
300g rock salt
250g all purpose flour
5 tbsp Herbs de Provence
2 egg whites
1 egg, beaten

Combine salt, flour and the herbs in a large mixing bowl.
Add the egg whites and 1/3 cup water and knead to form a dough. Knead for at least 5 minutes until dough is not stiff any longer.
Roll into a ball and wrap tightly in plastic film.
Refrigerate for one hour.
Preheat oven 230°C.
In a heavy bottom and large skillet, cook veal roast over high heat and turn until golden on all sides.
Remove and let cool.
Remove dough from the fridge and from the plastic film.
Roll into a 3 mm-thick circle on top of a lightly floured sheet of parchment paper.
Put veal roast on top, and use the parchment paper to roll the dough all over the veal.Seal dough at both ends. Remove paper carefully and brush the crust with the beaten egg.
Bake for 30 minutes. Switch off the oven and let veal inside until being served. It will be juicy and tender.
Rôti de veau en Croûte de Sel et d'Herbes
Pour 6 personnes
1 rôti de veau de 1.5 kilos, top qualité
300g de gros sel
250g de farine ordinaire
5 CS d' Herbes de Provence
2 blancs d'oeufs
1 oeuf entier, battu

Dans un grand saladier, mélangez le sel, la farine et les herbes, avec vos mains.
Ajoutez les blancs d'œufs et pétrissez jusqu'à obtention d'une pâte homogène. A cette fin , pétrissez au moins 5 minutes pour que la "pâte" ne soit pas trop dure. Si elle est trop mouillée, ajoutez un peu de farine.
Formez une boule, enveloppez-la dans du film plastique et mettez au frais une heure.
Préchauffez le four à 230°C.
Dans une sauteuse à fond épais faites cuire le rôti avec un peu d'huile d'olive jusqu'à ce qu'il soit simplement doré de tous côtés.
Retirez du feu et laissez refroidir.
Retirez la pâte de sel du frigo et déballez-la.
A l'aide d'un rouleau à pâtisserie, étalez-la sur du papier sulfurisé légèrement fariné jusqu'à obtenir un grand cercle de 3mm d'épaisseur.
Posez le rôti refroidi sur la pâte et repliez-la de toutes parts autour du rôti.S'il y a des trous, colmatez-les avec des restes de pâtes.
Transférez le rôti emballé sur une plaque à pâtisserie et faites cuire 30 minutes.
Éteignez le four et laissez le rôti à l'intérieur jusqu'à ce qu'il soit servi. Il restera chaud mais ne sèchera pas.
Pour servir, cassez la croûte, jetez-la et découpez des tranches de veau selon l'épaisseur désirée.

Make a ball with the dough, roll it, wrap veal and bake...Simple !
Faites une boule, étalez-la, recouvrez le rôti et enfournez. Facile !