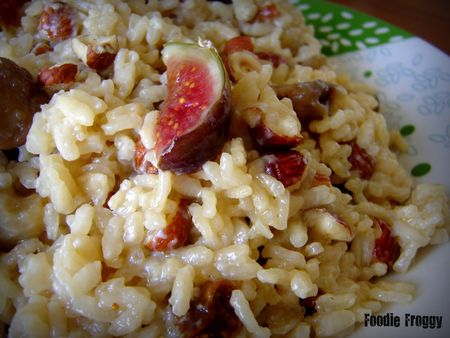 After my -rather- comical misfortune about my last post, I hope no one will find that this innocent risotto looks...kinky !
Well, plenty of savory recipes these lasts days here, huh ? Don't worry, from next post to two weeks on, you will get many many sweet delicacies. And then I will fly...somewhere...a mysterious place in the world chosen by hubby for my 40th birtday ! 10 days without kids, woohoo ! Any idea guys ? He told me to bring swimsuits, a raincoat, tanks and a fleece jacket, among other things ???!!! Can you believe it ? I think he just wants me to get confused, right ? Because I can't think of a destination where you can swim and freeze at the same time...Oh, well, we will see. And of course I will let you know...

Après ma mésaventure cocasse à propos de la photo de mon rôti de veau (dont il vaut mieux rire...), j'espère que personne ne trouvera un air pervers à cet innocent risotto...C'est que je vais commencer à devenir parano, moi ! En tous les cas, toute cette histoire a littéralement fait ex-plo-ser mes stats de visites, comme quoi, le se*e attire du monde. Enfin, rien de nouveau sous le soleil, même si j'aurais préféré que ce soit pour mes recettes, snif...
Pas mal de recettes salées chez la grenouille ces derniers temps, mais do not worry, la semaine prochaine et la suivante, vous aurez droit à un festival de douceurs. Puis, je m'envolerai vers une destination secrète pour mes 40 ans. Voyage surprise organisé par mon mari, 10 jours sans enfants, rhâââ lovely. Un pari sur la destination ? Je dois emmener maillots et k-way, tee-shirts et polaire !!!??? A mon avis, c'est pour brouiller les pistes... ou alors, c'est Center Parcs, lol !!
Dès que j'ai du nouveau, je vous tiens au courant...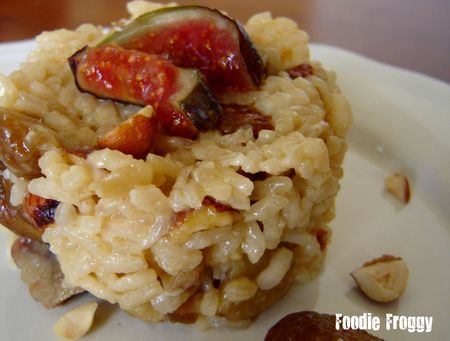 Chestnut, Hazelnut and Fig Risotto
For 6 servings
Home-made chicken broth :
Leftover chicken carcass (for an express version, you can use 2 boneless raw chicken breasts)
2 carrots
1 shallot
2 garlic cloves
Some fresh thyme
Some fresh laurel
salt
4 cups of water
For the risotto :
1 cup (9 oz) arborio or carnaroli rice
3 shallots
olive oil
2/3 cup white wine
2 cups home made chicken broth (see recipe above)
7 oz vacuum packed cooked chesnuts, coarsely chopped
2 dried figs, coarsely chopped
2 fresh figs (for the decoration)
2 tablespoons coarsely chopped hazelnuts
1/4 cup (1.7 oz) unsalted butter
2/3 cup (2.5 oz) freshly grated parmesan
1 tablespoon mascarpone (optional)
coarse salt

Make the chicken broth : Arrange the chicken carcass in a large stockpot, put the carrots, shallot, garlic, all coarsely chopped. Add the thyme and laurel. Pour the water. Cover and bring to a boil, then reduce the heat and let simmer for an hour. Strain through a strainer. If the broth gets colder, skim the scum on top.
Sautée the chestnuts and dried figs in a skillet with a teaspoon olive oil and a pinch of coarse salt. Reserve.
Peel and finely chop the shallots. Make it sweat in a skillet with olive oil over medium heat. Add the rice and cook until it is translucent (no more than a minute).
Deglaze with white wine. Reduce to half the liquid.
Pour 2 ladlefuls of chicken stock and wait until all liquid is absorbed. Repeat until you use the whole stock and rice is cooked.
When rice is cooked, add the chestnuts, dried figs, stir, then add the hazelnuts, butter and freshly grated parmesan cheese. Stir well. Season if necessary.
For a creamier risotto, you can add 1 tbsp of mascarpone cheese.
Arrange the risotto in a plate, décorate with fresh figs cut into thin slices.

Risotto aux Châtaignes, Noisettes et Figues
Pour 6 personnes :
Pour le bouillon :
1 carcasse de poulet (avec de la chair dessus si possible !). Version express : si vous n'avez pas de carcasse, vous pouvez utiliser 2 blancs de poulet crus, oui madame !
2 carottes
1 échalote
2 gousses d'ail
Du thym frais
Du laurier frais
sel
1 litre d'eau
Pour le risotto :
250g riz rond Arborio ou Carnaroli
3 échalotes
de l'huile d'olive
15 cl de vin blanc
50cl de bouillon de poulet maison (voir recette ci-dessus)
200g de châtaignes cuites, sous vide ou en bocal
2 figues sèches, coupées grossièrement
2 figues fraîches pour la déco
2 CS de noisettes, grossièrement hachées
50g de beurre
50g de parmesan fraîchement râpé
1 CS de mascarpone (facultatif)
gros sel

Pour faire le bouillon, disposer la carcasse dans une grande casserole ou une marmite, accompagnez-la des carottes, de l'échalote et des gousses d'ail grossièrement coupés. Ajoutez le thym et le laurier. Couvrez avec le litre d'eau. Amenez à ébullition puis baissez le feu et faites mijoter une heure. Filtrez ensuite le bouillon et utilisez-le encore chaud. Si il a refroidi, écumez le gras à la surface.
Poêler les châtaignes et les figues sèches rapidement dans un peu d'huile d'olive et une pincée de gros sel. Réserver.
Éplucher et ciseler les échalotes, les faire suer dans l'huile d'olive (température moyenne). Ajouter le riz et le « nacrer », c'est à dire le chauffer quelques instants jusqu'à ce qu'il soit translucide.
Déglacer avec le vin blanc, faire réduire de moitié.
Verser 2 louches de bouillon et attendre jusqu'à absorption. A chaque absorption, rajouter du bouillon jusqu'à ce que le riz soit cuit.
Lorsque le riz est fondant, mettre les châtaignes et les figues sèches , mélanger une première fois puis ajouter les noisettes hachées, le beurre et le parmesan fraîchement râpé. Bien mélanger.
Assaisonner.
Si vous souhaitez votre risotto encore plus crémeux, vous pouvez ajouter une CS de mascarpone.
Dressez les risotto dans les assiettes, décorer avec les figues fraîches coupées en fines lamelles.