A Short Guide to Foodie French...with a touch of salt, by Françoise Blanchard and Jeremy leven, éditions Diateino.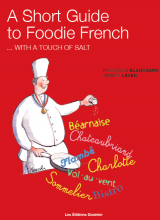 Noël a sonné avant l'heure pour moi : un petit colis m'est parvenu par la poste et il contenait ce livre. Dominique de la société Diateino m'avait contactée quelques temps auparavant pour savoir si je pouvais parler de ce livre dans mon blog. Je lui avais alors répondu que je ne le ferais que s'il me plaisait et que dans le cas contraire, je le leur retournerais. Et bien, inutile de vous dire qu'il siège maintenant en bonne place dans mon (importante) bibliothèque gourmande. Ce livre, en anglais, est une perle pour qui s'intéresse à la gastronomie hexagonale. Même une française de souche comme moi y a appris plein de choses sur l'histoire de termes culinaires usités. Par exemple, connaissiez-vous l'origine des pommes Anna (une courtisane habituée des salons du café Anglais à Paris), le premier sens de "Tournedos" (des poissons pourris vendus par des poissonniers peu scrupuleux), pourquoi les biscuits utilisés dans le tiramisu s'appellent "à la cuillère", etc...etc...
Le livre est très clair, avec une présentation ludique (illustrations de Pouch) et une division en 7 chapitres : choisir le bon restau (différences entre brasserie et bistro, café et restaurant,...), les différentes cuisines (bourgeoise, de terroir, haute gastronomie,...), les intervenants (le Chef, le garçon, le sommelier, la nuance entre gourmet et gourmand), les règles du savoir-vire au restau (doit-on souhaiter un bon appétit, le pourboire,...), une analyse de ce que l'on peut trouver au menu avec origine historique souvent surprenante , un chapitre dédié aux pâtisseries et le dernier aux alcools. Pour moi qui ai fréquenté assidument les forums de voyageurs anglo-saxons, je peux vous certifier que ces interrogations reviennent très souvent. Avec ce livre, les réponses seront toutes trouvées.
Bien entendu, je n'ai aucun intérêt financier dans cette opération de promotion. Si j'évoque ce livre, c'est pour vous faire partager un coup de coeur, rien de plus.
Si vous souhaitez le commander, cliquez ici. A noter : dédicace de l'illustrateur le 13 décembre à la librairie gourmande à Paris.
Christmas was early for me this year : I received this book some days ago. Dominique, from Diateino (a publishing firm) had asked me if I would like to evoke the book on my blog. I simply answered that I would love to read it, but that I could not promise anything, I would mention the book only if I liked it. Otherwise, I would return it to the sender. Needless to say that I truly enjoyed it ! This tome, in english, is a true gem for francophile foodies : all you always wanted to know about the difference between bistro and brasserie, restaurant and café (in the first chapter called "picking the perfect place"), the various cuisines (Bourgeoise, Haute, Nouvelle,...), the characters in a restaurant (garçon, sommelier, habitué,...) with some surprising explanations on the origin of the words, the etiquette of dining out (is it polite to say "bon appétit" at the launching of a meal, what about the tip,), a fascinating exploration, by type of food from starters to desserts, of french words often found on menus and used in english ( did you know that "pommes Anna" were named after a courtisan of the Café Anglais in Paris, the real meaning of Tournedos (rotten fish sold by unscrupulous fishmongers,...) ?), a tour of the bakery items, and all about French alcohols.
The book is very handy, of good quality and easy and fun to read thanks, among other things, to Pouch's illustrations.
For me, a regular reader on english-speaking travel forums, I can tell you that these questions are extremely frequent. The little "plus" also is that all the words have their phonetic pronunciations.
Of course, I have no financial interest in the book sales. I just want to share this great book with you.
If you would like to order it, click here. It can be shipped anywhere.