Left : Megève, French Alps
One may be out of town, but still be ready to prepare a gourmet meal to her/his beloved ones...I spent my winter holidays in Megève, French Alps, like every year. But two weeks per year are not enough to make me comfortable in a "foreign" kitchen : I feel a bit lost without my beloved Kenwood food processor, my lovely hand mixer, my sweet silicon molds and other funny-shaped-cookie cutters....But this is no excuse, and my mother and I did our best to make a simple yet elegant and most importantly gourmet festive meal to our family. I got lot of inspiration from "Cuisine&Vins de France" 's latest issue and instead of the traditional 3-course meal, we chose to make plenty of amuse bouche and starters followed by two desserts. Did we really eat all this ? Oh yes, we did, but if it can help you feel better, the portions were quite small.
And I am seizing this opportunity to wish you all a wonderful gourmet year. Here in France this year is special as the last digit is "neuf" which means both "nine" and "new", so I do wish you many wonderful changes in your lives...

Ce n'est pas parce que l'on est loin de chez soi et de sa cuisine over-équipée que l'on doit se priver de mitonner un repas gourmand pour les fêtes. Certes, au début, j'étais un peu perdue dans cette cuisine que je ne fréquente que deux semaines par an, et surtout sans mon ami Kenwood, mon mixer chéri, mes jolis moules en silicone, mes emporte-pièce complices et autres gadgets moins utiles, certes, mais nécessaires à la petite touche de glamour. Les mots d'ordre de cette année ont donc été ingéniosité, simplicité, et élégance.Le dernier numéro de "Cuisine et Vins de France" m'a très largement inspirée, et voici le résultat. Nous avons opté pour plein d'entrées plutôt que la traditionnelle formule entrée + plat, et bien entendu nous n'avons pas fait l'impasse sur le dessert.Vous allez certainement me dire : "quoi ? vous avez mangé tout çà !!" , oui en effet, mais les portions, je vous rassure, étaient petites.
J'en profite pour vous renouveler tous mes vœux pour cette année en neuf.

As amuse bouches, we had cucumber, tomato and tuna in tiny shot glasses as well as cauliflower and almond soup.En amuse-bouche, petites verrines de concombre, thon en mayonnaise légère et tomates, puis mini-velouté de chou-fleurs aux amandes.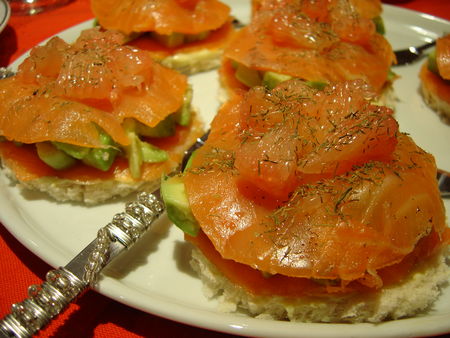 Then several appetizers starting with smoked salmon, avocado and grapefruit "millefeuille" (very easy, a slice of sandwich bread topped with smoked salmon, then avocado dices with chervil, another layer of smoked salmon, and grapefruit segments.What makes this dish very pleasant is that bread and salmon are cut in a nice round shape. Puis mille-feuille de saumon, avocat et pamplemousse. Ultra-simple : découper des tranches de pain de mie en rond à l'aide d'un verre retourné, les tartiner d'une sauce légère à la moutarde, étaler une première couche de saumon fumé découpé au même gabarit, puis les dés d'avocat au cerfeuil et enfin recouvrir d'une dernière tranche de saumon fumé et de suprêmes de pamplemousse.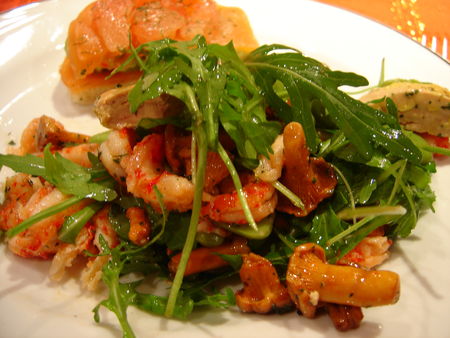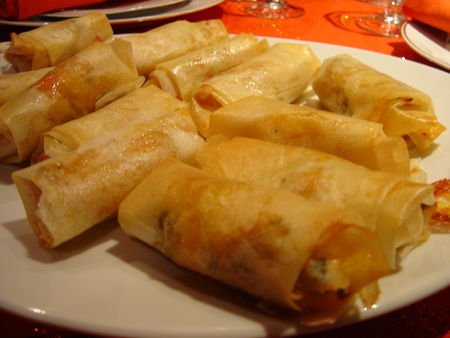 We continued with a langoustine, chanterelle, fava beans, duck liver and rocket salad. A good company for langoustine, mango and cilanto springrolls.Pour la suite, salade folle de langoustines, giroles, fèves pelées, bloc de foie gras et roquette.Accompagnée de nems de langoustines, mangue et coriandre (en feuille de brick, et cuites au four, c'est bien plus diététique).
For more consistant starters : Sauteed small scalllops and portobello mushrooms, on a bed of thin sticks of granny apples and a wonderful apple caramel. Just make a caramel and, when golden, add a cup of apple juice and two tbsp of white vinegar. Continue cooking until syrupy. To die for.Reheat if necessary before using. Pour les plats un peu plus consistants : Pétoncles aux champignons sur un lit de bâtonnets de pommes vertes et caramel de pomme à tomber. il suffit de faire un caramel ambré, auquel on ajoute 30cl de jus de pomme et 2 Cs de vinaigre blanc et on laisse cuire jusqu'à consistance sirupeuse.Si vous le faites à l'avance, le réchauffer un peu pour qu'il redevienne assez liquide pour être utilisé.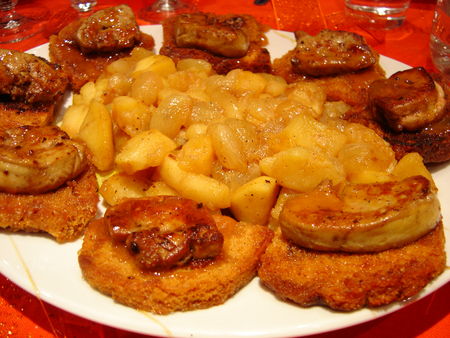 Sauteed foie gras on gingerbread slices, with sauteed golden apples.Escalopes de Foie gras chaud poêlées sur pain d'épices artisanal revenu au beurre, et ses pommes golden sautées.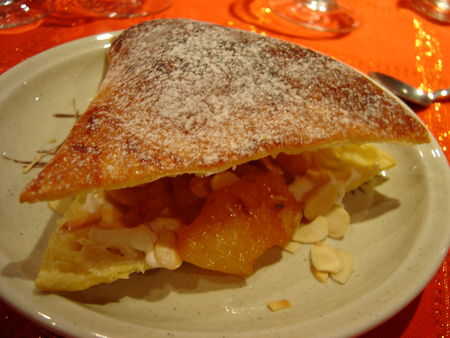 Finally the desserts : a champagne sabayon Mousse (not photographed, I forgot but I'll try to make it again and post the recipe soon). And caramelized pineapple dices with mascarpone in a puff pastry triangle. Just cut a round ready-made puff pastry into 6 parts, glaze with egg yolk and powder sugar then bake until golden. Very carefully cut each triangle thickwise and "stuff" with whatever you want. Here, caramelized pineapples dices on mascapone (1 cup for 6 persons) mixed with 1 tsp vanilla extract and 2 tbsp heavy cream and 2 tbsp sugar.Enfin, les desserts : une mousse au sabayon de champagne (non photographiée, un oubli, mais je la referai peut-être prochainement) et un feuilleté à l'ananas caramélisé et au mascarpone. Il suffit de découper une pâte feuilletée en 6 parts, de la badigeonner de jaune d'oeuf puis de sucre glace. La faire cuire au four à 180°c jusqu'à ce qu'elle soit dorée et gonflée, ensuite couper chaque part dans l'épaisseur très délicatement. Vous pouvez "farcir" avec ce que vous voulez. J'ai mélangé le mascarpone avec de la crème fraîche (!!) et ai ajouté de la vanille liquide et un peu de sucre.