Fava bean and Mint Soup with Dried Duck Magrets
Soupe de Fèves à la Menthe et aux Magrets Séchés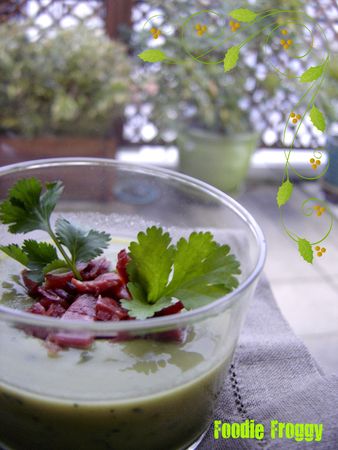 Yes, I know, winter is not fava beans season at all...but when one has the chance to live in a country with a wonderful chain of frozen food shops, one can have fava beans all year long. And the best part is that they are already peeled, what a precious time-saving ! Say goodbye to guiltiness and let's enjoy a wonderfully green soup that changes a little. And you can have it warm or cold, and add peas if you like. As I don't eat pork, I use duck magrets but you can, of course, replace them with crispy slices of bacon.
Oui, je sais, ce n'est pas du tout la saison de la fève...mais avec cette merveilleuse chaîne de surgelés dont nous avons la chance de disposer en France, pourquoi se priver de fèves en hiver ? En plus, la moitié du travail est faite : déjà pelées, quel gain de temps ! Allez, vade retro la culpabilité et régalons-nous d'une soupe qui change un peu. Vous pouvez la déguster chaude ou froide, et l'agrémenter de petits pois. J'utilise du magret car je ne mange pas de porc, mais vous pouvez bien entendu le remplacer par des lardons.

Fava bean and Mint Soup with Dried Duck Magrets
For 4 servings
1 cup frozen peeled fava beans, thawed
2 shallots, minced
2 ½ cups chicken broth
8 slices dried duck magrets, diced
1 tbsp fresh mint, chopped
olive oil
Salt and pepper
Home-made chicken broth :
Leftover chicken carcass (for an express version, you can use 2 boneless raw chicken breasts)
2 carrots
1 shallot
2 garlic cloves
Some fresh thyme
Some fresh bay leaves
salt
4 ¼ cups of water
Make the chicken broth : Arrange the chicken carcass in a large stockpot, put the carrots, shallot, garlic, all coarsely chopped. Add the thyme and laurel. Pour the water. Cover and bring to a boil, then reduce the heat and let simmer for an hour. Strain through a strainer. Use the chicken broth while it is still hot. If it gets colder, skim the scum on top.
Meanwhile, sautée the magret dices in a skillet with 1 tbsp olive oil until crispy. Reserve.
In a large sauce pan, sweat the sliced shallots over medium heat with one tablespoon olive oil and one pinch of salt. Cook until shallots are transparent but not do not let them get golden. Add the fava beans, cook them, stirring constantly, for 3 minutes. Cover the vegetables with the chicken broth. Bring to a simmering point and let simmer until fava beans are cooked (15 to 20 minutes).
Using a dipper, carefully transfer the vegetables and broth in a blender. Add fresh mint. Blend and add the remaining chicken broth according to the consistency you like. Check the seasoning.
Just before serving, re-heat the soup carefully in a large sauce pan (do not bring to a boil).
In each soup plate, pour some soup, arrange the sautéed magrets in the center and serve at once.
Soupe de fèves à la menthe et aux magrets séchés
Pour 4 personnes
450g de fèves pelées surgelées
2 échalotes, émincées
50cl de bouillon de poulet (voir ci-dessous ou faire avec un cube deshydraté)
8 tranches de magret séché
1 CS de menthe fraîche, ciselée
Huile d'olive
Huile de Truffe Blanche
Sel et Poivre
Pour le bouillon :
1 carcasse de poulet (avec de la chair dessus si possible !). Version express : si vous n'avez pas de carcasse, vous pouvez utiliser 2 blancs de poulet crus !
2 carottes
1 échalote
2 gousses d'ail
Du thym frais
Du laurier frais
sel
1 litre d'eau
Préparez le bouillon de poulet : disposez la carcasse dans une grande casserole ou une marmite, accompagnez-la des carottes, de l'échalote et des gousses d'ail grossièrement coupées. Ajoutez le thym et le laurier. Couvrez avec le litre d'eau. Amenez à ébullition puis baissez le feu et faites mijoter une heure. Filtrez ensuite le bouillon et utilisez-le encore chaud. Si il a refroidi, écumez le gras à la surface.
Préparez les magrets : coupez-les en petits dés et faites revenir dans une poêle chaude jusqu'à ce qu'ils soient croustillants.
Dans un grand faitout, faites suer les échalotes émincées sur feu moyen. Quand elles sont est bien transparentes , ajoutez les fèves décongelées et faites revenir pendant 2 à 3 minutes. Recouvrez le tout de bouillon. Amenez et maintenez à frémissement jusqu'à ce que les légumes soient cuits (environ 15 à 20 minutes).
A l'aide d'une louche, transférez la soupe dans un blender. Ajoutez la menthe ciselée. Mixez bien et rajoutez progressivement du bouillon si nécessaire jusqu'à la consistance désirée.
Rectifiez l'assaisonnement.
Juste avant de servir, réchauffez la soupe dans le faitout, sans la faire bouillir.
Pour servir, versez la soupe dans chaque assiette creuse et disposez les magrets au centre.