Panna Cotta Cardamome et Mangue
Cardamome and Mango Panna Cotta
When I prepare an exotic meal, I always wonder which dessert I will propose to my guests. Because, let's speak frankly, sweet dishes are not what Asians do best. Just by rumbling through any asian cookbook, you quick realize that the dessert section is, in most cases, almost non-existent. The easiest way is to go for an exotic fruits salad, but this time I did not feel in the mood for it. I wanted something more classy, but still "light" : after 50 springrolls (not for each guest, of course), a green curry chicken with steamed rice, you have good excuses to crave for a refreshing little sweet something. A panna Cotta ? Does not sound very exotic...unless you choose the right ingredients. Cardamom and Mango (my favorite fruit) ? Elementary, my dear Watson ! And you can also infuse freshly grated ginger if you like.
Quand je fais un repas exotique, je me demande toujours ce que je vais bien pouvoir proposer en dessert. Car il faut bien avouer que ce n'est pas le fort de nos amis chinois, thaïlandais ou indiens, les douceurs...Il n'y a qu'à voir les livres de recettes asiatiques, les desserts occupent en général royalement pas plus de...allez, soyons folles...4 pages ? Cette fois-ci, je n'avais vraiment pas envie de mettre la sempiternelle salade de fruits exotiques au menu. Mais il me fallait quand même une alternative légère, car après 50 nems (pas chacun, hein, environ 5 par personne quand même), un poulet au curry vert avec son riz vapeur, une petite touche de fraîcheur serait la bienvenue. Tiramisu ou riz au lait exotique ? Trop lourd. Panna Cotta ? Pas très asiatique...sauf si on choisit bien ses ingrédients. Cardamome et Mangue, élémentaire mon cher Watson ! Vous pouvez doser la cardamome selon vos affinités, et même faire infuser du gingembre frais pelé et coupé en rondelles, les deux se marient très bien.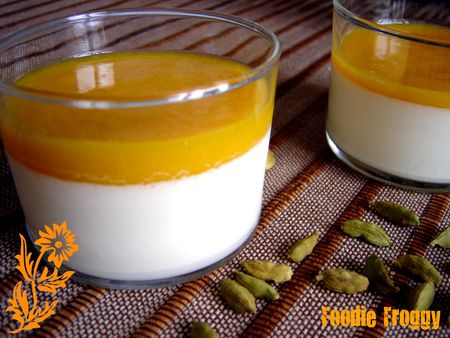 Cardamome Panna Cotta, Mango Coulis
For 4 little panna cotta
(For 6, multiply ingredients by 1.5 or for 6 large ones, double them)
To be made a day ahead.
Panna Cotta :
1-1/2 cup liquid whipping cream
¾ cup whole milk
2 oz or 4 tablespoons granulated sugar
2 gelatin leaves softened in cold water and squeezed or 1 tsp of agar-agar
6 green cardamom pods
Mango Coulis
1 ripe Mango (if not ripe, it will be almost impossible to make a coulis)
2 tablespoons lemon juice
4 tablespoons orange juice
2 tablespoons granulated sugar
Make the Mango coulis : peel the ripe mango, remove the pulp and blend it.Add lemon juice, orange juice and sugar.Blend again. Press the mixture through a sieve.Refrigerate.
In a sauce pan over medium-heat, heat cream, milk, and sugar. When hot, add agar agar or squeezed gelatin and let boil for one minute, stirring. Stir in cardamom pods, turn off the heat and cover the pan for 5 minutes. Remove from the heat, wait until almost at room temperature.
Divide among 4 glasses, straining through a sieve to remove pods, and refrigerate the panna cottas overnight.
The day after, divide mango coulis on top of the panna cotta mixtures (make sure that the panna cotta are firm enough before pouring the coulis).
If you want to be able to unmold panna cottas, pour them in a silicon muffin mold. Refrigerate. Pour Mango Coulis at the last minute on top of the unmold panna cottas.
Panna Cotta à la Cardamome, Coulis de Mangue
Pour 4 petites Panna Cotta dans des verres à tapas
(Pour 6, multipliez les quantités par 1.5 et pour 6 grands verres à whisky, multipliez par 2)
A faire la veille.
Panna Cotta :
30 cl de crème liquide
15 cl de lait entier
50g de sucre en poudre
2 feuilles de gélatine ramollies dans l'eau froide puis essorées ou 1g d'agar-agar (1 cuiller à café )
6 gousses de cardamome verte
Coulis de Mangue :
1 Mangue bien, bien mûre (très important, sinon on ne peut faire un coulis convenable). Au pire, décongelez des mangues Picard, elles sont toujours mures.
2 CS de jus de citron
4 Cs de jus d'orange
2 CS de sucre en poudre
Préparer le coulis de mangue : peler la manque et retirer le noyau central. Mixer la chair dans un mixer electrique. Ajouter les jus de citron et d'orange, ainsi que le sucre et re-mixer. Passer cette chair de mangue au travers d'un chinois ou d'une passoire et réserver au frais.
Dans une casserole, faire chauffer sur feu moyen la crème, le lait et le sucre. Quand le mélange est chaud, ajouter l'agar-agar (ou la gélatine essorée) et faire bouillir une minute, tout en remuant. Retirer du feu, ajouter les gousses de cardamome et couvrir pendant 5 minutes.
Verser dans les verres à tapas à travers un tamis pour retirer les gousses de cardamome, laisser refroidir un peu et faire « prendre » au frais pendant la nuit.
Le lendemain, verser le coulis de mangue sur les panna cottas. Attention, assurez-vous d'abord que les crèmes soient bien « prises ».
Remettez l'ensemble au frais jusqu'au service.
Si vous préférez une version "panna cottas démoulées", faites-les prendre pendant la nuit dans des moules à muffins en silicone. Le jour du service, démoulez les panna cottas dans une assiette et versez le coulis par-dessus au dernier moment.