Orange and Caramelized Walnuts Tuiles, Salted Butter Caramel Mousse
Tuiles à l'Orange et aux Noix Caramélisées, Mousse de Caramel au Beurre Salé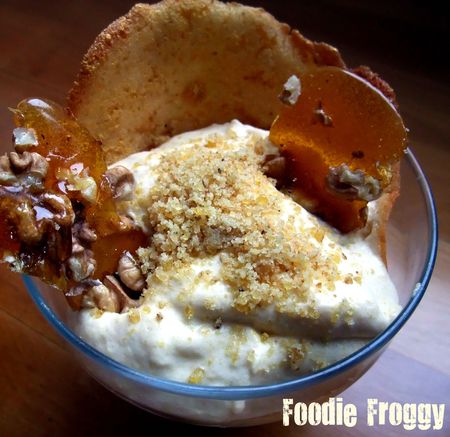 This month's challenge is brought to us by Karen of Bake My Day and Zorra of 1x umruehren bitte aka Kochtopf. They have chosen Tuiles from The Chocolate Book by Angélique Schmeink and Nougatine and Chocolate Tuiles from Michel Roux. Visit the other Daring Bakers for their variations.
For once, the Daring Bakers have chosen a "light" challenge. Our mission was to make Tuiles (either savory or sweet), to flavor them according to our personal tastes and to pair them with something light like a mousse, a sorbet or any dip we liked. As I had some caramelized walnuts lefovers from my last salad recipe, I decided to powder them and stir them in the tuiles batter, as well as the zest of an orange. That was it. Easy. For the mousse, as I was already in a caramel state of mind, I decided to go for it and make a Salted Butter Caramel Mousse. What can be more decadent ? Very simple and very light (yes you have read well), the only thing is to not forget to make it a day ahead to get a "firm" texture.
Pour une fois, les Daring Bakers ont donné dans la lègèreté. Notre mission, ce mois-ci, était la suivante : suivre une recette de tuiles imposée (salée ou sucrée), la parfumer selon notre goût et concevoir un accompagnement de notre choix, totalement libre (mousse, sorbet, glace, granité ou autre).
J'ai donc utilisé les restes de noix caramélisées de la salade de mon dernier billet, ainsi que des zestes d'orange pour aromatiser les tuiles et les rendre encore plus gourmandes. Quand à la mousse, puisque nous étions déjà dans le caramel, autant jouer la partition à fond. Très simple et légère, elle est un agréable complément des tuiles. Il faut juste penser à la faire la veille afin qu'elle aie une bonne tenue.Et malgré sa couleur palichonne, le goût du caramel salé était très très présent...

Orange and Caramelized Walnuts Tuiles, Salted Butter Caramel Mousse
Source : "The Chocolate Book", by Angélique Schmeinck
Tuiles Yields: 20 small tuiles/6 large
Preparation time batter 10 minutes, waiting time 30 minutes, baking time: 5-10 minutes per batch
¼ cup / 2.3 ounces softened butter (not melted but soft)
½ cup / 2.1 ounces sifted confectioner's sugar
1 sachet vanilla sugar (7 grams or substitute with a dash of vanilla extract)
2 large egg whites (slightly whisked with a fork)
1/2 cup / 2.3 ounces sifted all purpose flour
My very own additions :
The zest of one orange
One handful walnuts
1/4 cup or 1 3/4 oz granulated sugar
Salted Butter Caramel Mousse (to make a day ahead)
1/3 cup or 2.7 oz salted Butter
2 egg yolks
1/2 cup or 3 1/2 oz granulated sugar
3 gelatine leaves, soaked in a little cold water or 1 tsp agar-agar
1 3/4 cup whipping cream
A day ahead, Make the Mousse :
Heat a 1/4 of the whipping cream in a sauce pan. Put the remaining cream in the fridge, it has to be very cold.
Make the dark caramel : Heat the sugar in a saucepan until it caramelizes. Stir in the butter until melted, then add in the warm cream, stirring thoroughly until the caramel has dissolved.
Remove from direct heat and mix in the yolks, one at a time. Fold in the softened gelatine or the agar agar, mixing well. Whip the remaining cream until it forms a chantilly (whipped cream).Gently fold the whipped cream into the caramel mixture.
Cool slightly, then cool further in the refrigerator overnight.
The day after, make the caramelized walnuts powder : Make a caramel by melting sugar in a skillet. Arrange walnuts on a silicon baking sheet, and pour caramel on walnuts. Wait until it gets solid. Coarsely chop caramelized walnuts and blend until powdered.
Using a hand whisk or a stand mixer fitted with the paddle (low speed), cream butter, sugar, vanilla and orange zest to a paste. Keep stirring while you gradually add the egg whites. Continue to add the flour and 1 tbsp of caramelized powder in small batches and stir to achieve a homogeneous and smooth batter/paste. Be careful to not overmix.
Cover the bowl with plastic wrap and chill in the fridge for at least 30 minutes to firm up. (This batter will keep in the fridge for up to a week, take it out 30 minutes before you plan to use it).
Preheat oven 350°F.Line a baking sheet with parchment paper or grease with either butter/spray and chill in the fridge for at least 15 minutes. Spoon a small amount of the batter on the baking sheet and use an off sided spatula to spread batter. Make 4 or 6 shapess and leave some room in between them.
Bake tuiles in a preheated oven (180C/350F) for about 5-10 minutes or until the edges turn golden brown. Immediately release from bakingsheet and proceed to shape/bend the cookies in the desired shape. These cookies have to be shaped when still warm, you might want to bake a small amount at a time or place a bakingsheet toward the front of the warm oven, leaving the door half open. The warmth will keep the cookies malleable.
Just before serving, arrange a large tuile on a plate, spoon some mousse on top and sprinkle over with some caramelized walnuts powder (if you have some left).
Tuiles à l'Orange et aux Noix Caramélisées, Mousse de Caramel au Beurre Salé
Tuiles
Source : "The Chocolate Book", de Angélique Schmeinck
Pour 20 petites tuiles ou 6 grandes
Temps de Preparation de la pâte : 10 minutes, attente 30 minutes, cuisson: 5-10 minutes par fournée
65 g de beurre mou (mais pas fondu)
60 g de sucre glace
1 sachet de sucre vanillé
2 gros blancs d'oeufs, lègèrement battus avec une fourchette
65 g de farine ordinaire
Ma touche perso :
Le zeste d'une orange
une poignée de noix
50g sucre en poudre
Mousse de Caramel au Beurre Salé (à faire la veille)
75g beurre salé
2 jaunes d'oeufs
100g de sucre en poudre
3 feuilles de gélatine trempées dans l'eau froide puis essorées ou 2g d'agar-agar
400ml de crème liquide entière
La veille, faire la mousse au Caramel : Chauffer 1/4 de la crème liquide dans une casserole. Mettre le reste de crème au frais, elle doit être très froide pour bien monter.
Faire le caramel : chauffer le sucre dans une casserole à fond épais jusqu'à ce qu'il caramélise, ajouter le beurre jusqu'à ce qu'il fonde puis la crème chauffée. Mélanger jusqu'à obtenir un mélange lisse.
Hors du feu, ajouter les jaunes d'oeufs un à un et mélanger vivement. Puis ajouter la gélatine essorée ou l'agar agar. Monter la crème restante (qui était au frais) en Chantilly ferme. Ajouter cette Chantilly dans le mélange au caramel, délicatement. Laisser refroidir un peu puis mettre la mousse au frais pour la nuit.
Le jour suivant, faire la poudre de noix caramélisées : faire un caramel dans une casserole à fond épais, le verser sur les noix disposées sur un tapis en silicone. Attendre que ça durcisse et couper grossièrement. Garder quelques tronçons pour la déco et réduire le reste en poudre.
Dans un saladier, fouetter le beurre mou, le sucre, le sucre vanillé et le zeste d'orange. Continuer à fouetter tout en ajoutant les blancs d'oeufs, puis 1 CS de poudre de noix caramélisées et la farine (en plusieurs fois).
Couvrir le saladier de film transparent et mettre au frais pendant au moins une demi-heure.
Préchauffer le four à 180°C.
Couvrir une plaque à pâtisserie de papier sulfurisé. Disposer des petits ou des gros tas (selon la taille désirée) de pâte sur la plaque et bien étaler en couche très fine avec une spatule. Bien espacer les formes.
Enfourner pour 5-10 minutes ou jusqu'à ce que les bords des tuiles soient bien dorés. Décoller immédiatement et les placer sur un rouleau à pâtisserie afin de donner une forme incurvée.Attention à procéder lorsque les tuiles sont encore chaudes, sinon elles se cassent.
Juste avant de servir, disposer une large tuile dans une assiette, et remplir avec de la mousse. Décorer avec les tronçons de caramel et saupoudrer de poudre de noix caramélisées, s'il en reste.Renouveler avec les autres tuiles et les reste de mousse.