Salsa Verde d'Herbes Fraîches
Fresh Herbs Salsa Verde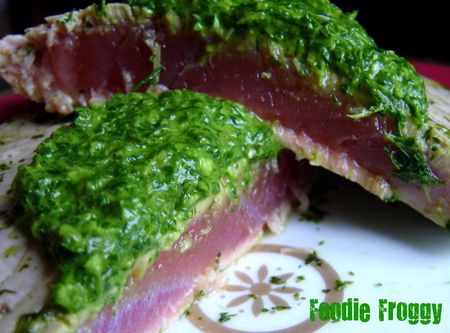 Sauce for me is THE key ingredient in cooking. It may totally ruin the most sophisticated and time-consuming dish as well as it can also litterally transform the simplest recipe. This sauce is one of the freshest I know, for it is made (almost) exclusively of fresh herbs and it's great with oven-baked or half-cooked fish. No, no, you don't need to thank me for that, it was my pleasure...Actually, to be totally honest with you, I have to confess that this recipe was taught to me by Fred, some 5 yrs ago. OMG, 5 years, I can't believe it ! Time flyes so fast, but, Thank God, great recipes are forever young, whatever their "age".
Ce que je trouve le plus important et le plus délicat dans la cuisine, ce sont les sauces. Autant une sauce ratée peut saccager le plat le plus sophistiqué qui vous aura pris des heures à préparer, autant, lorsqu'elle est réussie,elle peut sublimer le met le plus dépouillé. Une petite sauce, fraîchissime car uniquement composée d'herbes (ou presque), pour relever vos poissons au four ou mi-cuits, c'est ce que je vous propose aujourd'hui. Non, non, je vous en prie, ne me remerciez pas, c'est un plaisir...En fait, c'est surtout envers Fred que vous devriez être reconnaissants, car c'est l'une des multiples recettes apprises lors d'un de ses cours, il y a déjà presque 5 ans. Comme le temps passe ! Mais les bonnes recettes, elles, ne prennent pas une ride...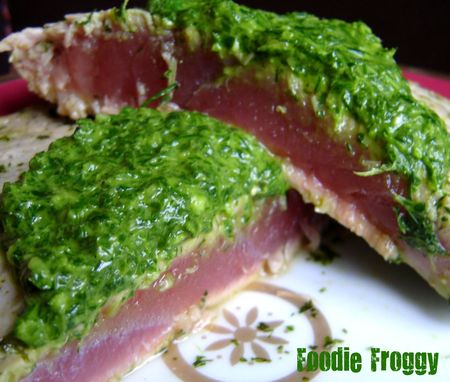 Fred's Salsa Verde
Makes 6 servings
1 bunch of fresh dill
1 bunch of flat-leaf parsley
1 bunch of fresh mint
2 garlic cloves
2 small anchovy fillets
1 tbsp mustard
the juice of one lemon
Sea salt and freshly ground pepper

Clean all fresh herbs and put on absorbing paper.
Use mint leaves, for the other herbs you can use both the leaves and stems (apart from the thickest stems).
Put all ingredients in a food procssor and blend. Add olive oil little by little until the sauce has the consistency of a pesto.
Nettoyer toutes les herbes et laisser sécher sur du papier absorbant.
Season to taste.
You can arrange the sauce on top of your fishes before baking them, or simply arrande it aside or on top of a half-cooked fish, just like in my picture.

La Salsa Verde de Fred
Pour 6 personnes
1 bouquet d'aneth
1 bouquet de persil plat
1 bouquet de menthe
2 gousses d'ail
2 filets d'anchois
1 CS de moutarde de Dijon
le jus de 1 citron jaune
Sel et poivre

Nettoyer toutes les herbes et laisser sécher sur du papier absorbant.
Pour la menthe, n'utiliser que les feuilles. Pour l'aneth et le persil, retirer les plus grosses tiges, les autres conviennent.
Mettre tous les ingrédients dans un mixer et reduire en pâte. Ajouter de l'huile d'olive au fur et à mesure, jusqu'à ce que la sauce aie consistance et aspect de pistou.
Assaisonner.
Vous pouvez la disposer sur vos poissons et enfourner tels quels.Sinon, servez-la à côté ou sur le dessus de vos poissons mi-cuits (comme le steak de thon de la photo).