Or how to end Passover with a touch of class...
Ou comment rompre Pessah avec classe...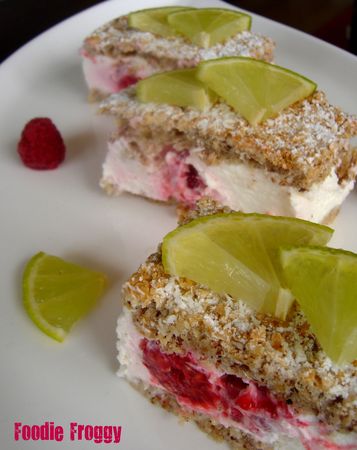 Actually, the first part of the "end of Passover" meal looks more like a pique-nique party with mediterranean flavors than a festive dinner : the tradition is to have sandwiches made with italian bread specially bought in Belleville, a popular part of Paris, and stuffed with sophisticated ingredients (!) like canned tuna in olive oil, potatoes, hard boiled eggs, black olives and of course a home-made "slata mechouia", a roasted red and green bellpeppers salad (read my recipe here).This is precisely the reason why I chose to make an elegant dessert : to balance our basic instincts (you should have seen us jump on the bread after a week of privation). After all, we are human beings, not animals and I wanted a dessert that needed a knife and a spoon to enjoy it !! The lime mousse was incredibly airy, much lighter than the usual buttercream found in this kind of pastries. A delightful way to celebrate our return to civilization (aka a life with bread and croissants).
En fait, la première partie de rupture du régime Pessah (rappel : une semaine sans pain, pâte, farine ni aucun produit contenant du blé ou de la levure) est plutôt "bestiale" : des sandwiches à la tunisienne, confectionnés avec du pain italien acheté à Belleville (le nec plus ultra), et fourrés de slata mechouia maison (ma recette ici), de thon à l'huile, pommes de terre, oeufs durs, olives et harissa. Plus proche du pique-nique que du dîner de fête raffiné. C'est pourquoi, pour nous rappeler qu'après tout nous étions des êtres humains civilisés et non des animaux, j'avais prévu de faire un gâteau "distingué", oui, ma chèèère, et qui ne pouvait pas se manger avec les doigts. Cette dacquoise au citron vert, réalisée avant la fin de Pessah, donc sans farine, me semblait parfaitement remplir cette mission. La mousse de citron vert était d'une légèreté incroyable, bien plus digeste que les crèmes au beurre habituelles dans ce type de gâteau. Une régalade et un retour à la civilisation très agréable.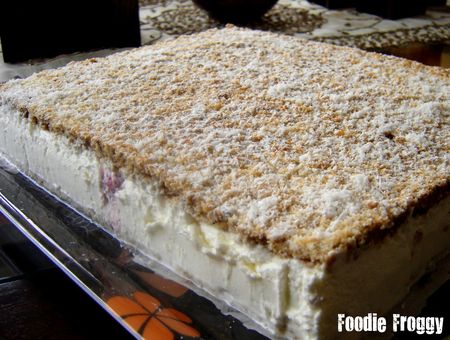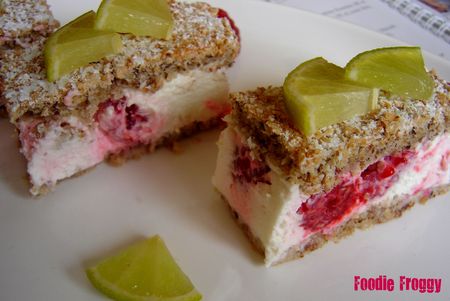 Lime Dacquoise by Christophe Felder
(source : « Les gâteaux Classiques de Christophe », by Christophe Felder)
Almond/hazelnut/coconut Dacquoise (to be made a day ahead)
(for 2 dacquoises of 12½ x 15½-inch)
1/3 cup hazelnut powder
2 cups almond powder
9 egg whites (medium size)
1 ¼ cup granulated sugar
1/2 cup shredded coconut
Lime Mousse
12g gelatin leaves ou 1 tsp agar agar
1 3/4 cup liquid whipping cream
1/3 cup lemon juice
1/2 cup granulated sugar
1 cup lime juice (approx.9 limes)
Rum syrup
1/3 cup water
1/4 cup granulated sugar
1 tsp dark rum
And
3 cups (13 oz) fresh raspberries, cleaned and drained
Dacquoise (a day ahead) :
Preheat oven 350°F. Line two 12½ x 15½-inch jelly-roll pans with baking paper and position oven racks in the upper 3rd and the lower 3rd of your oven.
Using a food processor, process hazelnuts and almonds powder.
Place egg whites in a large, clean bowl of the electric mixer with the whisk attachment and beat on medium speed with two tablespoons of sugar, until stiff peaks. Increase to med-high speed and slowly add the remaining sugar, over 15-20 seconds or so. Continue to beat for another ½ minute.
Add the nuts mixture and carefully mix, using a rubber spatula. Divide the batter between the two pans and smooth the tops with a rubber spatula.Sprinkle coconut over the two dacquoise layers.
Bake for 15-20 minutes, or until the cakes are springy to the touch – a thin knife inserted into the centers should come out clean.
Transfer the cakes to cooling racks and cool for about 5 minutes, then run a knife around the sides of the cakes, unfold them and peel off the paper liners.Invert and cool to room temperature, right side up.
Put a rectangular pastry ring a little smaller than 12½ x 15½ on top of the first dacquoise and remove all the excess dacquoise. Do the same on the second dacquoise layer, so both of them are the exact same size.
The cooled cake layers can be wrapped airtight and stored at room temperature overnight or frozen for up to two months.
Lime Mousse
If you use gelatin leaves, soak them into cold water.
Pour cream in bowl, and put in the freezer for 15 minutes.
In a heavy bottom large sauce pan, stir in lemon juice and sugar over medium heat until sugar is dissolved.
If you use agar agar, pour it in the lemon juice and let boil for a minute. Then add lime juice.
If you use gelatin leaves, drain them, add to the lemon juice before adding lime juice.Do not bring to a boil.
In both cases, whip the mixture out of the heat and let cool to room temperature. Whisk frequently so that the mixture does not get solid. rature ambiante.
Remove cream from freezer and beat until stiff peaks form. Mix a third of the whipped cream with the juices then the reamining cream, very carefully this time and using a rubber spatula.
Assembling the cake
Make syrup, assembling water, sugar and rum. Put one layer of dacquoise cut side up on a rectangular cake plate protected by strips of wax or parchment paper.Position rectangular ring. Brush dacquoise with syrup.
Cover evenly with the 3/4 of the lime mousse. Arrange raspberries into the cream. Cover with the reamining cream then with the second dacquoise layer. Press gently. Brush this layer with syrup too. .
Refrigerate at least three hours.
Then remove from the fridge, and holding a serrated or very sharp knife, held parallel to the sides of the cake, trim the sides so that they are perfectly straight.
Just before serving, remove rectangular ring and decorate with confectioner's sugar, lime slices or whatever you want.

Dacquoise Citron Vert selon Christophe Felder
(source : Les gâteaux Classiques de Christophe, de Christophe Felder, éditions Minerva)
Dacquoise amandes/noisettes/noix de coco (à faire la veille)
(pour 2 dacquoises de 40 *30 cm)
70g de poudre de noisettes
230g de poudre d'amandes
300g de blancs d'œufs (soit environ de 9 œufs moyens)
280g de sucre semoule
100g de noix de coco râpée
Mousse de citron vert
12g de gélatine en feuille ou 1 cc d'agar agar
400g (40cl) de crème liquide entière
70g (7cl) de jus de citron jaune
100g de sucre semoule
250g (25cl) de jus de citron vert (environ 9 citrons verts)
Sirop au rhum
70g (7cl) d'eau
50g de sucre semoule
1 cc de rhum brun
Garniture
3 barquettes (3 x 125g) de framboises fraîches, rincées et séchées sur papier absorbant
Dacquoise (la veille) :
Préchauffez votre four à 180°C. Préparez 2 plaques à pâtisserie de 40 x 30 cm en les couvrant de papier cuisson.
Dans un robot mixeur, broyez ensemble la poudre de noisettes et d'amandes.
Montez les blancs en neige avec un peu de sucre semoule. Lorsque les blancs sont bien fermes, ajoutez le reste de sucre et battez encore. A l'aide d'une spatule, incorporez délicatement les poudres d'amandes et de noisettes.
Remplissez une poche à douille lisse et large (14 mm) de ce mélange. Formez des bandes larges et serrées du mélange sur le papier cuisson, sur les 2 plaques.Si vous n'avez pas de poche à douille, divisez le mélange en deux et étalez-le sur les 2 plaques en le lissant avec une spatule et en veillant à ce qu'il soit de même épaisseur partout.
Saupoudrez de noix de coco et enfournez les 2 plaques 15 à 20 minutes (plutôt 15 de mon expérience), en les tournant à mi-cuisson.
Laissez-les refroidir sur une grille avant de vous en servir.Retirez délicatement le papier cuisson qui s'est probablement collé. Positionnez un cadre rectangulaire en inox un peu plus petit que 40x30cm successivement sur les 2 dacquoises et découpez ce qui dépasse.
Enveloppez de papier film et mettez au frais jusqu'au lendemain.
Mousse de citron vert (le jour même)
Si vous utilisez de la gélatine, mettez les feuilles dans de l'eau bien froide afin de les ramollir.
Versez la crème liquide dans un bol et mettez 15 minutes au congélateur, ainsi que les fouets de votre batteur.
Dans une casserole à fond épais sur feu moyen, mélangez avec une spatule le jus de citron jaune et le sucre semoule. faites fondre le sucre. Si vous utilisez de l'agar agar, ajoutez-le et faites bouillir une minute. Si vous utilisez la gélatine, égouttez-la et dissolvez-la dans le jus de citron sans faire bouillir. Dans les deux cas, ajoutez ensuite le jus de citron vert. Hors du feu, mélangez avec un fouet et laissez refroidir à température ambiante. remuez régulièrement afin que la gélatine ne se fige.
Sortez la crème liquide du congélateur et battez-la en chantilly ferme.Mélangez le jus de citron avec un tiers de la crème fouettée, puis le reste délicatement à la spatule.
Assemblage du Gâteau (le jour même)
Réalisez le sirop en mélangeant l'eau, le sucre et le rhum.
Posez une première plaque de dacquoise sur un plateau recouvert de papier sulfurisé. Positionnez le cadre inox. Badigeonnez la dacquoise de sirop.Répartissez les 3/4 de la crème partout sur la dacquoise.
Rangez les framboises régulièrement sur la crème. Recouvrez-les du quart restant de crème.
Déposez le second biscuit dacquoise, appuyez bien. Badigeonnez à nouveau de sirop. Placez au frais au moins trois heures.
Retirez le cadre et décorez à la dernière minute avec du sucre glace, du citron vert,...