Nougat à l'ancienne aux amandes, pignons et sésame
Almond, Pine Nut and Sesame Old-fashioned Nougat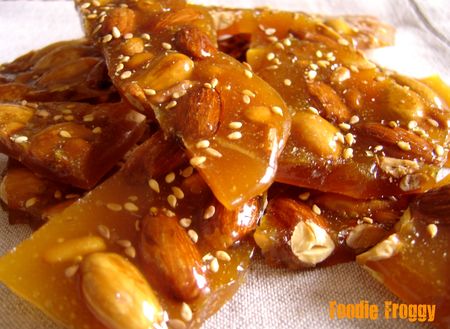 When I saw this recipe on Flo's foodblog, I felt immediately overwhelmed with emotion : her old-fashioned nougats (which are actually closer to caramel ) were totally similar to my grandmother's ones when I was a kid ! Many wonderful memories from my childhood suddenly resurfaced : my primary school was a stone-throw from my Mémé Yvonne's cute little apartment and my twin brother and myself used to take our after-school snack there before our Mum would drive us back home. There was a white and gold china candy box always full of delightful treats like cookies, assorted stuffed fruits and her infamous caramel/nougats. This box is precisely the one you can see on the picture, I asked to keep it as a souvenir.When it was empty, which occured very rarely , you could have read the word "frustration" on our faces, lol !
I feel extremely honoured and priviledged to have been partly raised by such a wonderful Lady and Cook. She passed away two weeks ago at the age of 95. Thank you, Mémé.
Lorsque j'ai vu cette recette chez Flo, j'ai immédiatement été submergée par l'émotion.Son nougat à l'ancienne ressemblait comme deux gouttes d'eau à celui de ma grand-mère, décédée à l'âge de 95 ans il y a deux semaines. Des scènes très heureuses de mon enfance sont immédiatement remontées à la surface : en primaire, mon école était située à deux pas de l'appartement croquignolet de ma "Mémé Yvonne", et mon frère jumeau et moi-même prenions souvent notre goûter chez elle , avant que notre mère ne nous ramène à la maison en voiture. Il y avait une bonbonnière dans son salon (celle de la photo, je l'ai récupérée car j'y suis attachée), toujours remplie de mille douceurs : des biscuits secs, des fruits déguisés, et ces fameux nougats dorés riches en fruits secs. Attention les dents, mais quel délice! Et quelle déception lorsque -fait rarissime- la bonbonnière était vide !! Je suis très privilégiée car ma mère et mes deux grands-mères sont et étaient des cuisinières hors-pair qui ont largement contribué, j'en suis convaincue, à faire de moi la gourmande incorrigible que je suis. Merci à toutes les trois !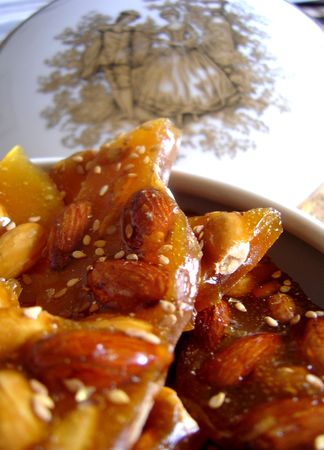 Old-fashioned Nougat
Recipe courtesy of Flo&Mimolette (I have divided quantities by 3)
3.8 oz glucose
1 cup granulated sugar
1 cup whole almonds
1/3 cup pine nuts
A handful of golden sesame seeds
1 tsp of butter, unsalted
Preheat oven 350°F.
Cook sugar and glucose together in a heavy bottom sauce pan, until caramelized.
Meanwhile, spread almonds and pine nuts on a pastry sheet lined with parchment paper and roast in oven until slightly golden.
Add roasted nuts in the caramel and stir. Add butter, mix again and pour caramel on a silicon sheet. Spread nuts evenly.
Let cool at room temperature until solid and coarsly chop.
Nougat à l'ancienne
Recette de Flo&Mimolette (j'ai divisé les quantités par trois et changé quelques fruits secs pour me rapprocher de la version familiale)
110g glucose
150g sucre
150g amandes entières
50g de pignons
Une poignée de graines de sésame dorées
Noisette de beurre
Préchauffer le four à 180°C.
Cuire le sucre et le glucose en caramel.
Pendant ce temps, étaler les fruits secs sur une plaque à pâtisserie recouverte de papier cuisoon et torréfier au four en surveillant attentivement.
Verser les fruits secs chauds dans le caramel. Remettre sur le feu, ajouter la noisette de beurre, bien mélanger et débarrasser sur papier cuisson ou tapis siliconé, en étalant bien les fruits secs.
Laisser refroidir, couper en morceaux et déguster.