Tarte Ricotta, Pignons et Menthe Fraîche
Ricotta, Pine Nuts and Fresh Mint Tart
I simply wanted something fresh, easy to make and exotic. Mint is, by far, my favorite fresh herb, this explains why I am so fond of Thaï Cuisine which uses armfuls of them ! But today, we are not going that far, we will stay in the Mediterranean Coast with unctuous Italian Ricotta, crunchy roasted pine nuts and of course ultra-fresh Mint. A classic but terrific "ménage à trois", hehe ! Mamma Mia, I swear I could have eaten the whole tart just by myself !
Une grosse envie de fraîcheur, de simplicité et d'exotisme.La menthe est de loin mon herbe aromatique préférée, c'est bien pour cela que j'adore la Cuisine Thailandaise qui l'utilise à tout bout de champ. Mais aujourd'hui, nous voyageons beaucoup moins loin, nous onsdans le Bassin méditerranéen : de la Ricotta italienne pour l'onctusoité et des pignons torréfiés pour le croustillant : un duo archi classique mais toujours gagnant. Sans oublier, bien sur, la menthe pour sa fraîcheur inimitable. Sacré ménage à trois ! Mamma Mia, j'aurais largement pu me la déguster toute seule, cette jolie tarte !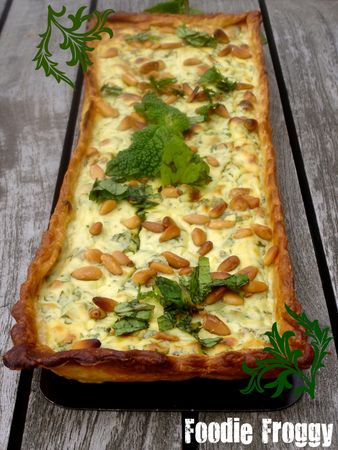 Ricotta, Pine Nuts and Fresh Mint Tart
For 6 servings
1 cup fresh Ricotta
3 tbsp heavy double cream
1 bunch of fresh mint, finely chopped
3 handfuls pine nuts
Sea Salt and freshly ground Pepper
Home made Shortcrust Pastry :
7 oz all purpose Flour
4.4 oz salted Butter, cold
1 Egg
2 tbsp cold water
Make the Tart dough :
Cut the butter into 1.5cm (½ inch) dices and rub into flour, lifting the mixture to add air, until it resembles breadcrumbs. Make a well in the middle of the mixture and stir in the egg and water.
You obtain a soft but not sticky pastry.Cover tightly and sit in a fridge for 30 minutes.
Make the Ricotta batter :
Preheat oven on 350°F. Arrange pine nuts on a pastry sheet lined with parchment paper and roast them until golden brown.
In a large mixing bowl, assemble Ricotta, heavy cream, chopped mint and 2/3 of the roasted pine nuts. Mix well. Season to taste.
Assemble the tart :
Roll the dough and arrange in a tart pan. Set again in the fridge for 30 minutes. Evenly pierce with a fork, and cover with parchment paper. Bake for 10 minutes, and remove from the oven. Remove parchment paper and spread ricotta mixture evenly.
Sprinkle remaining third of pine nuts all over. Bake for 20 to 25 minutes. Serve hot with a baby spinach salad and balsamic dressing.
Tarte Ricotta, Pignons et Menthe Fraîche
Pour 6 personnes
250g Ricotta
3 Cs de crème fraîche épaisse
1 gros bouquet de menthe fraiche, ciselé
3 poignées de pignons de pin
Sel marin et poivre fraichement moulu
Pâte brisée
200 g de farine
125 g de beurre demi-sel , froid
1 œuf
Un peu d'eau froide
Faites la pâte à tarte :
Mettez la farine et le beurre froid coupé en petits morceaux dans le bol de votre robot. Actionnez-le pendant 10 secondes environ, jusqu'à ce que le mélange ressemble à une chapelure.
Ajoutez l'œuf, actionnez le robot et ajoutez un peu d'eau froide par la cheminée. Arrêter le robot dès que la pâte forme une boule. Mettez la pâte dans un bol puis au frais une demie-heure.
Faites l'appareil à la Ricotta :
Préchauffer le four à 180°C. Disposez les pignons sur une plaque à pâtisserie recouverte de papier cuisson. Faire dorer en faisant bien attention. Retirer du four.
Dans un grand saladier, mélangez la ricotta, la crème fraîche, la menthe ciselée et deux tiers des pignons dorés. Assaisonnez et mélangez bien.
Assemblez la tarte :
Etalez la pâte et disposez-la dans le moule à tarte. Mettez l'ensemble au frais encore une demi-heure. Ressortez la pâte et percez avec une fourchette. Recouvrez de papier cuisson et faites cuire à vide environ 10 minutes. Retirez du four et étalez le mélange à la ricotta. Sur le dessus, saupoudrez le tiers restant de pignons dorés.
Enfournez pour 20 à 25 minutes. Servez chaud avec de la salade de pousses d'épinards et une vinaigrette balsamique.