Petites brioches au Miel et Amandes
Honey and Almond Small Brioches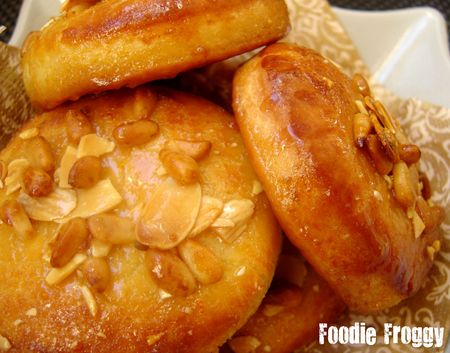 Give me the opportunity to choose between a good "Mom and Pop" Cassoulet and a Pierre Hermé dazzling dessert, I would pick the first one without any hesitation. Not that I don't like PH's cakes, but I really am a "bec salé" as we say here, meaning that I enjoy savory dishes much more than sweet ones. I know this is not obvious when you ramble through my foodblog : I LOVE to make desserts, but devoring them is another story. Am I weird ? Probably because my mother was (still is) like me, so I don't have childhoold memories of wonderful aromas of cakes and pastries baking in the oven. But Mum was such a goddess for everything savory that I really can't complain ! My kids, though, are actively taking part of my rising passion for (making, not tasting) pastry. Each time I prepare a sweet treat for them, they are extremely excited, the teenage one as well as the little one. That's great, I feel I am making my homework properly ! As for these little brioches, their name comes from the honey and almond filling. Isn't it lovely ?
Un nom sympatique et très approprié pour ces petites brioches gourmandes, car recouvertes de miel et d'amandes.Pas très compatibles avec les maillots de bains estivaux, mais on va dire qu'on les a faites pour ses enfants, n'est-ce pas ? Elles ont le dos large, oui, je sais. Mais elle étaient vraiment ravies et toutes excitées, la petite comme la grande, des effluves qui se dégageaient de la cuisine. Comme à chaque fois que je fais de la pâtisserie d'ailleurs. Bizarrement, contrairement à beaucoup d'entre vous, je n'ai pas ce genre de souvenirs gourmands de mon enfance : ma mère était (est toujours) bel et bien un bec salé et une déesse (que je n'ai toujours pas rattrapée) de la cuisine, mais je n'arrive pas à me souvenir de gâteaux ou autres pâtisseries confectionnées par ses soins; c'étaient plutôt mes grand-mères qui occupaient ce terrain. Moi-même, vous me donneriez le choix entre un bon cassoulet et une interprétation magistrale de Pierre Hermé, je prends le premier sans hésiter. Incroyable, non ? La pâtisserie est une découverte récente pour moi, et vraiment je sens qu'une passion est en train de naître, mais je ne me jette pas dessus une fois la recette achevée. Ah, les mystères de la génétique...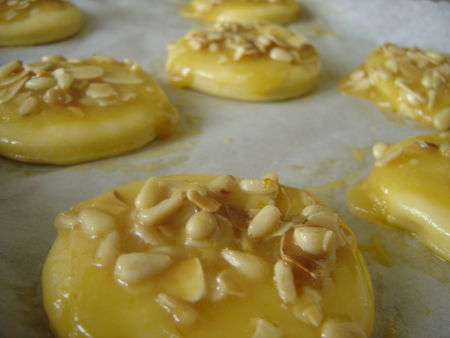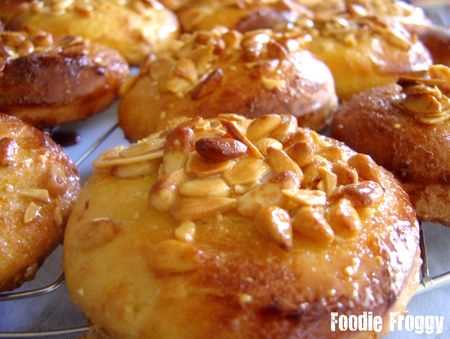 "Honeycomb" Brioches
Recipe by Christophe Felder in «les brioches et viennoiseries de Christophe»
For about 16 brioches
Brioche dough
1 cup all purpose flour (I used 1 1/4 cup because my dough was too sticky)
2.5 tbsp granulated sugar
1 tbsp salt
1/3 oz fresh yeast
3 eggs
2 tbsp milk
3/4 cup or 5.8 oz unsalted butter, room temperature
Filling
1/4 cup honey
1/2 cup granulated sugar
The zest of 1 orange
1/2 cup or 3.5 oz unsalted butter, soft
1/3 cup thinly sliced almonds
1/3 cup pine nuts
Glaze
1 egg + 1 egg yolk, beaten
In the bowl of your food processor, arrange flour, sugar, salt and fresh yeast, taking care that yeast does not touch salt nor sugar. Add eggs and milk and, using the dough hook attachment, beat on low speed for 2 to 3 minutes.
Add soft butter, and continue beating on medium speed for 5 to 10 minutes. Dough must be smooth and elastic. Cover and let rest in a warm place for two hours, until it doubles in size.
When dough is ready, arrange on a floured working station and roll as a loaf shape. Let sit in the fridge for two hours, it will be easier to handle.
Flatten dough on a floured working surface to a rectangle of a thickness of about 1/4 inch. Cut 3.5 inches diameter circles, using a pastry ring.
Arrange all circles on a pastry sheet lined with parchment paper. Cover with plastic film and let rise two additional hours.
20 minutes before the end of the rising process, make the filling : heat honey, sugar and orange zest on a sauce pan over medium heat. Add butter and let boil for 10 seconds, stirring constantly. Add sliced almonds and stir. Remove from the heat and let cool a little.
Preheat oven to 350°F.
Glaze circles with beaten eggs, using a pastry brush and arrange a tablespoon of the filling on top of each brioche.
Bake for 10 to 15 minutes and let cool before serving them.
Brioches Nid d'Abeille
Recette de Christophe Felder dans «les brioches et viennoiseries de Christophe»
Pour environ 16 petites brioches
Pâte à Brioche
250g de farine (j'en ai utilisé 300g car ma pâte était trop collante)
30g de sucre
1 CS de sel
10g de levure fraîche
3 oeufs
2 CS de lait
165g de beurre à température ambiante
Garniture
100g de miel
100g de sucre semoule
Le zeste d'une orange
100g de beurre
50g d'amandes éffilées (Christophe Felder met 100g d'amandes, mais pas de pignons)
50g de pignons de pin
Dorure
1 oeuf entier et 1 jaune d'oeuf, battus ensemble
Dans le bol du robot, versez la farine, le sucre, le sel et la levure fraîche en faisant en sorte que la levure fraîche ne soit pas en contact direct avec le sel ni le sucre.
Ajoutez les 3 oeufs et le lait et mélangez avec le crochet du robot, à vitesse lente pendant 2 à 3 minutes.
Incorporez ensuite le beurre mou et repétrissez 5 à 10 minutes, à vitesse moyenne cette fois-ci. La pâte doit se décoller des parois du bol et pouvoir se prendre à la main sans se déchirer.
Faire lever la pâte recouverte d'un torchon propre, dans un saladier, pendant 2 heures (CF indique une heure, mais ce n'était pas assez pour ma pâte). Elle doit doubler de volume.
Lorsque la pâte est prête, la mettre sur un plan de travail et la former en gros boudin. Entreposez pendant deux heures au réfrigérateur pour qu'elle durcisse bien.
Etalez la pâte au rouleau sur un plan de travail fariné sur une épaisseur de 6 mm environ. Découpez des cercles de 8 à 10cm de diamètre à l'emporte-pièce.
Positionnez les disques sur une plaque à pâtisserie recouverte de papier cuisson, en les espaçant bien, recouvrez de film alimentaire et laisser lever encore deux heures.
20 minutes avant la fin de la pousse, confectionnez la garniture : chauffez le miel, le sucre et le zeste sur feu doux dans une casserole. Incorporez le beurre et laissez bouillir penndant 10 secondes en remuant à la spatule.
Versez enfin les amandes éffilées et remuez bien. Laisser refroidir un peu.
Préchauffer le four à 180°C.
Badigeonnez les cercles, au terme de leur poussée, avec les oeufs battus et déposez une cuillère de la garniture sur chaque brioche.
Enfournez 10 à 15 minutes et laissez refroidir.