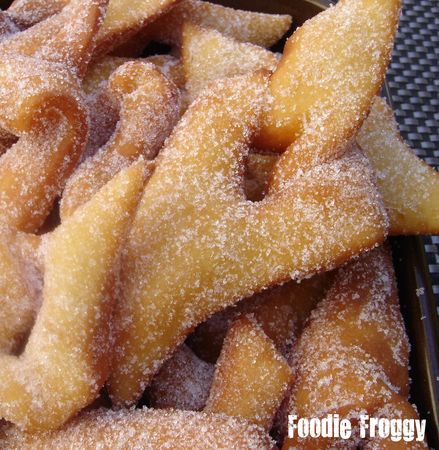 Après les brioches "Nid d'abeille" pour les filles, des bugnes pour le papa. Et oui, c'est son pêché mignon. Je ne sais pas comment font mes chers et tendres pour avaler toutes ces choses dégoulinantes de miel et d'huile de friture, mais le plus injuste, c'est que c'est celle qui en mange le moins (moi) qui les paie le plus en terme de centimètres supplémentaires sur les hanches et les cuisses. O rage ! Trop sédentaire probablement...Il parait qu'il existe deux versions de bugnes : les croustillantes, lyonnaises, et les plus moelleuses appelées "oreillettes". Cette recette est un peu entre les deux, elle est légèrement croustillante mais pas "friable".
Remember last week's recipe for my daughters ? Well, guess what happened next ? Their father, a bit jealous, complained that he never got treats prepared just for him ! Sometimes, I feel I have 3 kids at home...Ok, honey, what's your favorite "gourmandise" ? Bugnes ? Oh my ! For those of you who have never heard that word before, bugnes are a culinary specialty from Central France : basically a brioche dough in the shape of flat little knots, fried in oil and rolled in granulated sugar. Rich and heavy, I know, but that's what most men love...And the most unfair is that he does not gain weight with all those fatty delicacies while I seem to absorb every bite of grease just by looking at them ! Life can be so cruel sometimes...sigh...
Bugnes
Recette de Christophe Felder dans «les brioches et viennoiseries de Christophe»
Pour environ 30 bugnes
Pâte à Brioche
250g de farine
30g de sucre
1 CS de sel
10g de levure fraîche
3 oeufs
2 CS de lait
80g de beurre à température ambiante
Friture et assaisonnement :
1 litre d'huile de friture
100g (10cl) d'eau de fleurs d'oranger
20g de sucre semoule
1 CS de cannelle en poudre (facultatif)
Dans le bol du robot, versez la farine, le sucre, le sel et la levure fraîche en faisant en sorte que la levure fraîche ne soit pas en contact direct avec le sel ni le sucre.
Ajoutez les 3 oeufs et le lait et mélangez avec le crochet du robot, à vitesse lente pendant 2 à 3 minutes.
Incorporez ensuite le beurre mou et repétrissez 5 à 10 minutes, à vitesse moyenne cette fois-ci. La pâte doit se décoller des parois du bol et pouvoir se prendre à la main sans se déchirer.
Faire lever la pâte recouverte d'un torchon propre, dans un saladier, pendant 2 heures (CF indique une heure, mais ce n'était pas assez pour ma pâte). Elle doit doubler de volume.
Lorsque la pâte est prête, la mettre sur un plan de travail et l'étaler légèrement. Entreposez pendant deux heures au réfrigérateur pour qu'elle durcisse bien.
Etaler la pâte sur un plan fariné en un rectangle de 3 mm d'épaisseur. Tailler des bandes en diagonale de 6cm environ, puis coupez-les en losanges de 4cm de côté.
Faites une fente au centre de chaque losange et faites passer la pointe inférieure dans la fente et tirez-la pour la faire ressortir (voir photo).
Positionnez les bugnes sur une plaque à pâtisserie recouverte de papier cuisson, et laissez pousser encore 1h30.
Faites frire dans une huile bien chaude et posez sur du papier absorbant.
Badigeonnez d'eau de fleur d'oranger et roulez dans le sucre additionné ou non de cannelle.
A déguster sans tarder !
"Bugnes"
Recipe by Christophe Felder in «les brioches et viennoiseries de Christophe»
For about 30 bugnes
Brioche dough
1 cup all purpose flour
2.5 tbsp granulated sugar
1 tbsp salt
1/3 oz fresh yeast
3 eggs
2 tbsp milk
1/3 cup or 3 oz unsalted butter, room temperature
Frying and flavoring :
3 to 4 cups frying oil
1/4 cup Orange blossom water
1 cup granulated sugar
1 tbsp powdered cinnamon
In the bowl of your food processor, arrange flour, sugar, salt and fresh yeast, taking care that yeast does not touch salt nor sugar. Add eggs and milk and, using the dough hook attachment, beat on low speed for 2 to 3 minutes.
Add soft butter, and continue beating on medium speed for 5 to 10 minutes. Dough must be smooth and elastic. Cover and let rest in a warm place for two hours, until it doubles in size.
When dough is ready, arrange on a floured working station and flatten slightly. Let sit in the fridge for two hours, it will be easier to handle.
Flatten dough on a floured working surface to a rectangle of a thickness of about 3/32 inches. Cut the dough into strips 4 in- long by 1.6 in- wide.
Make a small slit in the middle of each strip and thread the dough through the slit to make a knot. Arrange bugnes on a pastry sheet lined with parchment paper. Let rise an additional hour and a half.
Heat the oil in a deep-fat fryer and when hot, add the dough knots, turning once and cook until crisp and golden. Drain on kitchen paper.
Brush each bugne with orange blossom water then roll in granulated sugar and cinnamon. Serve at once !