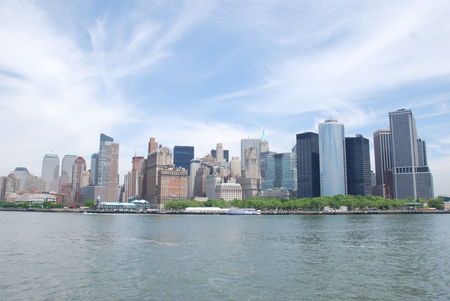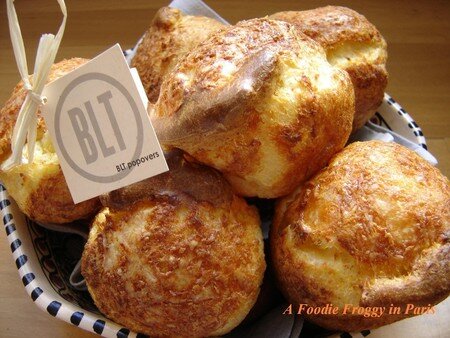 May 2009 update : this post has been first published in february 2008, but as I am just back from another fabulous week-end in the Big Apple, I thought it would be great to let you know again about this to-die-for New York recipe. Just need some time to recover from jet-lag...
Contrarily to what you might think, BLT are not, in today's post, the three letters for « Bacon Lettuce Tomato » but for « Bistrot Laurent Tourondel », or how a young French Chef has become the king of a gastronomic empire in the USA. 5 Restaurants in NYC ( BLT Prime, BLT Steak, BLT Fish, BLT Burger and BLT Market at the Ritz Carlton), some in other American cities, successful cookbooks, and so on… Hey, why on earth would he want to go back to France ?
His restaurants belong to the "hype" family : trendy decoration, loud music, but the food is good. I have had the privilege to dine at BLT Prime and I was just amazed by the decoration and specially by the 30-feet dry aging room. Quite a scary vision, actually…but the Kobe Steak we had was to die for !
Popover is totally unknown here in France. Would you agree with me if I say that they are a sort of bread served at the beginning of a meal, with butter, or can be eaten for breakfast or even accompany some main dishes just like his British Cousin, Yorkshire Pudding, does ? Cheese Popover are quite emblematic of all BLT restaurants, they would be served to every customer along with the written recipe. The only thing that you need to do now is to buy a Popover Pan ! (I bought mine at Williams-Sonoma but they can also be found at "Sur La Table").OK, muffin pans can do the trick, but be aware that your popovers will be much smaller…
Billet publié en février 2008, mais rentrant de New York, j'ai pensé que cette recette était tout à fait appropriée le temps de me remettre du décalage horaire...
Que de mystères dans ce titre… J'en ai bien conscience et je dirais même que je l'ai un tout p'tit peu fait exprès…héhé…
En temps normal, le « BLT » est un diminutif qu'utilisent souvent les américains pour décrire les sandwiches contenant du Bacon, de la Laitue et des Tomates. Mais là, ces trois lettres sont plutôt synonymes de la success-story d'un Chef français qui a établi un véritable empire gastronomique à New York City. BLT comme Bistrot Laurent Tourondel, en toute simplicité. 5 restaurants dans la Grande Pomme, dont 2 steakhouses (BLT Prime et BLT Steak), un restaurant de poissons (BLT Fish), un burger (BLT Burger) et un bistrot classieux au sein du Ritz Carlton : BLT Market. A cela, ajoutez quelques autres restaus dans d'autres villes US, des livres de cuisine qui s'arrachent, et vous obtiendrez un homme comblé qui ne retournera pas de sitôt dans son pays natal…Ses restaurants sont plutôt « hype » et le BLT Prime où j'ai eu le plaisir de dîner est un truc de fou : une salle immense avec mezzanine, musique branchée et surtout, d'impressionnants caissons transparents semblables à de grands frigos où sont exposés des morceaux de viande gigantesques. En fait, il s'agit de chambres de vieillissement de la viande et chaque morceau a une date bien en évidence.
Le Popover, quant à lui, est une sorte de pain « soufflé » qui est servi avec du beurre ou se déguste au petit-déjeuner. Il peut aussi accompagner un plat salé, un peu comme le fait son cousin anglais, le Yorkshire Pudding. Les Cheese Popover sont un peu les mascottes de la chaîne BLT : ils sont systématiquement servis en tout début de repas pour faire patienter les clients : c'est une tuerie !! La recette écrite accompagne d'ailleurs ces petits pains sympathiques. Les magasins Williams-Sonoma (et aussi « Sur La Table ») dont je vous ai déjà parlé, proposent même des moules à popovers ! Et bien, vous savez quoi, je l'ai acheté ! Mais cela dit, vous pouvez utiliser de simples moules à muffins, les popovers seront moins hauts, mais tout aussi bons. Enjoy !!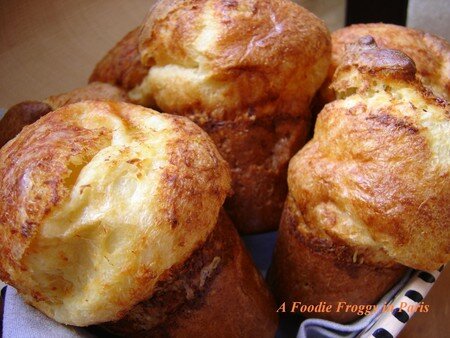 BLT Cheese Popovers (courtesy of BLT Prime restaurant)
Makes 8 popovers in a Popover pan or 10 to 12 mini-popovers in a muffin pan.
2 cups milk, warmed
4 eggs, medium size
2 cups flour
1 tbsp salt
1 cup grated gruyere cheese
Place the Popover pan in the oven. Heat the oven and pan to 350°F.
Gently warm the milk over low heat and set aside.
Whisk the eggs until frothy and slowly whisk in the milk (so as not to cook the eggs). Set the mixture aside.
Sift the flour with the salt. Slowly add this dry mixture and gently combine until mostly smoothy. Once combined , remove the popover pan from the oven and spray with non-stick vegetable spray.
While the batter is still slightly warm or room temperature (definitely not cool), fill each popover cup ¾ full.
Top each popover with the grated gruyere cheese divided into equal portions.
Bake at 350°F for about 40 minutes, rotating pan half a turn after 15 minutes.
Remove from the oven, remove from the pan and serve immediately.
Popovers au gruyère comme au BLT
Pour 8 Popovers (ou une douzaine de mini-popovers dans un moule à muffins) :
50cl de lait
4 œufs moyens
250g de farine
1 CS de sel
120g de gruyère râpé
un peu de beurre fondu pour beurrer les moules
Faire chauffer les moules à popover à blanc dans un four à 180°C.
Pendant ce temps, préparer l'appareil : Faire chauffer le lait sur feu doux et réserver.
Battre les œufs jusqu'à ce qu'il soient mousseux, et ajouter lentement le lait chauffé (afin d'éviter de faire cuire les œufs).Le mélange est très mousseux, prévoyez un grand saladier.Réserver.
Mélanger la farine et le sel. Les ajouter au mélange œufs-lait, et remuer ou battre jusqu'à obtention d'un mélange homogène.
Retirez les moules à Popover du four et aspergez d'huile en spray ou badigeonnez d'un peu de beurre fondu.
Pendant que le mélange préparé est encore tiède (surtout pas froid), le verser à l'aide d'une louche, dans chaque moule, jusqu'au ¾.
Répartir de manière égale les 120g de gruyère sur le dessus de chaque moule.
Faire cuire 40 minutes environ en effectuant une rotation d'un demi-tour au bout de 15 minutes.
Retirer du four et servir immédiatement.Ces popovers se servent en début de repas et peuvent être dégustés tout du long, un peu comme du pain.
Copyright New York City : Foodie Froggy