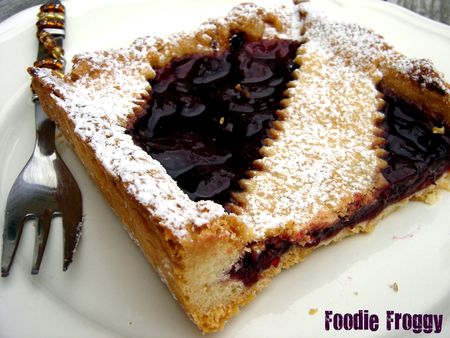 Each time I travel to the USA (to my great pleasure, this happens quite often) I return to France with my travel bag loaded with American food magazines : Food&wine, Bon Appétit, Saveur and Foodnetwork magazine from the eponymous TV channel. Funny enough, though, the recipe that caught my attention among all those yankee foodzines was an...Italian one ! In Bon Appétit, I stumbled upon an interesting article about two twin Tuscanian sisters, professional winemakers/amateurs cooks and their Cherry Crostata recipe. That tart was very easy to make and a pure delight. It might seem extremely rich in butter (and it is actually), but that makes a to-die-for crust, very fragile though. When you transfer dough from your work surface to tart pan, be very careful : holes might appear, but you can easily hide them by pressing some extra dough into them. No one will notice once crust is baked. Your guests will be surprised that such a simple tart can satisfy even the most sophisticated palates !

Lorsque je vais aux Etats-Unis, je ne manque pas de faire le plein de magazines culinaires américains. A New York le week-end dernier, je me suis donc ruée sur la première librairie et j eme suis ruée sur les derniers numéros de Bon Appétit, Saveur, Food &Wine, et, petit nouveau pour moi, Food Network Magazine, le magazine de la chaîne de TV éponyme. Sympa d'ailleurs. Mais l'une des recettes qui a retenu mon attention était...italienne : un article de Bon Appétit sur des sœurs jumelles Toscanes, vigneronnes professionnelles et cuisinières amateurs à leurs heures.Leur très simple et assez rustique Crostata m'a tout de suite plue, je l'ai trouvée...comment dire...très classe ! Ne vous inquiétez pas si la pâte sablée maison vous semble richissime en beurre, elle l'est, mais Mamma Mia, quel délice ! Elle est également très fragile crue, mais vous pourrez facilement colmater les trous avec des morceaux de pâte pressés de-ci de-là, et une fois cuite il n'y paraitra plus. Vos invités seront surpris qu'une tarte aussi simple d'apparence puisse être aussi goûteuse.
Cherry Jam Crostata
Recipe from "Bon Appetit", june 2009
6 to 8 servings
Dough :
2 cups all-purpose flour (be prepared to use more; my dough was too sticky)
4 1/2 tbsp sugar
3/4 teaspoon
14 tbsp (1 3/4 sticks) chilled unsalted butter, cut into 1/2-inch cubes
1 large egg
1 large egg yolk
2 tbsp cold water
Filling :
1 1/2 cups cherry jam
1 tsp finely grated lemon peel
1/2 tsp almond extract
powdered sugar

Blend flour, sugar and salt in food processor 5 seconds. Add butter, using on/off turns, blend until coarse meal forms. Add egg, egg yolk and water. Gather dough into ball. Divide into two pieces, one slightly larger than the other. Wrap and chill at least one hour, or up to one day.
Roll out the larger dough to form a 12-inch round (or a 15 x 6 rectangle in you have a13.5 inches long and 4.5 inches wide pan like me) . Transfer to a slightly smaller pan, with removable bottom.
The dough is very fragile, you might make holes, so when you transfer dough to pan, press extra dough to cover the holes.Form double thick sides, so you will get a beautiful and crunchy crust.
Roll out the smaller dough and cut 1/2-inch strips and chill them on pastry sheet. Use a fluted pastry wheel, the strips will look nicer.
Preheat oven to 375°F. Stir jam, lemon peel and almond extract in small bowl to blend. Spoon filling into crust in pan. Arrange pastry strips nicely on top, sealing them to crust edges.
Bake until golden, about 45 to 55 minutes. Cool tart in pan then release by pushing up pan bottom.
Crostata à la Confiture de Cerises
Recette du magazine américain "Bon Appetit", juin 2009
Pour 6 à 8 parts
Pâte sablée :
250g farine ordinaire (j'en ai utilisé environ 300g car je trouvais la pâte trop collante)
60g sucre en poudre
1 cc de sel
200g beurre doux, froid et coupé en petits cubes
1 gros oeuf entier
1 gros jaune d'oeuf
2 CS d'eau froide
Garniture :
450g confiture de cerises
1 cc zeste d'un citron finement râpé
1/2 cc d'extrait d'amandes
du sucre glace pour décorer

Dans le bol d'un robot, mélangez la farine, le sucre et le sel. Ajoutez le beurre froid et pulsez par à coup jusqu'à former une chapelure grossière. Ajoutez l'oeuf et le jaune d'oeuf ainsi que l'eau. Ajoutez de la farine si la pâte est trop collante, ou de l'eau si elle est trop sèche. Prenez la pâte et formez une boule que vous ellez diviser en 2 parts, l'une légèrement plus petite que l'autre. Enveloppez de film alimentaire et mettez au frais au moins une heure (jusqu'à une nuit).
Etalez la plus grande pâte à l'aide d'un rouleau, en un cercle légèrement plus grand que votre moule à tarte (ou en rectangle, si comme moi, vous avez un moule rectangulaire). Transférez vers le moule à fond amovible. Attention, la pâte est très fragile, elle se percera probablement, n'hésitez pas à comalter les trous avecdes bouts de pâte et pressez bien. Pour les côtés, mettez 2 couches de pâte l'une sur l'autre afin d'avoir des bords bien épais.
Etalez la petite pâte sur un plan fariné et découpez des bandes assez larges. Avec une roulette cannelée, les bandes seront plus jolies car "dentelées".
Préchauffez le four à 190°C. Mélangez dans un bol la confiture, le zeste de citron et l'extrait d'amandes. Garnissez le fond de pâte de cette confiture.Positionnez les bandes de pâte en biais sur le dessus de la confiture, et scellez-les aux bords.
Enfournez et faites cuire jusqu'à ce que la pâte soit bien dorée, soit environ 45 à 55 minutes.
Laissez refroidir la tarte jusqu'à ce qu'elle soit à température ambiante et retirez le moule en poussant par en-dessous. Saupoudrez de sucre glace.