Sandwiches de Madeleines au Beurre Noisette et à la Rose
Rose and Browned Butter Madeleine Sandwich Cookies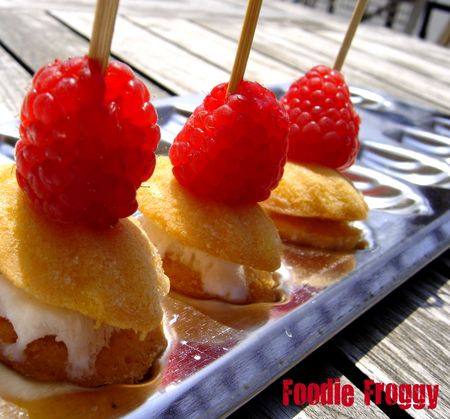 It is incredible how a small detail can litterally transform a recipe ! I am not a beginner for baking madeleines, but it was the first time I used browned butter for the batter instead of simply melted one.And you know what, it drastically changes the taste ! I could not believe my eyes, ooops, my tongue ! Carameley and nutty were the flavors that came to mind first.The idea of making mini-sandwiches comes from Ms Glaze's blog, she made savory ones, but I chose to fill them with sorbet. Very refreshing and fun sweet amuse-bouches !
C'est incroyable comme un petit détail peut radicalement changer une recette ! Je ne suis pas une débutante en matière de madeleines, mais c'est la première fois que j'utilisais du beurre noisette, et cela n'a rien, mais alors rien à voir avec du beurre simplement fondu ! La saveur de ces petites gourmandises s'en trouve vraiment rehaussée, avec une nuance subtile mais bien présente de caramel et de noisette, c'est fou ! L'idée des petits sandwiches de mini-madeleines, je l'ai piquée à Ms Glaze, qui, elle, la propose en version salée (très sympa d'ailleurs).Des petits amuse-bouches sucrés très amusants.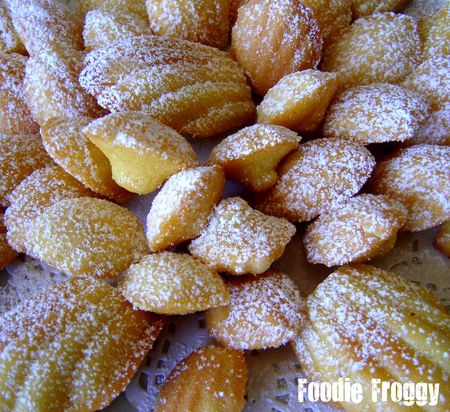 Nature, c'est bon aussi ! Also delicious just like this !
Rose and Browned Butter Madeleine Sandwich Cookies
Madeleines (makes about 40 mini madeleines/20 "sandwiches", recipe of "101 cookbooks") :
1 1/2 sticks unsalted butter (6 ounces)
2 tablespoons softened unsalted butter (for greasing pan)
3/4 cups unbleached all-purpose flour
4 large eggs
a pinch fine-grain sea salt
2/3 cups sugar
zest of one large lemon
1 teaspoon rose extract (vanilla in the original recipe)
powdered sugar
a bit of extra flour for dusting baking pan
Filling :
Any sorbet (here coconut)
Fresh raspberries
Preheat oven to 350 degrees Fahrenheit.
Melt the 1 1/2 sticks of butter in a small pot over medium heat until it's brown and gives off a deliciously nutty aroma, roughly 20 minutes. Strain (using a paper towel over a mesh strainer) - you want to leave the solids behind. Cool the butter to room temperature. By doing the butter first you can complete the rest of the steps while it is cooling.
While the melted butter is cooling, use the remaining 2 tablespoons of butter to grease the madeleine molds - get in there and make sure you get in all the ridges. Dust with flour and invert the pan tapping out any excess flour. Lanha uses "cooking spray" with flour to simplify this part.
Put the eggs with the salt in the bowl of an electric mixer with a whisk attachment. Whip on high speed until thick - you are looking for the eggs to roughly double or triple in volume - approximately 3 minutes. Continuing to mix on high speed, slowly add the sugar in a steady stream. Whip for 2 minutes or until mixture is thick and ribbony. Now with a spatula fold in the lemon zest and vanilla (just until mixed).
Sprinkle the flour on top of the egg batter, and gently fold in. Now fold in the butter mixture. Only stirring enough to bring everything together.
Spoon the batter into the molds, filling each mold 2/3 full.
Bake the madeleines for 7-10 minutes or until the edges of the madeleines are golden brown. Remove from oven and unmold immediately. Cool on racks and dust with powdered sugar. Butter and flour mold again for following batches. Cut the knots, assemble madeleines by two, "fill" with sorbet and, using a small skewer, garnish with fresh raspberries (see photo).
Makes 2 -3 dozen regular madeleines.
Sandwiches de Madeleines au Beurre Noisette et à la Rose
Madeleines (environ 40 mini madeleines/20 "sandwiches", recette de "101 cookbooks") :
170g beurre doux
2 CS de beurre doux fondu pour graisser le moule
100g farine ordinaire
4 gros oeufs
1 pincée de sel fin
130g sucre en poudre
le zeste d'un citron
1 cc d'extrait de rose (vanille dans la recette originale)
sucre glace
un peu de farine pour fariner le moule
Garniture :
Sorbet au choix (noix de coco ici)
Framboises fraîches
Préchauffez le four à 180°C.
Faire fondre le beurre dans une petite casserole sur feu moyen jusqu'à ce qu'il soit brun (bien surveiller) et dégage une odeur de noisette grillée (d'où le terme beurre noisette), soit environ 20 minutes.Passez le beurre à travers une passoire recouverte de papier absorbant afin d'éliminer les résidus bruns. Refroidissez le beurre à température ambiante.
Pendant que le beurre refroidit, graissez et farinez le moule à mini-madeleines.
Dans un saladier, assemblez les oeufs et le sel et battez à forte vitesse. Les oeufs doivent épaissir et presque doubler de volume.Continuez à battre tout en ajoutant le sucre en flux continu et régulier. Battez encore jusqu'à ce que le mélange forme un ruban. A l'aide d'une spatule,ajoutez le zeste de citron et l'extrait de rose et mélangez bien.
Ajoutez la farine, mélangez, puis le beurre noisette. Mélangez juste assez pour obtenir un mélange homogène.
Versez le mélange dans les alvéoles du moule au 2/3.
Enfournez pour 7-10 minutes ou jusqu'à ce que les bords des madeleines soient dorés. Retirez du four et démoulez immédiatement. Rebeurrez et refarinez le moule pour les fournées suivantes. Refroidissez sur une grille et saupoudrez de sucre glace. Coupez les petites bosses, réunissez les madeleines par deux, "farcissez" de sorbet, et faites tenir une framboise à l'aide d'une petite brochette.