Our second time in New York City during Memorial Day week-end and each time, we have been blessed by the weather's gods with a glorious sun ! As it was not too hot, it was ze perfect weather for a picnic in Central Park ! On sunday morning, after a very long stroll in Chinatown, Little Italy (Mulberry street closed to traffic, what a great idea), we made it to Nolita, Rice to Riches, where we took away some rice puddings for our picnic. Then, we walked again towards Lower East Side for our "main dish" : a pastrami sandwich at Katz's delicatessen. We carefully packed all our treasures, then took a taxi to Central Park, Strawberry Fields, a quiet and shady place to enjoy our lunch. How good to remove our shoes and let our painful feet enjoy the grass !
C'était notre seconde fois à New York pendant le week-end de Memorial Day et à chaque fois nous avons été bénis des dieux de la météo : soleil radieux sans chaleur suffocante, le temps idéal pour un pique-nique à Central Park ! Après nous être baladés un long moment dans Chinatown et Little Italy (Mulberry Street fermée à la circulation, c'était fabuleux), petit crochet vers Nolita, Spring Street, pour un riz au lait coloré et sucré à souhait chez "Rice to Riches" puis Lower East Side pour enfin, découvrir les fameux pastrami sandwiches de "Katz's delicatessen". Un peu de patience, car nous avons paqueté tous ces trésors afin de les déguster sur Central Park après un court trajet en taxi ! Strawberry Fields fut notre emplacement de pique-nique, très tranquille et bien mieux ombragé que Sheep Meadow. Ah, que c'est bon de rafraichir ses petits pieds meurtris dans la pelouse bien entretenue -et libre de déjections canines- du parc !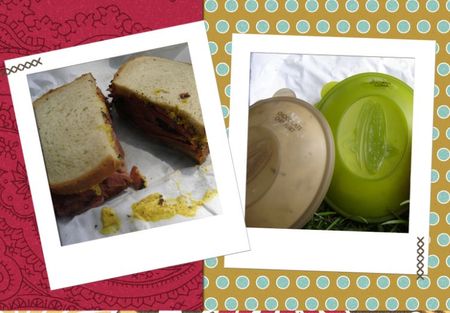 Katz's delicatessen
Delis are an institution in the Big Apple, there are plenty of them, and each visitor should taste at least one super high pastrami sandwich to eat like a "local". But beware that not all delis are the same quality : only a few of them prepare their pastrami meat the traditional way, made to their specifications and always sliced to order : Katz's delicatessen and Carnegie deli are among them. When we entered Katz's we had a schock : so crowded and so...dirty ! Patrons take a number upon entering and line up along the counter. After ordering, they are given a slice of juicy meat while the sandwich is being prepared. Payment is made at another cashier, and when customers exit the restaurant they are asked their ticket whether they have bought something or not ! So beware not to loose your number ! What about the sandwich ? To die for : the meat was very tasty and juicy. We also tasted a Reuben (corned beef on rye bread, with sauerkraut, melted swiss cheese and russian dressing, have a look at these pictures here), and it was my favorite ! The pickles were good too, I had never tasted these kinds of cucumbers.
Les delicatessen sont une institution dans la Grosse Pomme, il y en a à presque tous les coins de rue et il faut vraiment goûter à l'un de ces sandwiches au pastrami hauts d'une dizaine à une vingtaine de centimètres pour pouvoir dire que l'on a mangé comme un "local". Et c'est vraiment délicieux. Attention cependant, car seules quelques institutions sérieuses comme Katz's ou Carnegie Deli préparent leur pastrami dans les règles de l'art : conservé dans une saumure contenant de la coriandre, du poivre, de l'ail et du clou de girofle pendant 21 jours puis fumé au bois d'hickory (sorte de noyer) pendant 8 heures, cuit à la vapeur pour plus de fondant et surtout, surtout, tranché à la minute. Lorsque l'on pénètre chez Katz's ou Carnegie Deli, on est saisis par...la laideur des lieux ! C'est tout sauf branché, archi kitsch et chez Katz's en particulier, et bien, c'est assez crade ! Etonnant ! De plus, un monde incroyable ! Afin de gérer cette affluence, chacun prend un ticket en entrant, puis fait la queue pour se faire servir. Un peu perdus, nous nous sommes fiés au classique : pastrami et moutarde sur pain de seigle, puis ayant vu un client se régaler d'un "Reuben" (corned beef, fromage fondu, choucroute et sauce "russe" maison, ), nous l'avons ajouté in-extremis à notre commande ! Je vous le conseille vivement ! Une tuerie ! Regardez ces photos ici, vous allez baver devant votre écran. On nous fait goûter une fine tranche de pastrami pour patienter puis on nous sert d'énormes cornichons (pickles). Après commande, on tend notre ticket sur lequel le "préparateur" indique le prix et on paie à une caisse séparée. Quelle organisation ! Et en sortant, contrôle des tickets, s'il vous plait, tout le monde doit rendre le sien, même si l'on n'a rien commandé ! Alors attention à ne pas le perdre !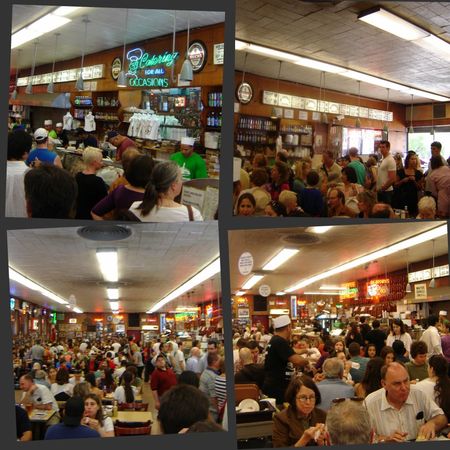 Rice to Riches
The most decadent place in the city ! Can you believe that : a gourmet store dedicated to...rice pudding ! Before entering, we are warned : "no skinny b*tches". Too funny ! Here, calories and pounds are totally assumed ! The rice puddings are produced in their kitchen, not in a factory and only natural ingredients are used. I could have sworn that they used food coloring because of the flashy colors of some flavors, but apparently not. The containers are so so cute, they look like trendy flying saucers, and the portions vary from one serving (Solo) to 10 (Moby) !!! Flavors and names are quite creative and funny : "coconut coma", anyone ? Or maybe you prefer a "rest in peach" or a "fluent in french toast" ? And what about a chilled coffee topping or toasted coconut ? All in all, this store is incredible, even if you are not really into rice puddings !
L'endroit le plus décadent de New York : un magasin uniquement dédié au.. .riz au lait ! D'emblée on est prévenus par une pancarte à l'entrée : "no skinny b*tches", qui pourrait se traduire par "accès interdit aux p*tasses maigres". ici, on assume ses calories et ses kilos ! Le produit-phare est fabriqué dans leur cuisine et non en usine, et n'utilise que des ingrédients naturels (même pas de colorant, pourtant à la vue des couleurs flashy de certains parfums, on pourrait en douter) et surtout servis dans des contenants super mignons (photos ici), en forme de soucoupe volante. Ils sont d'ailleurs en vente sur place si on le souhaite, un chouette souvenir à ramener. Les portions varient du "Solo" (1 personne) au "Moby" (10 personnes).Quant aux parfums, ils ne sont pas en reste de créativité tant pour leur contenu que pour leurs noms à mourir de rire : "coconu coma", "rest in peach" (jeu de mot avec "rest in peace" inscrit sur les pierres tombales), "fluent in french toast", "surrender to mango", etc...On peut aussi ajouter une garniture comme du café glacé, de la noix de coco grillée, des biscuits en miettes, bref c'est incroyable ! A ne pas manquer si vous aimez le riz au lait (et même si vous n'êtes pas fan, d'ailleurs, juste pour le coup d'oeil).
Katz's delicatessen (Lower East Side)
205 East Houston Street
New York, NY 10002
Rice to Riches (Nolita)
171 Spring Street
New York, NY 10012
Copyright : all pictures by Foodie Froggy