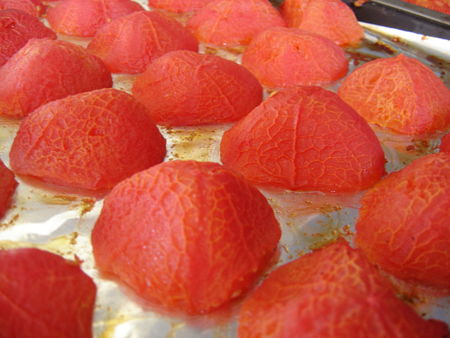 This cooking method is an amazing "natural" flavour enhancer. Not to be confused with sun-dried tomatoes which one can easily find on greenmarket stalls or even in jars in supermarkets. No, here, we are talking of tomatoes dry on the outside but still wet in the inside.The taste is close to tomato paste, it is incredible.I like to make them plain (no salt, pepper, nor dried herbs) so I can season them later, by batches, according to their future usage.And, most importantly, I peel them : even if that seems tedious and time-consuming (but really easy), it is so worth it; it gives tomatoes a unique texture and a beautiful aesthetics.
Un véritable exhausteur de goût naturel, cette méthode de cuisson des tomates. Attention, à ne pas confondre avec les tomates séchées que l'on trouve facilement sur les étals des marchés ou même en bocal; ici, elles sont séchées à l'extérieur mais encore humides à l'intérieur.Le goût est proche du concentré de tomates, c'est incroyable, et ce, même si vous utilisez une variété a-priori classique type Roma. Je ne les assaisonne pas du tout (ni sel, ni poivre, ni sucre, ni herbes, ni huile) car je préfère assaisonner la quantité nécéssaire par la suite en fonction de l'usage que j'en ferai. Et surtout je les pèle : même si cela semble assez fastidieux, je trouve que l'esthétique et la texture des tomates pélées sont incomparables.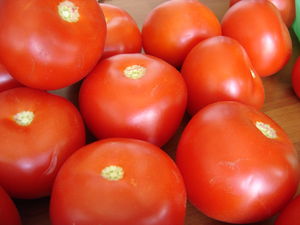 Wash tomatoes and pat them dry (here I bought 6.5 pounds of Roma Tomatoes). Laver les tomates et les essuyer (ici 3 kilos de Roma).
Remove stem and make a cross shaped incision at the bottom. Retirer le pédoncule et faire une incision en forme de croix du côté opposé.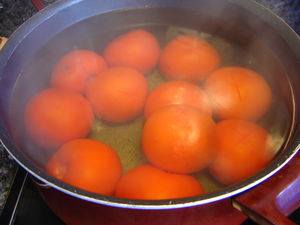 Put tomatoes into boiling water for 10 seconds. Plonger les tomates dans de l'eau bouillante pendant une dizaine de secondes.
Using a slotted spoon, remove them and arrange in a large bowl of ice-cold water to stop the cooking. Retirer à l'aide d'une écumoire et plonger dans un grand saladier rempli d'eau glacée pour stopper la cuisson.
The skin is then very easy to remove. Peel all tomatoes. La peau se détache et est alors très facile à enlever. Peler toutes les tomates.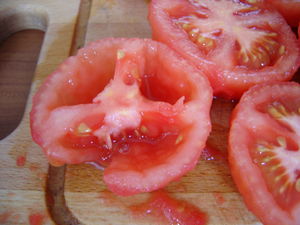 Preheat oven to 250°F. Halve all tomatoes legntwise. Remove seeds, using a small spoon. Préchauffer le four à 120°C. Couper les tomates en deux dans la hauteur. Retirer les pépins à l'aide d'une petite cuillère.
Arrange tomato halves, cut side down, on two baking sheets lined with foil paper. Bake for two to three hours, depending on their size. Disposer les moitiés de tomates, retournées, sur deux plaques à pâtisserie recouvertes de papier aluminium. Enfourner pour deux à trois bonnes heures (selon leur taille).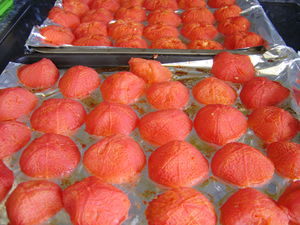 The final result : tomatoes have shrinked and are now "confites" (slow roasted). Le résultat final : les tomates ont rétréci et sont confites.
What to do with them ? Try my delicious Slow roasted Tomato Tatin Tartlets. Other suggestions : spread on a slice of french bread with fresh goat cheese, eat them in pastas, in a salad or a chilled terrine. Yum !
Que faire avec ? Une délicieuse Tatin aux tomates confites ! Ma recette ici. Egalement savoureux simplement étalé sur une tartine de Poilane grillé, avec du chèvre frais, dans des pâtes, une salade ou une terrine du Sud. Pour les conserver longtemps, mettez-les dans un bocal avec de l'huile d'olive et au frais.