Clafoutis aux Prunes de la Régalade
La Régalade's Plum Clafoutis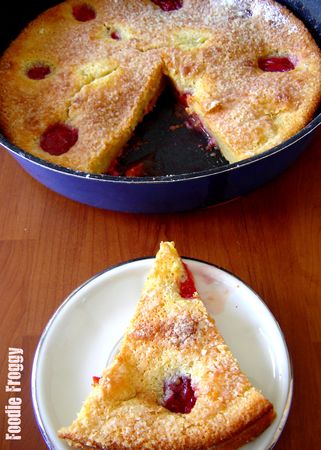 Actually, this recipe cannot be found at "La Régalade"; it comes from one of Chef Bruno Doucet's friends. I felf I had to rectify as I would not want to be responsible for a big misunderstanding if ever you came to have lunch or dinner there and asked, in vane, for this great dessert !
A slightly different version from the traditional one with cherries, and it was a great way for me to use my "too acid for my taste" plums. I bought them a the market yesterday, and althought they looked great on the stalls, their taste was not that good. So, cooked in a "bed" of sugar, cream, eggs and flour was the only way they would be (much) better than just edible. And next time, I promise I will wait until they are at their peak (just a matter of a few weeks)...
Ce n'est, en fait, pas vraiment le clafoutis de la Régalade, mais plutôt celui d'une amie du chef Bruno Doucet. Je préfère rectifier, car je ne voudrais pas être responsable d'un esclandre si jamais vous vous rendiez à la Régalade et que vous réclamiez, en vain, ce clafoutis !
Une petite variante de la recette classique aux cerises, d'autant plus adaptée que les premières prunes sur les étals sont encore un chouïa acides à mon goût et méritent d'être cuites avant dégustation. Et oui, je sais, j'aurais dû attendre encore quelques petites semaines mais que voulez-vous, toujours ce tempérament impatient...
La Régalade's Plum Clafoutis
Source : "Régalade entre amis", a cookbook by Bruno Doucet
For 6 servings
1 lb + 2 oz purple plums
2/3 cup all purpose flour
2/3 cup granulated sugar
3 eggs
5 oz heavy cream
3.5 tbsp unsalted butter
3 tbsp confectioner's sugar
Preheat oven to 350°F. Butter and flour a high-sided round cake mold.
Clean and pat dry plums, halve them, remove the stones. Arrange plum halves at the bottom of the pan, cut sides down.
In a large mixing bowl, stir flour, granulated sugar, eggs and heavy cream until they form a smooth batter. Pour this batter over the plums and bake for 15 minutes.
Remove from the oven, divide butter on top of the cake and sprinkle with confectioner's sugar. Bake for 15 additional minutes until clafoutis is golden brown.
Eat lukewarm preferably.
Clafoutis aux Prunes de la Régalade
Source : Régalade entre amis, de Bruno Doucet
Pour 6 personnes
600-700g de prunes violettes bien mûres
80g de farine
120g de sucre en poudre
3 oeufs
160g de crème fraîche épaisse
50g de beurre
3 CS de sucre glace
Préchauffez le four à 180°C. Beurrez et farinez un moule à manqué.
Lavez et coupez les prunes en deux, retirez le noyau. Disposez ces moitiés au fond du moule, côté coupé contre le fond.
Dans un grand saladier, mélangez la farine, le sucre en poudre, les oeufs et la crème fraîche afin d'obtenir une pâte bien lisse. Versez cette pâte sur les prunes, et enfournez pour 15 minutes.
Retirez du four, parsemez de noisettes de beurre et de sucre glace et remettez au four pour 15 minutes de plus. Le clafoutis doit être bien doré et la pointe d'un couteau doit ressortir sèche.
Dégustez tiède.